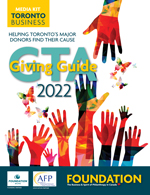 FRONT OF MIND
Find your path to new major donors and sponsors. The 2022 GTA Giving Guide features charity stories and key mission statements, fundraising campaigns, major gift programs, sponsorship opportunities, accomplishments and donor stories into Toronto's largest official guide to help major individual donors and corporate foundations find new ways to support your efforts. Read by more than 20,000 senior executives in marketing, finance and C-Suite leadership in the largest firms in the Toronto area. Headquarters of companies which allocate millions of dollars for donations, sponsorship, social programs, volunteering, governance, advice and insights. And whose leaders and proven individual donors. Publishing Date: November, 2022.
---
Tap into the GTA's Most Generous and Empowered and Executives and Corporate Foundations
---
PLUS…When the GTA GIVING GUIDE is published, Foundation Magazine's website will feature the editorial stories from all participating charities. Each story will have a live link to allow visitors to get more information about your non-profit.
SPECIAL VIP RATES:
1/2 Page…includes article and ad side by side…JUST $295.00
Full Page..includes article and ad top/bottom on page..JUST $549.00
Double Page Spread…includes story and ad on facing pages…$949.00
Plus…in addition, Foundation Magazine readers will be able to download a digital copy of the Guide to keep on their computer or mobile device, which means added exposure to an ongoing audience of potential new corporate sponsors, donors and high net worth individuals.
To Request a Full 2022 Media Kit and All Details…