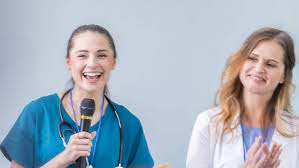 OTTAWA, ON–The CMA Foundation announced a $2 million grant to the Canadian Foundation for Healthcare Improvement (CFHI) for LTC+: Acting on Pandemic Learning Together, a program designed to drive improvements in long-term care and retirement homes across Canada. The CMA Foundation's commitment doubles the current available funds and will allow more homes to access the resources offered through the program.
"The impact of COVID-19 on Canada's seniors living in long-term care and retirement homes is tragic. We must do better at keeping residents and caregivers safe," says Allison Seymour, president of the CMA Foundation. "Our contribution to support the LTC+ program, in collaboration with CFHI, will effect much needed change by providing access to critical resources and improving practices in long-term care and retirement homes."
The LTC+ program focuses on supporting improvements to pandemic preparedness in long-term care and retirement homes in six key areas: preparation, prevention, people in the workforce, pandemic response and surge capacity, planning for COVID-19 and non-COVID-19 care and the presence of family. The program was developed by CFHI and the Canadian Patient Safety Institute (CPSI) following a report that explored lessons learned from homes that experienced outbreaks of COVID-19 between March and June 2020.
"We owe it to those affected by early outbreaks of COVID-19 in long-term care to learn from their experiences and hard-won lessons. The collaboration with the CMA Foundation will enable more long-term care and retirement homes to join efforts to accelerate adoption of promising practices that can strengthen pandemic preparedness and high-quality care," says Jennifer Zelmer, CFHI president and CEO.
Today's announcement is part of the CMA Foundation's ongoing commitment to provide COVID-19 relief in key priority areas. To date, the Foundation has committed over $20 million to front-line health workers, hospitals, medical learners and innovation in medicine in Canada, in response to the COVID-19 pandemic. It also provided $10 million to support community-led relief efforts for homeless and vulnerable individuals.
The CMA Foundation provides impactful charitable giving to registered Canadian charities and qualified donees that further excellence in health care. The CMA Foundation is a registered charity and private foundation whose sole member is the Canadian Medical Association. For more information, please visit www.cmaf-famc.org.