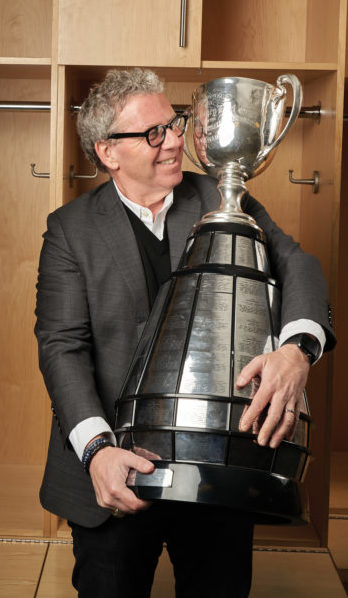 By David Asper
The editor of this magazine invited me to offer a few words about the influence my parents had on the life I've had in philanthropy and community service. He also suggested that the photo to accompany this piece include the Grey Cup, which was won in 2019 by the Winnipeg Blue Bombers. Having not touched that Cup since we last won it in 1990, I'm very happy to hold it and never let go!
As a community based, not for profit organization, the success of the Blue Bombers relies very heavily on community support and I've had a long volunteer association with the team. It's a great example of how getting involved should be about long-term success rather than immediate gratification. Even though I'm retired now from formal duties with the club, I have immense pride in the success it had this past year and love the fact that my successors are enjoying a terrific celebration!
This example, and others I've been involved with over the years, is derivative of something we were taught as a core value of our family. My parents were the son and daughter of immigrants to Canada who fled oppression. They wanted to be sure that we, as the third generation, never forgot the tremendous benefits of living in Canada, no matter what we might complain about on the issues of the day. I guess it's a form of noblesse oblige, but I think it's a deeper than that.
My father might frame it in legal terms-that in return for all we enjoy in a free and democratic society, we have a duty to give something back. In my irreverent days I'd retort with something like "we do give back by paying taxes". This didn't go over very well!
Giving back, with time, money or both was not just about the social contract. It was also about giving meaning to your life. My parents used to challenge themselves, and then us, with a profound question: when its over, will anyone say that you mattered? Did you do something with your life that made a difference in any way?
When doing the interview for the magazine, Tracy Howard asked me about managing charitable and community service time alongside career and family, and I was honest that often it isn't in balance. That's largely because if you're trying to answer the question, "do I matter?" you can get a bit driven, and perhaps somewhat insane even trying to define what that means.
We've now got three grown children and are challenged with what to say to them. They know what their grandparents wanted of the family and how Ruth and I, and my brother and sister, have lived their lives so far. I'm pretty sure they've got the message, and now, as I inch toward mortality, I wonder whether the answer to the question 'did I matter' is as much about getting the next generation to matter, as it is about anything I've done during my lifetime.