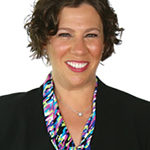 By Amy Eisenstein
When I was thinking about writing this idea of the no-brainers for fundraising in 2021, I put out a call on social media for 2021 no-brainers. Here are just a few of the responses I got:
Wearing a mask when in public (for your safety and those around you) — this was the top response; Getting the COVID-19 vaccine as soon as you are eligible; Being more compassionate — everyone is stressed out; Taking better care of yourself; Listening carefully to others (always a smart thing to do).
And yet, sometimes what appear to be no-brainers to the majority of people aren't always so obvious to others. This is as true when living through a once-in-a-century pandemic as it is in fundraising.
So here are a handful of fundraising no-brainers that you should heed — especially throughout 2021. Let's count them down.
5. Investing in a Good Donor CRM
A good donor management system is vital to your fundraising success. If you are using Excel or something that's not working for you, it's time to switch. In other words, it's a no-brainer.
A good donor management system should help you keep organized, on track, and aware of key performance indicators, such as donor retention rates. You and your team should be able to use the system and feel comfortable looking up individual donors and running reports of first time donors, loyal donors, large donors, and more.
4. Soliciting Planned Gifts
Planned gifts (in addition to major gifts) are the most impactful gifts your organization can receive. However, they usually don't come for years after they are solicited, so these vital gifts are often ignored by development directors. Yet, planned gifts can be the largest gift a donor ever makes to your organization.
The no-brainer? By not get started soliciting planned gifts, you are hurting the future of your organization.
3. Asking for Gifts Remotely
The biggest no-brainer this year is asking via phone or Zoom and not putting your asks off until you can meet with donors in-person.
This past year has taught us that donors DO respond to remote requests and that asking by phone/Zoom are entirely effective and efficient modes of solicitation. If you are waiting for a return to in-person meetings to solicit your biggest and best donors, you're missing a huge opportunity.
2. Thanking Donors
Perhaps the most obvious no-brainer is thanking donors. But how do you thank donors at your organization? Ask yourself:
• Is there a system and process in place so donors are thanked appropriately?
• Are thank you letters timely (within a week of the gift arriving)?
• Is it personal, or clearly a form letter?
• Are you making regular donor thank you calls?
• Do you let donors know how their gift was used and the impact they made?
The bigger the gift, the more personal your letter and/or call should be. Thanking donors is an obvious no-brainer because it impacts future giving and donor retention.
And the #1 Fundraising No-Brainer for 2021 is…
1. Raising Major Gifts
Raising major gifts, no matter the actual size, has the ability to catapult your organization to the next level of program and service. Seems like a major no-brainer to me.
For example, if your organization raises $100K for your year-end appeal, one additional gift of $10K, increases your total by 10 percent. And that's just one gift!
Now imagine if you could get two, three, or even five gifts of that size. (Feel free to add or subtract zeros to make the scenario true for your organization, depending on the current scope and scale of your fundraising efforts.)
Raising major gifts, like no other type of fundraising, has the power to transform your fundraising and your organization — and that's crucial in 2021, as most nonprofits are positioning themselves to recover from the hardships of the previous year.
The most puzzling thing about raising major gifts
So often, what puzzles me most is the number of organizations that want to raise major gifts, but they never make the commitment to actually raise major gifts.
Since I've dedicated most of my career to helping organizations raise major gifts, this past year was no different. (Well, of course 2020 was extremely different, but you know what I mean.)
I spent dozens (hundreds?) of hours revamping my online program and community, Mastering Major Gifts, to adapt to the changes brought on by COVID-19. In addition, I lowered the fee to a "no-brainer" price (less than $200 per month).
Why? Because I know how important it is to raise major gifts and I want to strongly encourage participation.
After all, if you don't think you can raise an additional $1,000 or more per month, then you're not really raising major gifts. That bottom-level major gift of $1,000 is five times ROI the cost of the program.
Amy Eisenstein, ACFRE, is one of the leading fundraising consultants. She is also the CEO and Co-Founder of the Capital Campaign Toolkit. She's raised millions of dollars for dozens of nonprofits through event planning, grant writing, capital campaigns, and major gift solicitations. She has a real talent for making fundraising simple and accessible for her clients and followers.