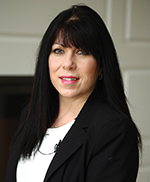 By Christine Morgan
Like all chapters, the Newfoundland & Labrador group is used to running various monthly professional development sessions and more in depth courses but the COVID-19 coronavirus pandemic has brought us to a situation that no one could have ever imagined. Health and safety of our members and the members of our community are paramount. For this reason, AFP NL Chapter canceled all upcoming in-person Professional Development sessions until further notice. The group managed to stage their January and February learning sessions before the lock downs came into effect and in January 2020 hosted the AFP Fundamentals of Fundraising 2-day course. This was an amazing success with 47 graduates representing 23 local organizations. This was the first time our chapter was in a position to offer this course locally.
The chapter have been providing resources to help members during these unprecedented times as well as looking into options for online learning opportunities in the upcoming weeks. In the meantime, AFP NL Members can still access the AFP Global Community (afpglobal.org), with articles, resources and webinars and many opportunities for online learning.
One of the chapter's major events has been the annual awards program held in conjunction with National Philanthropy Day in November. Last year's event took place on November 15 as AFP NL honored outstanding philanthropic achievement in Newfoundland and Labrador during a breakfast at Manuels River Hibernia Interpretation Centre and was sponsored by Bell Aliant.
The 2019 Spirit of Philanthropy Award Recipients were: Outstanding Philanthropist Award – Karl Smith; Spirit of Philanthropy Award (Group) – Gander Goodwill; Outstanding Fundraising Volunteer Award (Individual) – Mark MacLeod; Outstanding Special Event – The Tickle Swim for Mental Health; Outstanding Corporate Philanthropist Award – The Public Service Credit Union; Outstanding Fundraising Executive – Christine Morgan, Ronald McDonald House; and Rising Star Award – Laura Ivany, Stella's Circle.
These are challenging times for us all, but the strength and resilience of our NL spirit is stronger than ever.
Christine Morgan, bCRE, is Director, Development & Communications, Ronald McDonald House Charities ® Newfoundland and Labrador