Publisher Steve Lloyd talks with Marina Glogovac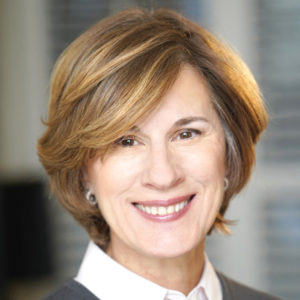 Marina is passionate about charities and their essential role in Canada, and about building the capacity of the charitable sector through cutting-edge technology and high-quality education. Under her leadership since 2013, CanadaHelps has rapidly accelerated its growth trajectory, almost tripling the donations it facilitates for charities and dramatically expanding its offerings for both charities and donors.
We talked to her about the 2020 Giving Report and the issues facing nonprofits in Canada over the next few months and the next few years.
With online giving growing and the number of donors shrinking, do you think organizations should look at increasing their budgets for fundraising in general? With an average of around one percent of charity budgets going to fundraising, and the challenge inherent in dealing with those two diverging trends, perhaps charities should be expanding that part of their spending?
I have long advocated for charities to spend more money on themselves. To be successful in this era, charities need to be hiring and retaining the right talent with digital skills and knowledge, have the right equipment and tools, and invest in their own infrastructure so they can better achieve their impact; this is common in the business world and should be so in the charitable sector where the stakes are much higher. In some cases, charities may need to spend more money on fundraising — either in staff, advertising, or campaigns — but it will depend on whether doing so will ultimately help them raise more and better execute on their missions.
Online giving can be a technological challenge along with providing large volumes of new data which needs managing. How do those 80% of charities who bring in less than $500,000 a year address those issues? Spending on technology to operate online giving systems and connect to their donors and past donors etc would likely require more than the roughly $5,000 to perhaps $20,000 a year they might be able to allocate. How do the new trends impact that segment?
All charities can start fundraising online today without spending a cent up front, and they absolutely should prioritize this. Half of our mission at CanadaHelps is to provide effective, online fundraising tools to organizations of all sizes that are easy to use and have no up front costs and don't require technical knowledge. Google also provides AdWords grants for online advertising, both Google and Microsoft both offer their cloud-based office suites and storage to charities for free, reaching donors through email and social media is easier than ever, and there are many free resources available to build the skill charities may need to use these tools. Ideally, charities will start building digital fundraising and technology into their whole organizations, but they have to start somewhere (and it doesn't need to be with an expensive consultant.)
What does CanadaHelps (and your data partners) forecast or see from corporate donors across Canada? I'm thinking not specifically from corporate foundations, but from businesses which provide donations directly as part of their social support initiatives? Is there any data or research which outlines the way charities engage the business world and how it might be affected or changed by the trends in this year's Giving Report?
We didn't look at corporate donations in the Giving Report, but I have been heartened to see the many corporations and businesses who have contributed to our COVID-19 Cause Funds. When we created these two funds, which enable Canadians to give to hundreds of Canadian charities responding to COVID-19 in a single gift, we thought they would just be used by individuals, but they have been really popular with corporations.
Though the pandemic has affected everyone and spurred a lot of giving, all businesses with a CSR strategy have giving priorities and are looking for ways to easily make an impact while meeting their corporate goals. Businesses today have realized that they purpose to reach modern consumers and staff and to be competitive — it is no longer just about selling products and services. This will be key to their success and differentiation in the new economy.
With the rise of corporate foundations, other charities are going to have to find creative ways to build relationships with partners, or like in the case of our Cause Funds, work together and share the benefit of corporate gifts.
How will more traditional channels such as direct mail, in-person events, participatory fundraising events, etc, be impacted by the growth of online giving? Is this a scenario which might be a tide which "floats all boats"? Can you see small local fundraising events tapping into online giving in ways which we haven't foreseen before now?
With COVID-19, charity events across the country were immediately cancelled in the biggest time of the year for event fundraising. We've seen tons of ingenuity from charities that have quickly adapted physical events and -thons to online campaigns. For example, one charity hosted a digital golf gala where donations of different amounts equated to virtual distances travelled on a golf course. The need to adapt digital practices and broader digital transformation is more urgent than ever now as things aren't likely to return normal any time soon — and likely won't ever return to exactly as they were before.
What advice would you give the C-Suite executives of Canada's top 100 charities about how they staff their management teams over the next few years? Are there roles and positions which will become more populated and influential, and others which might become fewer and less needed? Would CFOs, for example, be wise to recruit new experts who can manage their payments operations with an eye to using that data to inform the fundraising and marketing teams? Does analytics become even more complicated as online donations grow?
For most existing organizations, organizational models and role designs are at odds with the scope of change we are seeing, as well as the opportunities and disruptive forces. Charities will not survive if they don't adapt to the digital age.
The Digital Transformation — the reimagining of business in the digital age — that is needed requires changing culture and a different type of leader in the workplace. This new Digital Leader is strategic yet agile; learning oriented; is able to take risks and has tolerance for and the courage for failure; is willing to "disrupt" themselves – their role, their identity, their meaning, their frame of reference; and is technology savvy and organizationally-savvy.
Organizations should already have started investing in digital talent. New roles will need to be created (10 years ago we weren't talking about data scientists and Chief Innovation Officers), and the existing ones redefined, to bridge gaps between the digital and traditional parts of what you do.
Finally, what do you see as the long-term impact of the COVID-19 crisis on the philanthropic sector as a whole? This is an open-ended thought and you may feel free to address any aspect of our sector's future
The projections we are seeing so far are grim. Imagine Canada is projecting that three months of mandated social distancing and the economic downturn associated with COVID-19 will cause charities to lose $9.5 billion and layoff more than 117,000 employees. Sadly, I think we will lose some charities as a result of this crisis, just as we will lose many small businesses. But my hope is that the ones that do survive, will have a new sense of urgency to embrace the digital world. My other hope is that the gaps that have been exposed in our systems will not be forgotten when this is all over; charities in this country are playing vital roles supporting people and communities where governments are not, and they must be properly funded and recognized for all they do.
Go to CanadaHelps.org to download the full 2020 Giving Report.