Shhhh…They're not saying…
Environment and Climate Change Canada is the 2019 recipient of the Code of Silence Award for Outstanding Achievement in Government Secrecy in the federal category. The award is given annually by The Canadian Association of Journalists (CAJ), Centre for Free Expression at Ryerson University (CFE), News Media Canada and Canadian Journalists for Free Expression (CJFE) to call public attention to governments, government departments and agencies that put extra effort into denying public access to government information to which the public has a right under access to information legislation. An example: during the lead-up to the federal election, Ottawa Citizen journalist Tom Spears wanted to know if Environment and Climate Change Canada had timed the release of research showing Canada is warming at double the global rate to coincide with their new carbon tax taking effect. So, he filed an access to information request to try to find out the answer to that question. In response, Environment and Climate Change Canada said it would take seven months to release the relevant records — well after the Oct. 21 election. This, and countless other similar examples of government secrecy, mean Canadians are increasingly forced to rely on party propaganda to figure out who they should vote for. That may be what our parties want. But that's not much of a basis for a democracy, they point out.
• • • • • • • • • • • • • • • • • • •
Greta Thunberg and the NGO Human Act launch a child rights driven coronavirus campaign for UNICEF.
Climate activist Greta Thunberg launched a child rights driven campaign with Danish NGO Human Act to support UNICEF's efforts to address the COVID-19 pandemic and protect children from its direct and knock-on consequences. These include food shortages, strained healthcare systems, violence and lost education. "Like the climate crisis, the coronavirus pandemic is a child-rights crisis," said Thunberg. "It will affect all children, now and in the long-term, but vulnerable groups will be impacted the most. I'm asking everyone to step up and join me in support of UNICEF's vital work to save children's lives, to protect health and continue education." The campaign is being launched with an initial donation on behalf of Human Act and the Greta Thunberg Foundation to UNICEF of $200,000. Greta Thunberg was recently awarded for her global activism by Human Act who granted her foundation the prize money of $100,000. This sum will now go to UNICEF along with an additional $100,000 from Human Act.
• • • • • • • • • • • • • • • • • • •
Montreal's Science Centre is celebrating its 20th anniversary with experiments and movies to enjoy at home
On the morning of May 1, 2000, the Science Centre (then called Centre ISci) opened its doors in the Old Port of Montréal. Its exhibits introduced visitors to science via a novel interactive approach that would become the Centre's trademark. More than 13,300,000 visitors later, the Centre's team continues to pursue new opportunities, including an interactive hall for toddlers, which will open next year, and provide science activities for the public to do at home. In collaboration with producers Giant Screen Films and MacGillivray-Freeman, the Science Centre offered IMAX films to watch online in May. The IMAX® TELUS theatre consistently ranks among the world's top three box offices for educational films so it seemed only fair to give fans an opportunity to revisit some of its all-time greatest hits. Plus it offered science games and experiments for families to try at home. From the videos shared on social networks, it is clear that these experiments have been very popular with budding scientists. All these achievements would not have been possible without the invaluable support of partners, donors and the Science Centre Foundation.
• • • • • • • • • • • • • • • • • • •
Save Your Skin Foundation Creates Healthier, Sun Safe Canada During Melanoma Skin Cancer Awareness Month
May is Melanoma Awareness Month and Save Your Skin Foundation (SYSF) put together several new initiatives meant to bring greater awareness to the dangerous disease. The COVID-19 pandemic has forced many Canadians to stay home, but many have more time than usual to enjoy the outdoors, making sun safety education as relevant as ever. "COVID-19 has highlighted everyone's willingness to take drastic measures to preserve our health," says Kathy Barnard, stage 4 melanoma survivor and Founder of Save Your Skin Foundation. "Increased preventative efforts and methods of early detection, particularly in the form of public education, public policy and built environments are also needed to reduce skin cancer rates." Skin cancer rates in Canada continue to rise, including melanoma, and non-melanoma skin cancers, despite being 90% preventable. Throughout the month of May, SYSF will be engaged in several initiatives to bring awareness to melanoma, non-melanoma skin cancers, and ocular melanoma. The month will be starting out with a bang thanks to a new drawing contest aimed at youth. The contest's theme "This is what sun safety looks like", will encourage participants to submit drawings depicting actions or environments which help prevent skin cancer. The winning entry will be determined through open voting once the May 15th deadline for submission has passed, with a $100 gift card going to the artist with the most votes. Additionally, they host an educational webinar and post special content on social media channels every day. A PSA will be airing on Shaw Cable.
• • • • • • • • • • • • • • • • • • •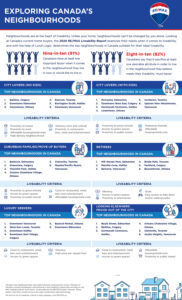 We Love Where We Live
According to a Leger survey conducted on behalf of RE/MAX prior to the outbreak, 82 per cent of Canadians say they would sacrifice at least one desirable attribute in order to live in the neighbourhood they believe meets their liveability "must-haves" and 90 per cent of Canadians love the neighbourhoods they live in. The 2020 RE/MAX Liveability Report explores the qualities that give each homeowner the true satisfaction of living in their neighbourhood, such as access to green spaces or restaurants and entertainment. According to the report, 91 per cent of Canadians have at least one important liveability factor that's very important to them when it comes to the neighbourhood they live in now or would like to live in, in the future. And where they live, they donate, volunteer and organize. Good news for local charities.
• • • • • • • • • • • • • • • • • • •
Sprott Foundation makes transformational $20 million donation to fight hunger during pandemic
A transformational donation of $20 million is split between two organizations to extend food supports for Canadians, many of whom are confronting hunger and food insecurity as a result of the pandemic's economic toll. Second Harvest, the largest food rescue organization in Canada, supporting non-profits and charities with perishable surplus food; and Community Food Centres Canada, which builds health, belonging and social justice in low-income communities through the power of food. Each received $10 million, of which a minimum of $12 million of the total will be directed to the purchase of grocery gift cards, which were made available via application to community groups across the country who help feed hungry or at-risk Canadians. The remaining funds support Second Harvest's expansion of food rescue to ensure good healthy food gets to underserved communities across Canada and will enable CFCC's partner network to safely provide emergency meals, good food hampers, and produce boxes. "We set out to find the fastest and most effective way to get food into the hands of those who need it most," said Eric Sprott, co-founder and chairman of the board of the Sprott Foundation. "Local community groups know what their neighbours need to cope with during these difficult times and gift cards empower organizations and individuals to make their own choices."
Organizations apply for gift cards via Second Harvest's online food donation platform FoodRescue.ca.