TORONTO, ON–The Charity Hub, a social enterprise that transforms excess and obsolete inventory from corporations into charitable funds, has announced its latest charity recipients who collectively received over $40,000 CDN in donations.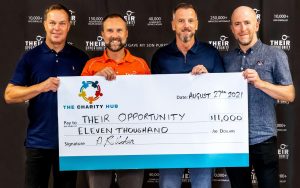 The money, which was raised through the liquidation of excess inventory by TCH, has been donated to multiple charities across Canada, which include: Their Opportunity Minor Sports Corp; John Tavares Foundation (Pass it Forward), Golf Canada Foundation (First Tee), and Habitat for Humanity.
In 2022 TCH is set to create over $1,000,000 in charitable funds.
"We're thrilled to be adding these worthy causes to the list of charities we've supported this year. In 2021 alone, we've raised over $175,000, proving our business model can generate an entirely new funding stream for charities," comments Dave Rolleston, CEO, The Charity Hub. "Almost every company across North America has excess inventory and the longer they hold on to it, the more it costs them. For many, the answer is to send their excess inventory to a landfill but we have developed a worthwhile solution that benefits everyone involved. Our triple impact business model reduces excess inventory, raises new funds for charities, and contributes to companies' ESG, allowing businesses to feel proud of working with TCH."
Their Opportunity received a donation of $11,000 from The Charity Hub, which was raised through TCH's liquidation of products from Farallon Brands.
According to CNBC and Earth 911, US online retailers alone are sending 5 billion (bn) pounds of excess inventory to landfills every year, adding up to over 15bn pounds globally just from the ecommerce industry. The Charity Hub offers a different solution; one that saves the company money, frees up resources, contributes to environmental sustainability and helps charities to create meaningful social change. "We're acting as a broker for good," says Rolleston, who has been in the business for over 25 years and understands the sensitivity of excess product and re-purposing it.
"The Charity Hub model is changing the landscape for how companies can support their communities." comments Randy Gill, President/CEO of Their Opportunity. Jon Sugar, VP Product Acquisition, The Charity Hub adds, "We know of companies with excess inventory, and we know charities can always use cash donations. So, to keep inventory from going to landfills or getting into traditional excess inventory brokers hands, we're redirecting unwanted inventory to do some good."
"The Charity Hub has created an incredible opportunity for our company to move our excess inventory in a professional manner while supporting those in our community," states Jon Wayne Gurman, CEO of JCorp Inc., one of TCH's clients. "The Charity Hub has changed our corporate strategy on the way we deal with our excess inventory."
The Charity Hub is proud to have created over $175,000 for charities across Canada in just a few months through its philanthropic model and looks forward to continuing to help companies transform their excess inventory challenges into powerful, financial, social, and environmental impact opportunities.
About The Charity Hub
Founded in 2021 by entrepreneur and inventory management veteran Dave Rolleston, The Charity Hub is a for-profit social enterprise using its commercial acumen to turn excess inventory into social impact. The Charity Hub generates charitable donations and funding by monetizing excess inventory and directing proceeds to charities and those in need across North America.