AURORA, ON–Small businesses are the heart of our communities, so Desjardins is giving back by granting another $3 million in GoodSpark Grants to inspiring small businesses across the country.
To help them be there for their loyal customers, Desjardins is delivering $20,000 GoodSpark Grants to 150 small businesses that are making a big impact on their local communities. Since its inception, the Desjardins GoodSpark Grants have given a total of $6 million in appreciation for the dedication of small business owners to innovation, sustainability, or supporting the needs of their neighbours.
According to Desjardins economic Small Business Report, small businesses employ nearly 2 of every 3 working Canadians. They were also the most impacted by the pandemic and more constrained in their ability to access debt to adapt to a changing market. The Desjardins GoodSpark Grants aim to support these businesses as they provide the necessary goods, services and employment for the cities they serve.
"Entrepreneurs play a critical role in Canada's economy, so it's important for us as a financial institution to be there to empower them with the resources to innovate, grow and find creative solutions to the challenges ahead," says Billy Boucher, CEO of the Desjardins Ontario Credit Union. "The stories of this years' recipients continue to inspire us, and we are proud to support their work through the GoodSpark Grants."
This year's GoodSpark Grant recipients include Humble Bee, urban beekeepers working to help local pollinators flourish, Push yoga studio, promoting family well-being and fitness, and Tuck Shop, a neighbourhood restaurant that makes its city sizzle.
Ontario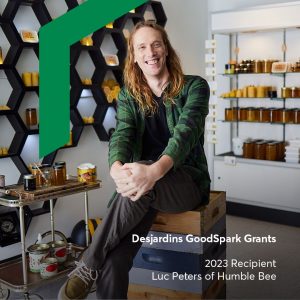 Luc Peters, Humble Bee
• Humble Bee is a full-service apiary with over 500 beehives throughout Hamilton and the Greater Toronto Area taking a bee-focused management approach to producing and maintaining its honeybee colonies.
• Among other community initiatives, owner and founder Luc Peters has been a member of the Ontario Beekeepers' Association since 2011 and sits on the executive board of the Golden Horseshoe Beekeepers' Association.
• The $20,000 grant will be used to increase operational capacity, helping Humble Bee double production to supply local honeybee queens to Ontario farmers and meet increased demand.
Jennifer Lam, PUSH Markham
• PUSH Markham is Markham's only multidisciplinary wellness and yoga centre supporting women and families throughout pregnancy and parenthood whose services include personal training, registered massage therapy, kids' yoga camps, acupuncture, psychotherapy, and Pilates.
• Owner and founder Jennifer Lam has a Masters and Doctorate in Speech-Language Pathology, is a certified Yoga Teacher, and now has over 300 hours of experience working with prenatal and postnatal clients.
• The $20,000 grant will be used to hire additional practitioners and support further marketing efforts to reach more of Markham's diverse population.
Robb Eng, TuckShop Kitchen
• TuckShop Kitchen is an independently run takeout sandwich shop serving Toronto since 2015, with a focus on hiring local residents and youth to provide hands-on training of all parts of the kitchen.
• As a member of the LGBTQ+ community, co-owner Robb Eng is passionate about ensuring the space is see and welcoming for anyone, regardless of age, sexual orientation, gender identity or racial background.
• The $20,000 grant will be used to help TuckShop expand by offering retail bacon to wholesalers and direct to consumers as well as growing its events and catering line of business.
Michelle Gettner, Unboxed Market
• Unboxed Market is Toronto's first one-stop zero-waste grocery store, offering a full range of household staples from fresh produce and deli & butcher items to dry goods, oils, cleaners, and more.
• Co-owners Michelle Gettner and Luis Martins have hosted and supported various community programs, including 'Twelve' (a non-profit working to mitigate period poverty), 'Case' (focused on reusing black plastic takeout containers), 'Too Good To Go' (an app designed to mitigate food waste) and more.
• The $20,000 grant will be used to support the creation of an apprenticeship program to train kitchen staff on reducing food waste and support living wages for all team members.
British Columbia
Evan McDougall, Conifer Homewares
• Conifer Homewares prints 3-D sustainable home goods from plant-based materials in East Vancouver and sold 4,900 biodegradable products last year alone.
• An Industrial Designer, founder Evan McDougall started Conifer out of a combined passion for nature, sustainability and design.
• The $20,000 grant will be used to increase marketing efforts to grow sales, including by purchasing 3-D printers dedicated to producing sample packs and hiring another production assistant to focus on the marketing program.
Alberta
Danielle Mossfeldt, Little Larch
• Little Larch is an eco-kids brand whose product line is free of artificial dyes and scents, and includes sensory Potion Play and innovative learning materials like Apple Leather Play Mats.
• Owner Danielle Mossfeldt started the company in her kitchen with the aim of making a version of Play Dough for her kids that was more natural than what could be found in stores.
• The $20,000 grant will be used to support product development (including fully compostable packaging) and marketing (including online ads and paid media).
Dia Syed, Girls in Sports Alberta
• Girls in Sports Alberta gives girls (aged 4-17) a multi-sport experience that not only introduces them to a range of sports – each taught by an experienced coach that creates a safe, girl-friendly environment – but also instills confidence, competence and motivation.
• Founder Dia Syed has been involved in sports, teaching and business for a large part of her career and is also the Youth Program Director for the Edmonton Ultimate Players Association.
• The $20,000 grant will be used for curriculum development, purchasing new equipment, and volunteer recruitment & training.
Nova Scotia
Gyungbo Noh and Kendra Maceachern, Homi Garden Farm
• Homi Garden Farm produces diverse and nutritious food using sustainable practices to contribute to the health of local populations and ecosystems.
• Founders Gyungbo Noh and Kendra Maceachern have been farming on shared land since 2017 and started their own community-supported agriculture program in 2022.
• The $20,000 grant will be used to purchase new farming equipment to allow them to maintain the environmental integrity of their no-till, raised vegetable beds while producing more food for new markets.
There were a total of
About Desjardins Group
Desjardins Group is the largest cooperative financial group in North America and the fifth largest cooperative financial group in the world, with assets of $407.1 billion. It was named one of the World's Top Female-Friendly Companies by Forbes magazine. To meet the diverse needs of its members and clients, Desjardins offers a full range of products and services to individuals and businesses through its extensive distribution network, online platforms, and subsidiaries across Canada. Ranked among the world's strongest banks according to The Banker magazine, Desjardins has some of the highest capital ratios and credit ratings in the industry.