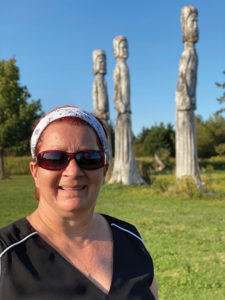 By Kathleen Provost
As a professional fundraiser, I always saw my social role as one of a broker. I was the one who facilitates philanthropic gifts in support of charities or philanthropic projects in need. However, our current society is being transformed as we experience a global pandemic. The charitable sector is in chaos and marginalized groups and issues are becoming social priorities that need addressing and for which social tolerance is no longer permitted. Is our charitable sector to blame, or may it be the solution?
It was in reading a blog entitled COVID-19: What kind of recovery?, written by Dr. Brett Fairbairn, President and Vice-Chancellor of Thompson Rivers University, that I was introduce to the work of McGill professor Dr. Henry Mintzberg. Mintzberg states that our society goes out of balance and people suffer if one sector of society becomes dominant. He claims there are tree essential sectors who should work in balance for a healthy society: the public, the private, and the "plural" sector.
We have witnessed how extreme dominance of one sector may not benefit all. For example, when the public sector dominates under communism, or as the private sector is now doing in the name of capitalism. In Mintzberg's view, the countries doing the best at managing the coronavirus pandemic are the ones with the most balanced relationship between government, business, and community.
This statement on dealing with our current pandemic really caused me to reflect further on a greater social quandary. Is the charitable sector, or as Mintzberg calls it, the "plural sector" capable of playing an equitable role in our society? Hence, I ask myself what needs to change? If change is needed, what role do we play as professional fundraisers, as contributing individuals of the charitable sector? Being a facilitator is one thing but is it possible that because we operate in the plural sector, we may have a duty to instigate a more collaborative approach. The end goal is to enable all three sectors to partner together in finding alternative options to an unprecedented social predicament that needs our immediate attention.
Understanding the plural sector as seen by Dr. Henry Mintzberg
The Plural Sector – A Label
Let's first explore this "three-legged stool" Dr. Mintzberg identifies in our economy. In 2015, the Standford Social Innovation Reviewed published: The Plurality of This Sector by Henry Mintzberg in which his definition of the "plural" sector was explained.
Based on his observation, Mintzberg proposes the label "plural sector" for two specific reasons. First, he states that the variety of associations and their range of ownerships influences the forms of ownership structures guiding many of the actors. Secondly, Mintzberg claims this labelling would naturally place this sector alongside the public and private sector.
However, the sector itself does not agree on its own label. When referencing this particular sector of the economy we have used third sector, non-profits, non-governmental organizations (NGOs), voluntary sector, or even civil society. How then can we take this sector seriously? How can this sector become intertwined in our societal model alongside the private and public sector?
So, is the plural sector going through a natural evolution in which key contributing factors must change to better collaborate in our society? Redefining the plural sector's role in a post-pandemic society may change the charitable sector as we know it.
The Plural Sector – An Entity
According to Mintzberg, an association of people, that is neither public nor private, not owned by the state nor by private investors could constitute being called "plural". Some of these organizations are owned by their members; others are owned by no one person. There are vast numbers of both.
These models of association can include clubs, religious orders, think tanks, activist NGOs such as Greenpeace, and service NGOs such as the Red Cross. Most of these associations are legally registered and formally organized, such as "WE Charity". Some may be more spontaneous associations, in the form of social movements. Social initiatives, in contrast, are usually undertaken by small groups that champion social change, usually in local communities, and can scale-up to become global; Black Lives Matters, come to mind.
In the Mintzberg model, governments essentially protect us, businesses supply us, and communities engage us — all are equal partners. Is 2020 the time in history to be remembered as the beginning of a society aspiring to true partnership across all sectors to address unacceptable social issues? If that is true, we need to reform the plural sector, or charitable sector as we currently call it, to enable this sector to work in an equitable partnership as a force for radical revitalisation in society.
Redefining the charitable sector
This global pandemic is opening our eyes to the radical thinking needed for the benefit of our society on issues such as: climate change, carbon footprint, conservation, elder care, mental health care, social isolation, cultural inequality and systematic racism to name a few. We have witnessed the "WE Charity" scandal, in which the role of the charitable sector became murky. This problem illustrates clearly the need for a reform for the charitable sector.
In June 2019, a Special Senate Committee presented a 190-page report entitled Catalyst for Change: A Roadmap to a Stronger Charitable Sector which included 42 recommendations from 160 witnesses and based on briefs from 90 individuals and organizations. The report itself reflected the size, scope, and complexity of the sector and has yet to turn the recommendations into actions. A review by Imagine Canada stated that the report only laid out a roadmap, and that "if adopted, it could be transformative for organizations, the people and communities we serve".
This global pandemic is offering us an opportunity to see the issues, and to do something about it. Changing the role of the charitable sector by enabling organizations to become more financially sustainable may be the innovative way for the charitable sector to become a true social partner. For this to happen, we must remain focus on where the funds go, as opposed to how they are raised. Building the sustainability of the charitable sector will allow it to partner equitably with the private and public sector, as opposed to maintaining the dependency relationship that currently exists with these two sectors.
Identifying innovations in the sector
Let's envision the current charitable sector becoming Mintzberg's "plural sector". To become an equal collaborative partner, the plural sector needs to become sustainable. Imagine if we had access to debt financing, loan guarantees, venture capital, equity investments, insurance products, start-up funding for social enterprises, and the possibility to support research and pilot new approaches. Things have to change fundamentally for the charitable sector, we need to innovate in ways we never thought possible. A few key recommendations in the Senate Committee report Catalyst for Change: A Roadmap to a Stronger Charitable Sector may be the beginning of a very "desirable" process.
Amongst the many recommendations of the Senate Committee is a re-write of the Canada Revenue Agency so that it can offer guidance on possible business activities for charities. Experimenting with the "destination of funds" in a wider range of business activities could facilitate the re-engagement of charities in socioeconomic issues. Imagine what it would mean for us, as fundraisers if such business activities occurred in the charitable sector.
The Senate report also recommended that the Income Tax Act evolve from only offering charitable giving rules to providing economic regulations. The report suggests a comprehensive review of the Income Tax Act rules governing charities every five years, so that necessary rules can be updated to reflect a changing world. These rules have not kept pace with situations such as charities acting as landlords.
Since our current economy is at a standstill because of a global pandemic, we should take the time to revisit innovative ideas. The Ottawa Community Foundation is predicting a social deficit gap, estimated to be $26 billion by 2026, which needs addressing with funding reform around earned income. The key fundamental is whether or not funds can further the organization's charitable purposes. If this is true, in less than a decade, social-purpose organizations will need billions more than they currently have to deliver services. The time is now to act and propose innovation.
Recruiting change agents
It is possible for Government studies to play a significant role in influencing government policy in diverse areas such as poverty reduction, science policy, health care, or Indigenous treaty rights. But if we are going to shape tomorrow's charitable sector to take its rightful place in socioeconomic activities, we need change agents, individuals or groups, who carry out the task and instigating action by managing change within the organization.
Fundraisers are natural collaborators. We build relationships. We actively listen to align affinities between donors and charitable projects or organizations. This is an opportunity for leaders in the fundraising field to directly or indirectly reform what tomorrow's charitable sector can look like. The jury is still out on the exact data, but we can safely estimate that the "voluntary sector" is made up of more than two-thirds women, and women have remained at the core of the sector throughout its growth. According to Dr. Mintzberg; "Women may be much better at engaging all kinds of people who don't lead individually, because women lead collectively."
As a result, it is possible to use this post-pandemic moment to develop a more balanced society. With fundamental reform in the charitable sector, and contributing individuals, such as fundraisers, we can bring about an equitable public, private and plural collaboration. This post-pandemic moment will only happen once in our lifetime, if there was ever a time to work together towards systematic change and establish a collaborative approach towards a renewed society, now is the time.
Kathleen A. Provost, CFRE is the Campaign Director at St. Francis Xavier University in Halifax. She brings over 25 years of fundraising experience within the charitable sector. She writes this column exclusively for each issue of Foundation Magazine.
Further & Suggested Reading
https://www.tru.ca/president/blog/covid-19-what-kind-of-recovery.html
https://www.cbc.ca/radio/sunday/the-sunday-edition-for-may-3-2020-1.5547652/countries-effectively-managing-covid-19-have-balanced-public-private-and-plural-sectors-says-expert-1.5547811
https://ssir.org/articles/entry/time_for_the_plural_sector
https://sencanada.ca/content/sen/committee/421/CSSB/Reports/CSSB_Report_Final_e.pdf
https://imaginecanada.ca/en/360/senate-report-seeks-reforms-charities
https://www.ocf-fco.ca/wp-content/uploads/2019/10/Community-foundations-and-the-senate-report-on-the-sector.pdf