By Brendan Read
Some of the best fundraising campaigns integrate channels, often with direct mail as the anchor, supported by email, digital media, including video and campaign-specific landing pages.
In those instances, the measure of success isn't whether direct mail is growing as a single channel, but whether it is growing while being supported by other channels.
A case in point is the St. Michael's Hospital Foundation 2018 Holiday campaign. As with most charities, the Holiday campaign, running from late October to early December, is the biggest revenue generator of the calendar year for the Toronto, Ont. hospital on account of donors being more in the "giving spirit" during the holiday season (and the motivation of the tax deadline looming).
The goals were to maintain the strong average gift from the previous year and to improve response.
This multichannelled campaign told the story of Valerie, a grateful patient of St. Michael's Hospital who, after experiencing almost no symptoms, was shocked to be diagnosed with bile duct cancer, which is rare and often fatal. She was even more shaken and afraid after being told that her tumour was inoperable.
But Valerie's initial fear was replaced with hope when she met her doctor at St. Michael's Hospital. She recommended chemotherapy, and Valerie stayed hopeful and surrounded herself with friends and family. Just a after a year and a half after diagnosis, Valerie's cancer was in remission.
In line with St. Michael's never say never attitude, the theme of campaign was "Tis the Season of Not Giving Up."
St. Michael's Hospital Foundation selected Valerie's story for two reasons. One, she was relatable as she represented the demographic of the donor base. And two, she had been diagnosed with cancer, which tends to connect with more people in the audience, especially when compared to less common or lesser understood illnesses.
"We wanted to share Valerie's story because it emulates our unique spirit of relentlessness, how our health care teams stop at nothing when it comes to the toughest health challenges," said Ericka Tovey, senior director, philanthropy, at St. Michael's Hospital Foundation. "We believe the success of this campaign is a testament to the power and poignancy of Valerie's story. Not only was it compelling and emotional, it clearly resonated with our donors. And perhaps most importantly, it was true to the spirit of relentlessness St. Michael's Hospital is renowned for."
The regular donor mail package included the outer envelope (OE), letter/reply form, premium test (5x Holiday Cards versus Control Ornament) and business reply envelope. It was sent to the St. Michael's Hospital Foundation's regular/house donor file, but there were direct mail packages sent to mid-level donors ($500-$25,000) as well as to a prospect audience file (made up of long-lapsed donors and patients).
For the mail portion, St. Michael's Hospital Foundation tested creative components. It knew from past campaigns that a holiday-themed OE drives better response from the audience as it stands out in their mailboxes and catches their attention.
"We had also recently launched a public awareness campaign and wanted to test its resonance with our loyal and dedicated donor audience", said Tovey. "We tested two OEs against each other to maintain the creative elements we knew worked, while also introducing and testing our new awareness campaign."
"This was our first time launching a campaign that transcended beyond a direct mail package, integrating the creative within several channels, including email, digital media and video".
These new channels included paid and organic social media (Facebook, Instagram), advertising across the Google Display Network (GDN) as well as Google Search. The digital ads consisted of carousel ad units on Facebook, video ads on Facebook and YouTube and animated display banners on GDN. The online and offline creative assets drove donors to a campaign-themed landing page that comprised of a video and a strong call to action.
Maeve Strathy, senior strategist at Blakely (St. Michael's Hospital Foundation's marketing and fundraising agency partner) cited the "Rule of Seven" from advertising, i.e. people need to see a message seven times before taking action. "When you send out a mailing, that's only one time that your audience gets to see the message," she said. "But by emailing and advertising on digital channels, it increases the likelihood that people see the messages enough times to, in St. Michael's Hospital Foundation's case, make donations."
"Although mail continues to be a strong channel, it works best when integrated and used with a mix of other channels," said Tovey. "Audiences and their behaviours have changed. They're exposed to thousands of messages outside their mailboxes and we wanted to cut through the clutter and meet them where they already are. It's not necessarily that people are giving through mail less, but more so that the call to action needs to be reinforced in more ways than it used to."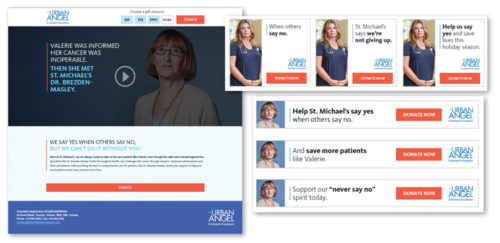 This campaign was a success on multiple channels. The direct mail portion grew in revenue by 31 percent year-over-year. This was driven by a combination of response and especially a higher average gift: meeting all of the key performance indicators St. Michael's Hospital Foundation set out at the outset of the campaign. Even better, revenue from digital channels also grew: by 34 percent.
"This campaign showed us that integrating our campaigns doesn't have to mean shifting revenue from one channel to another," said Tovey. "It can mean holistic growth across all channels."
Brendan Read is the editor of DM Magazine.