National focus groups reveal that 94 per cent of diverse women participants felt burnout and work-related mental health issues leading several to leave corporate Canada for entrepreneurship or the non-profit sector
TORONTO, ON–Conscious Economics, a national not-for-profit organization dedicated to fostering economic dialogue in Canada, announced the launch of HeARTwork.
This new solutions-based framework addresses the intersectional barriers diverse women face in advancing their careers and provides recommendations on how corporate Canada can help address these issues to prevent the loss of these unique perspectives and enhance the future of work.
This HeARTwork policy framework is designed to spark a progressive dialogue among corporate Canada. To start, the framework offers 11 actionable solutions to help support diverse women and their advancement into more senior roles in business. HeARTwork was informed by six national focus group sessions taking place in Vancouver, Calgary, Toronto, Montreal, Halifax, and a national session with participants from various locations across the country, in late 2021. These focus groups involved 54 diverse, self-identifying, women from across the corporate workforce and were facilitated by Conscious Economics, Indigenomics Institute, OnePeopleTO, Canadian Arab Institute, and CEE Centre for Young Black Professionals.
The focus groups found that 100 per cent of participants agreed there is a work/life imbalance due to motherhood, caring for elders, and pandemic impacts. This indicates the needed shift in corporate Canada so diverse women can reclaim the narrative, and have additional support in career development, and wellbeing. In addition to work/life balance, the focus groups discussed the topics of disparities in career advancement, discrimination, mental health issues, and the concern for women leaving the corporate world. These systemic problems that arose from the research strongly informed HeARTwork and the 11 actionable policies and solutions.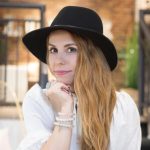 "HeARTwork takes a conscious, grassroots approach to dismantling a deeply systemic inclusion gap, and is a true reflection of Conscious Economics' commitment to equity-deserving populations," said Rhiannon Rosalind (left), Founder & CEO of Conscious Economics. "We are sharing our policy framework with employers across Canada, which includes proposed solutions and strategies to help support diverse women. Some of Canada's leading and most trusted brands have joined us in bringing the framework to life to drive the conversations necessary to create an innovative and inclusive future economy."
Interac Corp., is the lead corporate champion of this program and is joined by Cassels Brock & Blackwell, Canadian Tire Corporation, and Mackenzie Investments, among other corporate champions in Canada. The solutions presented in the HeARTwork framework are intended to spark dialogue, and innovation through their application within corporate Canada. This framework is designed to allow corporations to implement one, some, or all these solutions, to improve leadership and economic outcomes for diverse women operating within the corporate labour force.
"Our hope is that HeARTwork plays a major role in diverse women staying in senior business roles within corporate Canada," continues Rhiannon Rosalind. "We want to create policy change, which exists at the intersection of art and business. We have created an art-forward zine to spark the conversation within corporate Canada and have enlisted the support of our Lunar Studios' Artists in Residence to turn ground-breaking research into the single, "Changing". By using multiple mediums to share these important ideas, we are engaging a wider audience and inviting new voices around the table."
Juno award-winning musician Serena Ryder, alongside her partner Brian Kobayakawa produced the single. Co-written by Lunar Studios Artists in Residence, Jay "Your Hunni" Gallucio, Madelyn Kirby, and Meagan De Lima who listened in on the cross-country focus groups learning about the barriers, mistreatment and inequities these diverse women have faced. The single "Changing" came out Friday, June 23, 2023.
"As the Minister for Women and Gender Equality and Youth, I'm proud to support Conscious Economics and the HeARTwork program. Increasing economic participation and upholding fairness and justice in our society are at the core of their incredible work," said Marci Ien, Minister for Women and Gender Equality and Youth of Canada. "This project is one of 1,300 projects, totaling an investment of $576 million from the Women's Program – and is a leading example building a better Canada for women."
"It's time to lead with foresight and mindfulness to continue the dialogue alongside tangible actions. Innovative ideas must center the most systematically excluded groups – women, Black and/or melanated, Queer/Trans, neurodiverse folks, and those with mobility conditions – to truly affect change that benefits everyone," said Sheena Ewan, Founder, OnePeopleTO. "In order to do well, employees need to be well, and employers must actively invest in culturally wise, trauma informed mental health & wellbeing initiatives during work hours and beyond. In turn, employers are guaranteed to observe improved personal wellness and satisfaction, thereby increasing employee performance, leading to retention & profits."
"As more women leave the workforce due to discrimination, mental health issues, or a lack of work/life balance, businesses suffer and women in the future of work is at risk," said Caroline Stephens, Chief Human Resources Officer, Interac Corp. "The HeARTwork policy is a progressive tool that will spark conversation in corporate Canada and challenge some of the barriers diverse women are facing. At Interac, we are committed to fostering an inclusive culture and will look to the policy to inspire programs and solutions that help empower future leaders for the new economy."
About the Research
The research that informed the HeARTwork policy framework involved an exploratory qualitative assessment followed by a confirmatory or generalizable quantitative study. Six national focus group sessions were conducted with 54 women from the Canadian corporate workforce, primarily those who identified as Black, Indigenous, or people of colour, in the fall/winter of 2021. After completion of the national needs assessment focus groups, Conscious Economics' research team analyzed the results and produced a comprehensive report detailing the methodology of the study and overview of the findings. This 36-month project was led by Conscious Economics with the financial support of Women and Gender Equality Canada (WAGE).
About Conscious Economics
Conscious Economics is a national not-for-profit organization and global social enterprise headquartered in Canada, with a 10-year history and proven track record in economic education, financial literacy programs, research, events and experiential learning. We have staged over 1,000 events that have gathered youth, business leaders, policy makers, change agents, educators, industry associations, charities, and not-for-profits. While we engage with all communities, we maintain a specialized focus on vulnerable populations including diverse, LGBTQ2S+, Women and Artists.