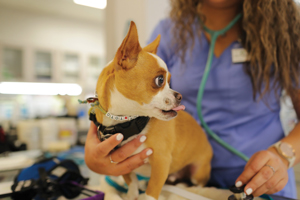 Canadians adore their companion animals, and today nearly 60 percent of homes in Canada now include pets. Pets improve the lives of their people by boosting their physical and emotional wellness, yet millions lack access to even the standard veterinary care needed to maintain long, healthy lives. PetSmart Charities of Canada™ is addressing the problem by granting more than $1.5 million to help more Canadians get the care their pets need to remain healthy and stay in their homes.
Preventative health care such as vaccinations, spay and neuter procedures and annual visits ensure small issues don't become more serious. Affordability is a key barrier for many pet parents. For those living in remote or socially vulnerable communities, availability of care in "vet deserts" poses other problems. PetSmart Charities of Canada is creating collaborative alliances with local animal welfare partners to create sustainable care models.
"We are committed to supporting people and pets and are working to break down the barriers that prohibit pet families from living happy and healthy lives together," said Aimee Gilbreath, president of PetSmart Charities of Canada. "We have a unique opportunity to drive lasting change for pets by working with partners and leaders in the veterinary space. Broadening the reach, we hope others will draw inspiration and replicate these efforts across the country."
The Guelph Humane Society, serving those in Guelph and Wellington County, is already making an impact with the support of $125,000 in grant funding from PetSmart Charities of Canada. In collaboration with local veterinary partners they have increased fair and equitable access to veterinary and preventative care services for pet parents in need. Fewer pets are returned to already overcrowded shelters when their families have the resources they need to care for them.
"Thanks to the continued generosity of PetSmart Charities of Canada in funding our work to improve access to Veterinary care, Guelph Humane Society is one step closer to achieving our vision of ensuring that pet parents in need can access services to keep their pets healthy," said Lisa Veit, Guelph Humane Society Executive Director.
The Nova Scotia SPCA also recently received an $85,000 grant from PetSmart Charities of Canada that has provided veterinary services for pets of people in need in Dartmouth and surrounding areas, supporting up to 500 pets. Grant funds will help support their Veterinary Hospital with staffing costs, medication and equipment, and pet care supplies, and more.
To support these initiatives, people can donate to PetSmart Charities of Canada as they check out at the register in PetSmart stores or by visiting PetSmartCharities.ca. For more information on how PetSmart Charities of Canada is working to keep families together and build healthier communities, visit PetSmartCharities.ca/our-stories.
• • • • • • • • • • • • • • • • • • •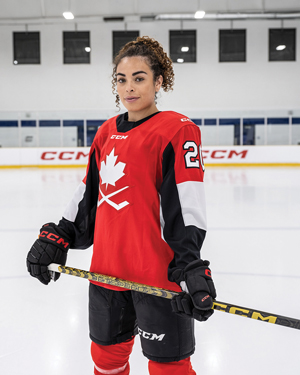 CCM Hockey's new Limited Edition JetSpeed FT5 Pro Gold stick in collaboration with Sarah Nurse. This limited run of sticks celebrates Sarah Nurse's golden achievements and also gives back to help grow the game of hockey with a portion of proceeds going to the Hockey 4 Youth charity. Nurse is a member of the Canadian Women's National Team and Professional Women's Hockey Players' Association (PWHPA). She is a two-time Olympian, winning Olympic Gold in 2022 and a 2021 IIHF Women's World Championship. Her impact also extends off the ice as Sarah uses her voice and platform to help lead the conversation around diversity, representation and advancing inclusion in the sport of hockey. The first Black woman to win an Olympic gold medal in hockey, she serves as a member of the NHL Player Inclusion Committee and is a board member and spokesperson for the PWHPA.
The limited edition stick is the same construction as the recently released JetSpeed FT5 Pro stick, with a custom design that celebrates Sarah Nurse recently winning Gold for Canada. It features her name, number and Canadian flag on the namebar, and her record breaking stats on the back; 5 goals and 13 assists for a total of 18 points in only 7 games. She set the Olympic record for most points and most assists in a single women's tournament and her 13 assists set the Olympic record for men and women dating back to 1960 at Beijing 2022. The sticks are only available for sale in Ontario stores and on CCM's website.
A portion of the proceeds of stick sales will be donated by CCM to Hockey 4 Youth, a foundation that supports young players and newcomers to Canada to learn the sport of hockey. The donation will contribute to new gear for these players and will help the foundation fund more camps that help grow the game and make it more accessible for newcomers to the sport.
"We are proud of all our athletes and were blown away by the record-breaking performance Sarah Nurse had representing Canada. To show our support for her we worked together to create a Limited Edition stick that would represent her golden performance, but also support a cause that is important to both Sarah and CCM." Robert Zaring, VP Marketing, CCM Hockey.
"I am beyond excited to team up with CCM to create this golden hockey stick and to be able to support the incredible efforts of Moe and Hockey 4 Youth in Ontario. I was introduced to hockey through my father who immigrated from the Caribbean and believed that every Canadian should know how to skate. I am passionate about creating an inclusive space for hockey players. Through fans purchase of these sticks we are able to make an immediate impact on providing more access for this community. Thank you for your support of me and this initiative." Sarah Nurse, Pro Hockey Player, Olympic & World Champion.
"It's an incredible honour to be connected to Sarah and the team at CCM through this Golden initiative! Hockey 4 Youth will be able to use these funds to support more newcomer teens, youth who face barriers and girls through access to free ice hockey and our off-ice T.E.A.C.H. program." Moezine Hasham, Founder & Executive Director, Hockey 4 Youth.
Hockey 4 Youth Foundation/Fondation hockey pour les jeunes is a charitable organization. Our mission is to foster social inclusion for newcomer teens of all genders and other youth who face barriers through access to free ice hockey and our off-ice life skills T.E.A.C.H. program (Technology, Entrepreneurship, Arts, Community giving, Healthy Active Living). Since 2015, Hockey 4 Youth has worked with 600+ youth representing 36 countries of origin including: Syria, Afghanistan, Ukraine, Vietnam, Mexico, Jamaica, Ethiopia and the Philippines.
• • • • • • • • • • • • • • • • • • •
Forests Ontario and its partners planted 2.5 million native tree seedlings across the province this season as part of its 50 Million Tree Program. This brings Forests Ontario's program total to 36.7 million trees planted, creating more than 18,000 hectares of new forest on nearly 7,000 project sites.
"The help of our planting partners was key to Forests Ontario achieving this planting milestone," says Rob Keen, Chief Executive Officer of Forests Ontario, and Registered Professional Forester. "The generous support of individual donors, corporate sponsors, and the Government of Canada has been critical to our success this year and will remain essential as we work with our provincial and national partners to plant more and more trees each year."
Forests Ontario's province-wide network of planting partners work closely with local landowners to develop site-specific plans and plant the right trees in the right places for the right reasons. These newly planted trees will help fight the impacts of climate change, provide flood protection, purify water systems, and improve wildlife habitat and biodiversity.
Landowners who want to learn more about the 50 Million Tree Program and sign up for the 2023 planting season should visit www.forestsontario.ca/en/program/50-million-tree-program.
"83 percent of the total hectares planted under the 50 Million Tree Program are thriving and already sequestering significant amounts of carbon," says Elizabeth Celanowicz, Chief Operating Officer of Forests Ontario. "Creating healthy, new forests is one of the most effective, nature-based solutions in combating climate change impacts. Healthy forests not only cleanse our air and water, but also provide natural green spaces that boost recreational opportunities and help improve our health and well-being."
To support the creation of new forests, take initiative on climate change, and learn more about Forests Ontario's tree planting programs, education initiatives and community outreach, please visit www.forestsontario.ca.
Forests Ontario is the province's leading charity dedicated to the creation, preservation, and maintenance of forest and grassland habitats. Our ambitious, large-scale tree planting initiatives, extensive educational programs, and decades of community outreach result in millions of trees being planted each year.
Together with our national division, Forest Recovery Canada, we work with our many partners across the country to plant native trees and ensure our efforts today thrive and grow into tomorrow's healthy and resilient forests.
• • • • • • • • • • • • • • • • • • •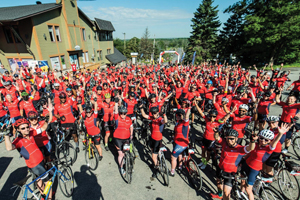 In July nearly 400 employees and volunteers from National Bank will participated in the 10th edition of the NB Grand Tour. This year's event is took place in Montérégie. The event has helped raise $175,000 to support Fondation Jeunes en Tête, whose mission is to prevent psychological distress among youth aged 11 to 18, as well as 13 organizations in the region.
The NB Grand Tour is a charity sports event for cyclists and runners that made its debut 12 years ago in the Saguenay/Lac-Saint-Jean region and has since been held in a different region of Quebec each year. Over the years, the NB Grand Tour has donated more than a million dollars to some 50 organizations across Quebec.
"National Bank employees constantly strive to have a positive impact on the lives of people around them, said Lucie Blanchet, Honorary Chair of the NB Grand Tour and Executive Vice-President – Personal Banking and Client Experience at National Bank. "In addition to taking on a physical challenge as part of the Grand Tour, they've raised funds to support important local causes. I'd like to thank them for their determination, their inspiring commitment to the community and their dedication to continuing the NB Grand Tour tradition — mile after mile."
"We're proud of our long-standing partnership with National Bank to help young people. Thanks to the NB Grand Tour and its participants and donors, we will be able to keep talking about mental health in high schools and adding content to the free online kits we offer to teens, parents and teachers. These are key actions in preventing psychological distress in young people," said Catherine Burrows, Assistant Director General of Fondation Jeunes en Tête.
The funds raised will be donated to the following organizations: Fondation Jeunes en Tête, Centre Notre-Dame de Fatima, Centre petite échelle, Fondation du Centre Jeunesse de la Montérégie, Fondation Louis-Philippe Janvier, Fondation Papillon, Inform'elle, L'envol, Le Phare Enfants et Familles, Maison des jeunes de Saint-Bruno, POSA source des Monts – Maison Stéphane Fallu, Pour 3 Points, Prévention des dépendances l'Arc-en-ciel et Opération Bonne Mine (Société Saint-Vincent de Paul).
The mission of Fondation Jeunes en Tête is to prevent psychological distress among youth aged 11 to 18 in Quebec. It accomplishes this mission by reaching out to teenagers in schools through its Partners for Life program, and by supporting recognized community organizations that complement its work. It also builds synergy between those who help young people so that they can make the biggest possible impact.Follow its activities on Facebook, LinkedIn, Twitter and Instagram.
• • • • • • • • • • • • • • • • • • •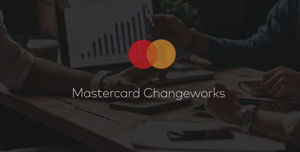 Mastercard launched Changeworks™, a social-impact program that helps Canada's not-for-profits harness the power of technology and data to create positive change. To put this commitment into action, Mastercard has made its first anchor grant to national not-for-profit, CanadaHelps, to launch a digital transformation program for charities across Canada.
Canada is home to outstanding not-for-profits delivering critical social programs and services, but many of these organizations have not been able to adequately invest in technology infrastructure and digital skills. While a majority believe digital adoption is important and the resource crunch they face could be more effectively managed through digital technology, 55 percent of charities polled say they do not have the funding, or the skills, expertise and knowledge for digital adoption.
This has created significant obstacles for delivering programs and services efficiently, scaling impact and reach, and bringing in donations critical to support their work. The pandemic has made this situation even more challenging as not-for-profit organizations struggled to survive and to pivot to online models while facing decreasing revenue and increasing demand for services.
"Canadian not-for-profit organizations are vital contributors to our country's economic health and social fabric, but many lack the necessary technology infrastructure and digital skills to deliver on their mandates and increase their impact," said Sasha Krstic, president of Mastercard in Canada. "We aim to provide support, resources and expertise to help empower them do what they do best. It's about creating a ripple effect that will make Canadian society stronger, more inclusive, and more equitable for everyone."
The core mission of Mastercard Changeworks is to support Canadian not-for-profits — and the individuals and communities they serve — by helping them improve their technology and data capabilities. Designed with three program pillars: grants and partnerships, hackathons and datathons, and employee volunteer initiatives, the program will launch with a targeted focus on not-for-profits in the entrepreneurship space, particularly those supporting Indigenous and Immigrant/Newcomer small-business entrepreneurs; a segment of the business community that continues to face significant challenges. Over time, the program will broaden to others in the not-for-profit sector.
CanadaHelps is the first anchor grant recipient of Mastercard Changeworks. The grant will fund the development and piloting of a new program, CanadaHelps' Charity Growth Academy — to help small and medium-size charities use tech and data to transform their strategies, operations, and fundraising. Eleven charities and not-for-profits in the entrepreneurship, Indigenous and/or immigrant/newcomer space will be part of the pilot, each receiving a digital transformation assessment and customized action plan, training, coaching, and a grant from Mastercard to implement technology and/or data solutions customized to its needs.
"The prioritization of digital transformation is well understood and underway in the business world, and charities need the same support to go digital that has been offered to small businesses," said Lizz Bryce, SVP, Community and Strategic Initiatives at CanadaHelps. "The support provided by Mastercard Changeworks has taken Charity Growth Academy from a bold idea to a reality that was only possible with the significant investment Mastercard was willing to make. This program will enable our small and medium-size charity partners to kick-start their digital transformation journeys with the support of quality training resources, connections to volunteer experts, and funding needed to lay the foundations for long-term progress and success."
Mastercard Changeworks furthers the mission of The Mastercard Center for Inclusive Growth to advance equitable and sustainable economic growth and financial inclusion globally. Through a commitment to investing in actionable insights, impactful programs and cross-sector partnerships, the Center helps ensure that technology works for people, meets their needs and makes their lives better.
• • • • • • • • • • • • • • • • • • •
OpenText announced Christian Blind Mission has implemented its leading Customer Communications Management (CCM) software, OpenText Exstream, to personalize and automate hundreds of thousands of essential donor communications, increasing efficiency and improving donor relations around the world.
Christian Blind Mission (CBM) is an international non-profit organization committed to improving the quality of life of people with disabilities in the poorest countries in the world. Processing more than $80 million in donations annually, CBM generates and sends a variety of communications ranging from thank-you letters, custom postcards, tax receipts and more to over 500,000 active donors each year, most of which require some level of personalization.
By implementing OpenText Exstream in the cloud, CBM can ensure its donors will receive highly accurate communications via an array of channels and media while also benefiting from improved operations, access to ongoing support, business continuity and the ability to seamlessly adapt to remote work and continue operations during a global pandemic.
"Each of our donors receives some type of communication every year, resulting in hundreds of thousands of different documents and templates that need to be properly managed, updated, stored and distributed," said Alexander Kindinger, Head of IT at Christian Blind Mission. "OpenText Exstream is a key part of our strategy, allowing us to design complex documents, set up templates with variable content, update Salesforce and better manage our digital and print assets, all from within a robust cloud environment, to help us save time and money through lower operating costs and trusted expertise."
Enabling personalized, cloud-native, omnichannel communications to help foster customer engagement, brand loyalty and simplified maintenance, OpenText Exstream helps to create highly engaging customer experiences, leveraging data and existing content to deliver communications through the digital and print channels that best reach and engage customers. Backed by OpenText's flexible-first approach which enables customers to deploy its suite of information management solutions on-premises or in the cloud of their choice, OpenText Exstream integrates with Customer Relationship Management (CRM) systems, like Salesforce, to provide an enterprise scale solution.
"Christian Blind Mission needed a cloud-native CCM solution in place to support their growing mandate, seamlessly adapt to today's distributed work model and enable a scalable donor relations program," said Muhi Majzoub, EVP and Chief Product Officer at OpenText. "We are proud to play an essential role in this organization's essential work. By leveraging OpenText Exstream, CBM has been empowered to elevate its communications strategy, explore new ways of work without interruption and continue to drive their global objectives forward, helping persons with disabilities to achieve their full potential."