Passion Assets: How gifts of art and culture can be a catalyst to better gift planning conversations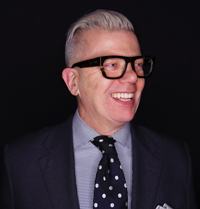 By Stuart Keeler
Your client's Great Aunt Aiysha has just given them a painting and a much-loved stamp collection and they are not sure what to do with them. My advice: have the items appraised then auction or sell them or donate the pieces to a favourite charity or museum. Art is a unique asset class that can appreciate in value and represent part of a diversified investment portfolio, plus it can be creatively leveraged by donors as an institutional gift. In this article I will share the highs and lows and my personal opinions and a variety of ways that art can open opportunities.
People collect all kinds of items, often dubbed "passion assets", that become sources of appreciation and enjoyment. Things like wine, cars, jewellery, antiques, coins, baseball cards, stamps, couture fashion and art have had notable returns at auction or provided as gifts to museums, non-profit public collections or private foundations. A friend of mine collected antique lace for over 40 years and met a textile expert at a flea market who advised her to have the collection appraised. My friend was shocked at the value and subsequently gifted the items to a speciality museum with the agreement that they could sell the lace at auction and raise funds for education and the restoration of textiles. Everyone walked away carrying a moment of personal meaning and feeling they made a contribution to a better world.
The appraisal process may seem daunting, however there are ways to find a trusting professional who can provide honest feedback. You can also seek out professionals who are able to connect you with potential organizations or donors to turn your passion assets into philanthropy purposes.
Many organizations are equipped to accept standard methods of gifts such as cash donations or gifts of security. However, there are exciting opportunities for organizations to accept passion assets. Finding a professional to help you navigate this process is important to get it right, feel connected to your goal and ensure professional advice and practices are adhered to for the best outcome and intentions.
There are myriad places to donate to
Donating to a museum in exchange for a tax receipt is another course of action. Most investment and fundraising professionals will tell you that there are multiple ways to think creatively about wealth and the distribution of assets — including art — to achieve philanthropic goals and make a positive impact. There are myriad places to donate to, with various sizes, genres and collecting interests, from living heritage museums to historic houses, specialized collections, contemporary art galleries and more.
Direct donation of art can be made with an interesting advantage. Rob Cowley, President and Canadian Art Specialist at Cowley Abbott in Toronto, says that "In terms of direct donation, a collector may have an opportunity to provide their artwork to a public collection. The artwork might fill a gap, further enriching the existing collection or, as we have been witnessing with greater regularity in recent years, the institution may choose to sell the artwork, with the proceeds of sale allowing the possible investment in further artwork through auction or private sale that furthers the institution's collection development." A potential donor can easily find an institutional mission to connect with and then craft a plan with the staff to direct auction proceeds from donated art to align with any personal interests they may have, funding items such as education, community engagement, exhibitions, or a role such as a special project curator or ASL interpreter to reach new audiences. As you start your journey, ask yourself — what is important to you (your why) to donating your personal collection. From there, you can consider how the gift can generate positive outcomes for the organization of your choice that aligns with your values and giving plan. You can also consider, if the donation is meant for immediately or create a long-term funding plan, how the funds should be allocated, and working on a bespoke giving plan that works for both you and the organization.
Cowley supports this alternate approach of donors offering the artwork at auction themselves and then donating the proceeds of sale to the institution or cause they wish to support. If a client inherited a painting, for example, from her great grandfather 20 years ago and, aside from gratitude for the thoughtful gesture there is no emotional connection to the piece of art, the recipient should have the work appraised and make a plan. Donors should seek professional tax advice when donating art (not just first time as this is a complex area).
With the continuous and highly lucrative (and currently record-breaking) market for rare historical, post-war and contemporary art at auction (including the months that have been affected by Covid-19), Rob Cowley and his team regularly witness these various options exercised by donors and public collections, the process benefitting the donor through a tax receipt, benefitting institutions through further development of their collections and mandates, and, importantly, benefitting the public through enrichment of the cultural experiences they are able to enjoy.
The pandemic has changed donor plans
We live in interesting times, where public funding and philanthropy in the art and culture sectors are undergoing significant shifts. After experiencing the pandemic, and facing social strife and political changes across the globe, younger generations are looking at the future differently. Increasingly, this group wants to offload impractical possessions and make their cultural advantages available to everyone. Art has value, history, cachet and buzz. Hey!… pass it on! New generations are inheriting "stuff" and generally want to lighten their load. Art can be creatively leveraged and with advantage to the next generation viewing pleasure, or engagement in the current moment with funds raised in the connecting and creating a better world for all.
Stuart Keeler has contributed this article as a guest and at the invitation of the Foundation Magazine and the views expressed in it are solely and exclusively his own personal views.