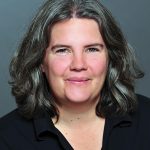 By Lynn DeCaro
The Muskoka Community Foundation, a charitable organization founded to support donors meet their philanthropic goals and support local charities in Muskoka', published two Muskoka Vital Signs Reports in 2018 and 2021. At first glance the reader might wonder why the environment was included amongst topics such as food security, economic health, income security and mental health and wellness.
The purpose of a Vital Signs report is to capture the health and vitality of a community. It is therefore imperative to view the environment with an intersectional lens to gain a better understanding of the important role the natural landscape plays in contributing to a healthy Muskoka.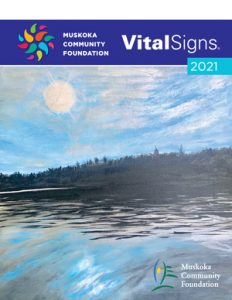 Muskoka has often been identified as one of the best places to visit in Canada and also as one of the most popular vacation spots in the world. In 2011 and again in 2012, National Geographic declared Muskoka as one of the top destinations in the world to visit. Muskoka encompasses more than 1,000 lakes and is home to 10 provincial parks including Hardy Lake, Arrowhead and Six Mile Lake, as well as more than 10 conservation areas that include the Torrance Barrens Conservation and Dark Sky Reserve. Georgian Bay Islands National Park is Muskoka's only National Park, and is home to more reptiles and amphibious species, including the threatened Eastern Massassauga Rattlesnake, than any other national park in Canada.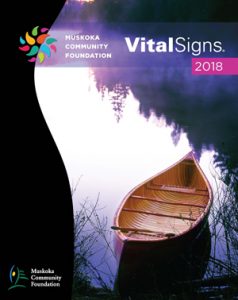 According to Statistics Canada there were 3 million-person visits to Muskoka in 2016, with 1.9 million of those visits occurring between July and September, and nearly 500 million dollars in visitor spending. The food and beverage, accommodations and retail sectors accounted for the bulk of visitor spending.
As Muskoka becomes known as a four-season destination, the tourism industry continues to play an important role in the local economy and a major source of employment. With many visiting the region to participate in boating, staying at provincial and national parks, hiking, camping and viewing wildlife it is important to recognize that Muskoka's economies are based on a healthy and diverse ecosystem. It is also important to consider the impact of a healthy environment on income security.
Muskoka is often considered an affluent cottage/vacation destination, but this idyllic vision of the region obscures the economic reality among the population. Muskoka, like many rural communities, faces challenges in addressing poverty and helping the community's most vulnerable people. A barrier faced by many living at or below the poverty line is the reality that many jobs in the tourism, construction and service industries are part-time and seasonal. Any disruptions within these industries can have a devastating and long-lasting impact on individual households.
Ice cover is shrinking
In 2020 the volume of economic activity in Muskoka decreased by 4.5 percent due to the impacts of the pandemic. One of the most impacted sectors was the tourism industry. While not directly related to the health of the environment, this sudden change in the way people were able to interact with Muskoka's natural landscape highlighted how integrated Muskoka's environment is with the economy. Another concern for Muskoka's environmental related economy is climate change.
Indicators, such as the number of days with ice cover on lakes, indicate a warming trend. According to ice-cover data provided by the Dorset Environmental Science Centre, there are approximately 3 weeks fewer of ice cover on our lakes than 45 years ago (140 days vs 121 days).
As a four-season destination climate change will affect industries that serve visitors who come to Muskoka to enjoy skiing, snowmobiling and ice fishing. In addition, there is concern for the Muskoka watershed. Considered part of the "land between", which runs between the Canadian Shield and the St. Lawrence River Lowlands, it is the northern limit for species such as White Oak, Woodchuck, Chorus Frog and the Common Crow. It is also the southern limit for species that include the Grey Wolf, Moose, River Otter, American Raven and the Common Loon. Any upset to the balance of this ecosystem could have irreversible consequences.
A changing Muskoka climate also impacts our physical health and safety as well. According to the Simcoe Muskoka District Health Unit climate change can affect our health in a number of ways. These changes might include, more summer heat warnings, heat-related illness and hospitalizations, more extreme storms, injuries and community wide emergencies, poor air quality possibly leading to increased respiratory and cardiovascular illness, greater exposure to UV radiation and an increase in the presence and numbers of vectors that carry diseases like West Nile Virus and Lyme disease. In addition, changing weather will also affect water and food safety, and the ability to grow food.
It is easy to see how any change to Muskoka's environment, big or small, can very quickly impact the region as a whole. While it is important to capture potential negative impacts of these changes, it is equally important to recognize the collective action being undertaken by individuals and organizations to preserve one of Muskoka's most important assets. In an effort to balance tensions between economic growth and environmental stewardship, efforts are being directed at raising awareness of environmental issues and engaging a broad range of stakeholders. Currently, the District of Muskoka, with the support of a grant from the provincial government, is overseeing multiple projects that will inform long-term watershed planning. These initiatives bring a science-based perspective to environmental and land-use management in the Muskoka River watershed, while considering social, environmental, and economic factors.
Let's begin a dialogue
The District of Muskoka is also implementing A New Leaf Muskoka Climate Strategy, as well as partnering with area Municipalities to assess climate change risks in Muskoka and develop a regional climate adaptation plan to address them. The District of Muskoka is not the only organization working to protect Muskoka's natural environment. Other groups working to preserve the environment and natural landscape include the Muskoka Conservancy, Aspen Wildlife Sanctuary and The Friends of the Muskoka Watershed.
The Muskoka Community Foundation recognizes that the Vital Signs® Reports do not provided a comprehensive overview of all of the issues that need to be considered when assessing the overall health and vitality of the Muskoka Community. Rather these reports present a snapshot of Muskoka at a specific point in time.
Instead of presenting the final word, the goal of these reports is to begin a dialogue and encourage discussion about what needs to be done to strengthen the well-being of Muskoka. It is important to engage with the complexities and interconnectedness of a broad range of issues, including the environment, as strategies are devised ensuring Muskoka is an inclusive and supportive community for residents and visitors.
Lynn DeCaro is Executive Director of the Muskoka Community Foundation.