David Asper reflects on the Grey Cup, his varied professional and philanthropic careers, and passing the torch to the next generation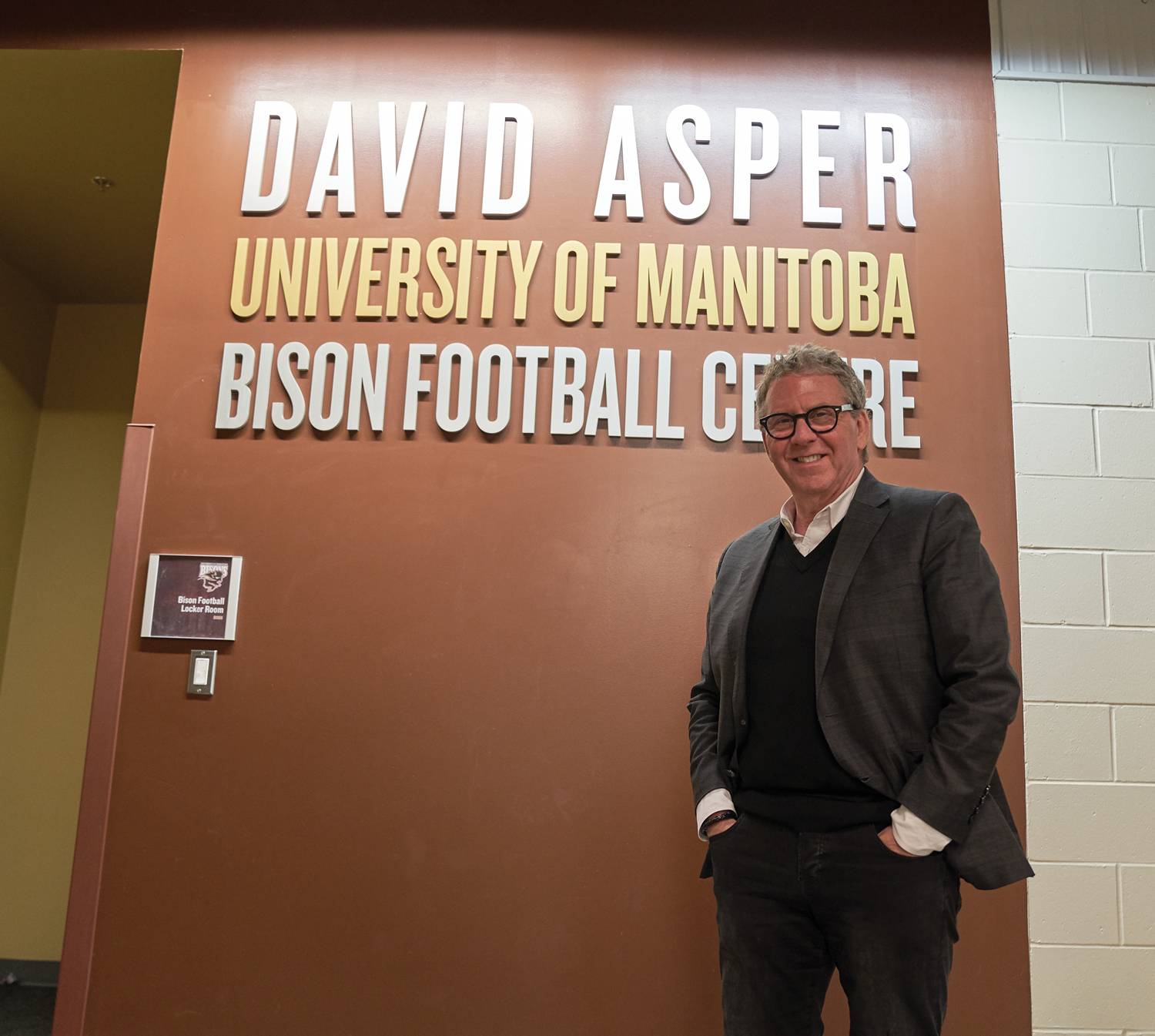 By Tracy Howard
David Asper opens the phone interview announcing he's watching a helicopter rescue off Camelback Mountain, which he's seeing from the window of his Phoenix vacation home. The 61-year-old lawyer, businessperson and philanthropist reveals he had his own rescue off it several years back, after severing his quad tendon. While Asper was able to ride off the mountain inside a helicopter, today's rescue method might faze the most diehard thrill-seeker.
"They strap you to a harness, hook you up to a cable and fly you off the mountain like Bruce Willis in an action movie," Asper explains, laughing. "I'm just watching them lower the bucket right now — some poor sod is about to go for the ride of their life."
Although safely on terra firma, Asper is also flying high. Less than a month before this conversation, his beloved Winnipeg Blue Bombers defeated the Hamilton Tiger-Cats to win the 2019 Grey Cup, ending a drought of 29 years. David, the eldest child of the late Israel "Izzy" Asper, founder of the former media conglomerate CanWest Global Communications Corp., and Ruth Miriam "Babs" Asper, has deep life-long ties to the team. Raised in Winnipeg, along with siblings Gail, 59, and Leonard, 55, David was born three days before the team won the Cup in 1958, and grew up going to games with his father and uncle.
Asper has contributed to the not-for-profit team in a multitude of ways. He did legal work for the club from the late 1980s to the early '90s, was chair in 2000-2001, and helped save it from bankruptcy in 2002. Perhaps the most visible contribution is IG Field, the Bombers' stadium — opened in 2013 — which Asper played an instrumental role in getting built. He was inducted into the Blue Bombers Hall of Fame in 2017, and the training facility of the University of Manitoba Bisons, who also play at the stadium, is named after him. The latter honour recognizes a bursary program he created for the university's football athletes.
The meaning of this Grey Cup to Asper is clear when he speaks about the 2001 championship game, when the Bombers, a 14-and-4 winning team, lost to the Calgary Stampeders. "It's maybe the most bitter thing that happened in my life," he says.
In contrast, the 2019 championship saw Asper on the field in Calgary hoisting the trophy with his wife, Ruth, and their three adult kids, Daniel, Rebecca and Max.
"I wanted to almost shut out everything and preserve the memory in my brain. I just wanted to watch these young players, their coaches and all the families celebrate, as well as the staff who had been there for so long."
But Asper's dedication to the team is just one example of how he's given back throughout his life.
"While it's got to be calibrated according to means, you get to a level of the social contract where if you've benefitted from all the good things society provides you, you have an obligation to give back," says Asper. "That's a fairly basic concept that's pretty rooted in our family."
He remembers both his grandmothers volunteering regularly, and that his mother would take him along when he was a kid on her shifts at the local canteen. Asper also recounts volunteering with his family during winter carnivals for a neighbourhood community centre. Although when asked what he recalls about that now, he jokes "free hot chocolate," it's clear the experiences left their mark. Izzy, his father, also preached the importance of community commitment and walked the talk — volunteering while practising law, serving as the leader of Manitoba's Liberal party in the early 1970s, and then donating generously as a businessperson.
Looking to modernize
In 1983, Izzy and Babs created the Asper Foundation, which is focused on contributing to major initiatives supporting Jewish causes, as well as arts, education, community development and human rights in Winnipeg, nationally and internationally. In 2018 alone, in both charitable programs and gifts, the foundation contributed more than six million dollars.
Its crown jewel is the Canadian Museum for Human Rights in Winnipeg. A passion project for Izzy, it opened in 2014, 11 years after his death at age 71. The national museum is unique in that it's the only one solely devoted to human rights. Gail Asper, a lawyer and the president of the foundation, spearheaded the project after Izzy's death. But David, as foundation chair since 2012, helped stickhandle some of the issues in its development, which included controversy over its focus and cost.
"There was a lot happening on a political level behind the scenes that I played a role with."
As for the foundation's current work, Asper shares that they're still focused on honouring their parents' legacy while also modernizing and reflecting the current generations' interests, as well as looking to the future.
"It's a bit fluid at the moment because we're in a generational kind of transfer" he explains.
Although still a trustee, this past April Asper retired as chair, passing the reigns over to his brother, Leonard, a lawyer and the former CEO of CanWest.
"When my mother passed away quite suddenly in 2011, we went through a period where we needed to be stable and recalibrate some things. I did my term of service and now it's time for somebody else to do it."
His philosophy of "doing your thing and moving on," is also a common thread in Asper's robust philanthropic career away from the foundation. At the Winnipeg Folk Festival, for example, he started off as a member of the backstage crew, was then recruited to the board and ultimately served as president in 1991-1992. During his tenure, Asper and the rest of the board were able to implement an entirely new business approach that helped the festival get out of significant financial difficulty — today it's one of the most successful arts organizations in Manitoba.
That term as president also coincided with the last year he practised law before joining CanWest in 1992. The culmination of his criminal-law career was — as co-counsel on one of Canada's most notorious wrongful conviction cases — walking David Milgaard out of prison in April of that year.
Asper turned to CanWest
This past May, he saw Milgaard again at the annual conference of the Canadian Association of Journalists, held at the Canadian Museum for Human Rights. He describes the emotion of sitting onstage with some of the journalists who covered the case, seeing Milgaard now in a good place.
"Watching this good-looking, articulate man talking about the plight of the wrongfully convicted in real time, at the same time as I'm seeing him in prison greens, flashing back to 1986. I almost broke down."
Although ultimately fulfilling, the Milgaard case was all-consuming for Asper, and it left him feeling both emotionally and professionally spent. Due to the resources he had devoted to the case, he says he had essentially lost the rest of his practice and, now with a family to support, wasn't interested in rebuilding it from scratch.
He talked with his father about the future of CanWest, and, a couple of months removed from his law practice, found himself on a plane to Australia to participate in the due diligence around the purchase of the Network 10 TV network.
He was then deployed to Regina and oversaw two TV stations in Saskatchewan and later helped CanWest obtain radio and television licences in the UK, which led to a new TV network in the Republic of Ireland. He spent 17 years at the company as a director, executive vice-president and chair of the National Post. "I was very consumed by that; I was on the road travelling for 17 years basically," Asper says.
Going back to school
In 2006, Asper was admitted to a Masters of Laws program at the University of Toronto Faculty of Law, a time he relishes. "It was almost like taking a brain to a car wash. To go back to school and have the luxury of reflecting was just an amazing intellectual experience."
After completing the degree in 2007, he provided the school with $7.5 million to establish the David Asper Centre for Constitutional Rights, which is devoted to constitutional rights' advocacy, research and education. Asper sees the centre's work as connected to human rights, a passion of his father, whose parents had immigrated to Canada to flee pogroms in the Ukraine. "You can talk and think and learn about human rights, but sometimes you have to fight for them."
Going back to school confirmed for him that he wanted to teach, and after a number of factors related to the financial crisis, which saw the family selling CanWest in 2010, Asper did just that. He's taught in various capacities at the law schools of the University of Manitoba, Lakehead University in Thunder Bay and Arizona State University in Phoenix.
Although he loved teaching, Asper says with a chuckle: "I was lured back into business." Among other ventures, in 2013, he co-founded Amenity Healthcare, a successful consolidator of pharmacies in rural Manitoba and Saskatchewan, which he sold in 2017.
But when asked how he defines himself, he says above his other professional titles, he's a lawyer. "I think it sounds corny, but I'm deeply honoured to be a lawyer. My soul is a lawyer."
So it's no surprise, of all the honours he's received, including the Queen Elizabeth II Diamond Jubilee Medal in recognition of community service, which his wife, Ruth, was also awarded, Asper advises he's most proud of his appointment last year as a member of the Queen's Counsel.
Although he's "trying to inch toward retirement," there's no rocking chair in sight. He's chair of the Sensible Capital Corp., which manages a portfolio of private-equity investments, and is the largest private-sector investor in the Manitoba Technology Accelerator program, a not-for-profit business accelerator.
Committed to charity work
Despite having been both a high-profile criminal lawyer and high-flying business executive, Asper made the recent self-discovery that he's an introvert. "I spent almost my entire life in a public role and I have to gird for that every single day." He explains that while acting out the extrovert ideal gave him lots of happy experiences, going against his essential nature led to depression and anxiety. With the help of some self-development books and creating space for himself, he says he feels much better now.
Asper remains committed to community work and charity. In 2017 he began a term as chair of the Winnipeg Police Board, and has since been appointed chair of the Manitoba Police Commission. He and Ruth provided the lead gifts to establish a research centre at the Pan Am Clinic Foundation as well as to create an early learning centre at the Rady Jewish Community Centre, both in Winnipeg. However, the donation Asper seems most animated discussing is a 2018 gift the couple made, along with their kids, to the Canadian Olympic Foundation supporting the next generation of Olympians — it's the largest individual gift to date in Canadian Olympic sport.
The gift is so meaningful he says because athletics are a passion for Ruth, who's education background is in kinesiology, and also due to the fact that the whole family collaborated on it.
Guiding his kids, aged 25 to 29, in both their career goals and individual philanthropic objectives and interests is the thing he says currently lights him up the most.
"Ruth and I have really started to think about transitioning our good work and our knowledge and our philanthropic charitable capacity to the next generation. It sounds kind of mundane, but it's maybe the most important thing we're going to do."
David Asper on Foundation Governance
David Asper, lawyer, businessperson and philanthropist, has served on multiple boards in leadership and trustee positions, and is regularly asked to consult on governance issues. Here are some of his thoughts on the topic.
Governance, strategy and accountability are key. People are often drawn to foundations because of a passion for the cause. But being on a board shouldn't, in my opinion, be seen as a life's work. You can have a lifetime commitment to a cause, but occupying a board seat shouldn't necessarily be how you do it.
Some guidelines I've found helpful:
Have a clear strategy and communicate it to all stakeholders
Continuously monitor progress against the strategy to be sure it's the right strategy
Don't be afraid to adjust mid-stream — keep the desired outcome in focus!
Adhere to current principles of good corporate governance, and don't be afraid of changes that might be needed to get there
Make your contribution, give it your heart and soul, do what you can, and then let others have the same opportunity