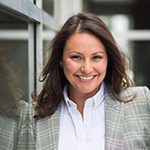 By Joanne McKiernan
The data confirms it — 2020 has changed our sector in almost every way.
We've learned 35 percent of charities in Canada have seen a significant increase in demand due to COVID-19, while 2 in 3 have lost more than 30 percent of the revenue that allows them to deliver regular, necessary services.
At a time when demands are this great, and donations have dipped, more than half of interested volunteers during the pandemic haven't heard back from non-profits. Why have we dismissed and ignored millions of volunteers in Canada when we need them most?
The easy answer — safety concerns. The hard answer — a consistent dismissal, at the leadership level, of the necessity of investing in volunteerism.
As a reminder, our social services are reliant on volunteers, the equivalent of more than 850,000 full-time jobs in 2018. Although Canada has yet to define an hourly rate for volunteers, in the United States, an hour of a volunteer's time is equal to $25.43. Some quick math and today's exchange rate tells me that our charitable sector stands to lose nearly $4.5 billion worth of capacity (yes, you read that right), every single month that passes without re-engaging volunteers.
To be clear, people are still volunteering. Our communities have stepped up, upheaving formal volunteerism enabled by non-profits, to go directly to the source. Help thy neighbour when nobody else is ready to act. The agility of grassroots leaders and the willingness of individuals has translated into an outstanding response to COVID-19, where our communities have never been more connected and people have never been more willing to contribute time to a cause.
At Volunteer Toronto, we've tracked volunteer efforts across the City in response to the pandemic. Most notably, more than 50 percent of volunteering during the pandemic has happened on the grassroots level, whereas only 18 percent has happened with non-profits.
Among few, a glimmer of success for the sector has been Meals on Wheels programs, whose service delivery model relies on volunteers to meet growing community needs. In March 2017, Volunteer Toronto reported that Meals on Wheels programs reduced the number of meals served due to a shortage of volunteers. From the start of the pandemic, for the first time, Meals on Wheels groups in Toronto saw too many volunteers apply as drivers and runners. With a strong and consistent investment in skilled volunteer management, programs can properly ramp up to meet immediate needs, sustain interest long-term, and stave off staff burnout. But not without dedicated support to enable volunteerism that lasts.
A loss of service delivery capacity is only the tip of the melting iceberg.
As we turn to recovery, and assess our changed landscape, we also must acknowledge an additional corrosive side effect to the sudden dismissal of millions of volunteers, and the thousands of volunteer managers that support them. I'm talking about the relationship between volunteering and philanthropy.
Have you asked yourself, how many volunteers are also your donors? Well here are the national stats: 87 percent of volunteers say there's an overlap between the organizations they volunteer for and those they donate to, and 50 percent of volunteers give more because they volunteer. If your organization hasn't started to invest in the intersection between stewarding volunteers and donors, now is the time.
More quick math for you: If 87 percent of Canada's volunteers also donate to the cause, we could stand to lose an estimated 740,000 warm donors that spend time with causes they believe in. This doesn't accommodate for the surge of new volunteers also looking to enter the sector.
Our perceptions have failed us to make informed decisions as a sector. We have long sidelined the value — and necessary investment—in volunteer engagement. A perspective underpinned by the privilege of perceiving volunteers as disposable labour and volunteer managers as unskilled.
The truth is, volunteer engagement doesn't just happen and enhanced recruitment technology is only one aspect of enabling volunteerism. Make-work roles are also not what translates into meaning for charities and for the volunteers themselves. The people on the inside, the ones that barely get a volunteer program budget, know this already. Why hasn't the value of volunteerism reached the top? As leaders, I encourage you to see the forest through the trees, after all, volunteers probably planted them in the first place.
The recovery and vitality of our sector will be challenged as we step into a new normal. Some of you will inevitably feel like you're in a constant reactive state, as change often feels. You may face unprecedented staff burnout without a plan to reset, and you may face revenue losses that far exceed the fallout of the 2008/2009 global financial crisis. This reality will only be amplified if we continue to ignore our greatest ambassadors and community champions, and under-invest in the staff whose experience and skill allows us to engage them.
Joanne McKiernan is Executive Director of Volunteer Toronto .