By Tracy Howard
Nneka Allen is an accomplished professional fundraiser, but to get an idea of the unique lens with which she views the role requires only a look at the profile summary on her LinkedIn page. Fundraiser is listed but it comes after the titles "Relationship-Builder/Stone-Catcher/Freedom-Fighter."
A sixth-generation Canadian born and raised in Windsor, Ontario, Allen is a descendant of the Underground Railroad, free Blacks, and Ojibwa and Métis people — and this multilayered heritage informs her life and career philosophy. "Based on my cultural experience and heritage, I come from a collectivist community," explains Allen. "So relationships are integral to the way we live and work, and relationship-builder is the cornerstone of the way I am in my life and the way I operate."
As for "stone-catcher," Allen says she first read the term in Bryan Stevenson's, Just Mercy, his memoir of being a lawyer fighting racial and economic discrimination in the U.S. criminal justice system. "One of the ways Black or Indigenous people survive is by catching the stones that are thrown at the people in our community," says Allen. "I positioned myself that way as it relates to the people I love the most, but also in the way I work with the group of Black Canadian fundraisers — I view them as my sisters, and so when they're discriminated against, we all collectively feel it, and we also have a responsibility to help catch some of the stones coming their way."
Allen says "freedom-fighter" is connected to both the values she was raised with and her own focus on making change. Given the recent global protests against racial injustice and police brutality in the wake of the murder of George Floyd in the U.S., this title couldn't be more timely. "I think freedom is the ultimate goal," Allen states. "It's the thing we all strive toward in my community, and we've been struggling toward that goal for centuries. I feel a responsibility to carry that mantle forward, so we can actually materialize greater freedom."
Allen also demonstrates her commitment to freedom in her selectiveness about where she chooses to work: initially museums and for the past 16 years in health-care organizations. "I only work for organizations whose mandate I can personally rally around," Allen explains. "Obviously health care is important for everyone but there's a particular emphasis on having access to good health care for marginalized communities."
A complicated path
Allen's clarity about her professional priorities doesn't mean her path has always been clear or easy. This past May, while working from home during the pandemic, she was laid off at the health-care foundation where she's had a senior role for six years.
Professionally, like many other Canadians of colour, Allen's faced obstacles that challenge the way this country often views itself as a fair and open society. According to a 2019 article, Diversity, Inclusion and the Foundation, by Gail Picco, featured on the Association of Fundraising Professionals (AFP) website, there are 2.2 million people who work in Canadian charities, and, while 70 percent are women, the majority of fundraising leaders here are white men. And a very small percentage of fundraising professionals in Canada identify as part of a racialized or marginalized group. Allen says in her own career in the sector, she's often been the only Black woman in the room.
The making of a fundraiser
Born in the 1970s at the height of the Black Power movement, Allen grew up in a home infused with cultural pride and dedication to the community. Allen's mother, Karla Taylor, rented a family apartment to Black mothers in need, her father, Michael Allen, was active in local politics and supported young Black students to help them gain access to education and other resources; her uncle was also in local politics and her aunt was a lawyer (she's now a judge).
"I had a lot of powerful examples around me, yet I still felt confusion around what I wanted to do," Allen recalls. So she decided to study the closest thing to what she thought were her gifts, and entered a business program at Windsor's St. Clair College. While Allen liked parts of the curriculum, others didn't resonate. She went on to work at the college and a few other jobs while figuring out her path.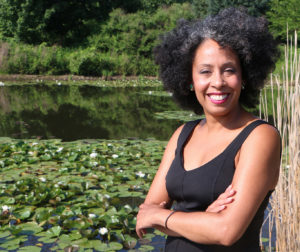 All the while, a direction was being forged below her consciousness. In the last decade of his career, Michael Allen worked as the director of labour for the United Way in Windsor-Essex. Allen spent a lot of time with her father at events and other initiatives he supported through the agency, and was able to network within that realm. "This was sort of the backdrop to my emerging into non-profit," she says.
In 1999, Allen began a contract at the Amherstburg Freedom Museum (then the North American Black Historical Museum), which is dedicated to the journey and achievements of African-Canadians, including those of Allen's own family. Amherstburg is a town near the mouth of the Detroit River, and was an important location on the Underground Railroad. Her father had been very involved in a huge public effort to prevent the demolition of the Nazrey A.M.E. (African Methodist Episcopal) Church, built in 1848 by refugees escaping slavery, and part of the museum. The resulting restoration was funded by all levels of government, as well as individual and corporate donors, and Allen was hired to conduct research on it for a report requested by the federal government. The church was subsequently named a National Historic Site. "What happened in that time was I fell in love with the museum," Allen states. "But I also fell in love with non-profit." She became assistant curator and spent significant time fundraising, although Allen says nobody called it that at the time. Allen left the museum in 2001, but was asked to join the board of directors in 2010, serving for five years as both vice chair and fundraising chair.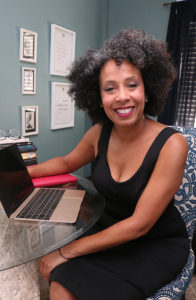 After working at a couple of other unrelated jobs, in 2003 Allen joined Amherstburg's Park House Museum, where she designed and installed a long-term exhibit on 19th-century medicine. Although her title was researcher and museum technician, Allen also developed sponsorship opportunities and donor relationships.
Working in health care
The next year, Allen interviewed for a non-fundraising role at the Canadian Mental Health Association (CMHA) in Windsor. But during the interview process, the then CEO, Pam Hines, was impressed by Allen's portfolio, and advised her of a new fundraising position she thought would be a great fit. After additional rounds of interviewing, Hines offered Allen a contract. "She told me, and this is the power of great leadership, if you enjoy this, and, of course, you do well, I'm prepared to invest in you," recalls Allen. "And I did love it, I was very good at it, and so then I became a permanent employee." Hines did invest in the new hire, with Allen attending Ryerson University's Fundraising Management program. During that time, Allen was also qualifying for her Certified Fund Raising Executive (CFRE) designation, which she earned in 2009.
Allen says a major highlight while at CMHA was her role in creating a healing garden sponsored by TD Bank, for which she wrote a successful grant application to help secure. One of the first major gifts for it came from a volunteer who told Allen of losing her infant daughter, an experience the woman had previously kept private. Through participating on one of Allen's volunteer committees, the woman had met Allen's friend Jackie, who shared the story of her husband being murdered while she was pregnant with her first child, and subsequently receiving support from CMHA's bereavement programs. Inspired by Jackie's courage, the volunteer purchased a bench in the healing garden in memory of her daughter. "This was a defining moment in my career and many lessons were learned," says Allen. "I'll always remember to be courageous in sharing your story and to never forget how unlikely relationships can inspire giving."
After nearly nine years at CMHA, Allen left in 2013. At the time, her daughter, Destiny — now 24 and working with Indigenous people for Teck Resources in B.C. — was determined to attend Western University in London, Ontario, and Allen thought it was also the right moment in her own life to explore the opportunities of a larger city.
Allen joined a health-care organization in London, but shortly after being hired, her manager told her a major upcoming event was to be held on the property of a donor whom she had deemed to be a bigot. Obviously troubled by this news, Allen asked her boss to advise the donor of her hiring and that she was Black. The manager didn't do so; instead, Allen was let go without cause shortly afterward, before her probationary period was over.
Two months later, in December 2013, Allen received an offer to join another health-care foundation in the city. But on Christmas Eve, she received a call from her prospective new boss, who tearily advised Allen her offer had been rescinded and that she should speak to the CEO for an explanation. After Allen did so, she discovered the CEO had communicated with her former manager at the organization that had let her go, and that person had spoken negatively about her.
"I tell you this because it's all part of my story and my experience navigating the non-profit sector and fundraising in particular," Allen explains. "I would say a lot of Black fundraisers have a very similar story to share."
Change-making
A couple of years ago, Allen wrote a proposal to AFP Global saying that Black Canadian fundraisers are part of their membership, yet she didn't hear their voices anywhere. The result is Our Right to Heal, a series of essays and videos from Allen and several other women from her fundraising group. (The group meet to share their experiences and support the education of other fundraisers through their Black Philanthropy Fund.) The "bright papers" are featured on the AFP Global website, and Allen says when assigning the project she simply said: "The theme is Our Right to Heal, however that impacts you, however that inspires you." Most of the essays relate painful experiences of being Black in a sector that largely doesn't reflect Canada's diversity.
"Nobody spoke to anybody about what they were going to write," Allen says. "But when you read them, there's a thread of commonality." Allen said the project proved cathartic for all. "I'm so very pleased AFP Global has done a brave and courageous thing, and allowed us to tell the truth," she says.
As a leading mentor in AFP's Fellowship in Inclusion and Philanthropy program, Allen has also helped several fundraisers of colour navigate what are often toxic workplaces. "I think we rally around the idea of diversity," she says. "But diversity is one thing, equity should actually be the objective. And equity is about understanding the intricate issues pertaining to marginalized communities, so you can create opportunities to level the playing field."
The road forward
Allen founded the Empathy Agency to help young professionals of colour navigate biased workplaces as well as to coach business leaders to explore the impact identity has on organizational culture and business goals. To further expand her expertise in that realm, in 2019 Allen completed a certificate in Intercultural Studies at the University of British Columbia — a program she says is invaluable to this work.
As for the future, Allen states she's "cautious to be sort of excited." She says she's been heartened to see a lot of white faces in the recent protests. Allen's also encouraged by the "uprising of Black women in this sector," referring to fundraisers in Canada and the U.S. organizing and collaborating in ways she hasn't seen before. However, she worries about the impact of COVID-19 on Black women in her field, as they often work in areas, like occasional gifts and events, hardest hit by pandemic closures.
Aside from her coaching work and writing on issues pertaining to her community, Allen says she's taking this time to "be still and think about what the next chapter of my career will look like." Despite everything, Allen says she's still inspired by fundraising as a catalyst for change. "I think solving problems to create greater justice, to create greater access, to create freedom for people — I don't think I'll ever not want to do that."