Workplace Rivalries Hold Steady Despite Pandemic; charities still on the agenda
Though business teams continue to work remotely, a sense of workplace competition is still alive and well, new research from global staffing firm Robert Half shows. And that means charities may still be benefiting from in-house competition during fundraising initiatives. More than three-quarters of professionals surveyed (81 percent) said the level of competition among employees at their company is the same as it was a year ago. More than 1 in 10 (13 percent) reported an increase in competition, while only 6 percent noted a decrease.
"Since healthy competition in the workplace can lead to an increase in engagement and productivity, as well as improved performance, it's exciting to see it is possible, even when your workforce is not physically together," said David King, senior district president of Robert Half in Canada.
"Whether individuals are working on-site or remotely, there are effective strategies managers and staff can implement that will lend to a healthy level of competition among teams while also promoting camaraderie and a collaborative culture," added King.
Healthy competition among dispersed teams can include creating a virtual challenge. Teams still organize a friendly contests where employees can win bragging rights or a small prize, such as a gift certificate or donation to a charity of their choice. Determine the goal to decide if it will be tied to performance or mainly recreational.
In the meantime, if you're part of a team and are still working remotely, make time to celebrate. Host a video call "party" to recognize team and individual achievements and consider arranging for treats to be delivered to star performers. Rewarding employee wins can boost morale and inspire continued growth. A note of caution though — watch for foul play. Workers may feel more pressure to prove themselves in the current environment, but it should never be at the expense of themselves or others. Negative behaviors — such as failing to communicate and taking credit for others' work — are signs competition may have gotten out of hand.
The online survey was developed by Robert Half and conducted by an independent research firm from July 7-30, 2020. It includes responses from more than 500 workers 18 years of age or older and normally employed in office environments in Canada.
Hockey Leaders Join Forces to Help Kids Get Back on the Ice
Kids want their sports. Hockey is back. That combination allowed the National Hockey League, the National Hockey League Players' Association (NHLPA), Bauer Hockey and Hockey Canada to pull together a Hockey Equipment Relief Program. As communities begin to re-open and kids look to re-engage in sports, this program will help families financially impacted by COVID-19 get their kids back on the ice.
"Children across the country are eager to hit the ice, but given our current environment, families will face many challenges to provide resources for their kids to continue to participate in the game they love," said Rob Knesaurek, NHL Group Vice President of Youth Hockey and Industry Growth Fund. "We are extremely proud that the Hockey Equipment Relief Program will not only help offset some of these costs but will also continue to prioritize making our game more inclusive and diverse for everyone."
The NHL, NHLPA, Bauer Hockey and Hockey Canada combined resources to launch the Hockey Equipment Relief Program with an equipment donation initiative. This includes $2 million of hockey gear, with upwards of 7,000 sets to be distributed to families and communities most in need in the seven Canadian NHL cities (Vancouver, Calgary, Edmonton, Winnipeg, Toronto, Ottawa and Montreal) and other regions across Canada. In the distribution of this equipment, particular attention will be provided to support minority communities.
"We're proud to partner with the NHL, the NHLPA and Hockey Canada to help our game as regions begin to re-open," said Mary-Kay Messier, VP of Global Marketing, Bauer Hockey. "The Hockey Equipment Relief Program is inspired by the realities that many hockey families are struggling financially. We know research shows that sports are critical for a child's physical and mental health, and as a result we want to help struggling families get back on the ice without having to consider equipment costs."
The equipment donation program will be administered through the seven Canadian NHL Clubs, Hockey Canada and provincial governing bodies to determine distribution plans.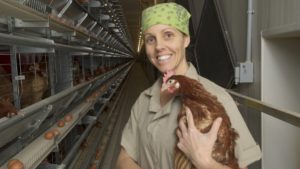 That's a Lot of Eggs
Burnbrae Farms has established a crisis relief program to support Canadian families in need of assistance during the pandemic and onwards. To-date the company has donated more than 3.6 million eggs to over 30 food banks across the country. Burnbrae Farms also donated a total of $55,000 to hospitals in the communities where we do business to assist with ongoing purchases of personal protective equipment (PPE) for hospital staff and frontline workers during the crisis.
"From the outset of the crisis, we took our role as an essential service very seriously. We worked hard to keep our employees safe and to keep supplying Canadian families with nutritious, affordable eggs. We wanted to do more to support those in need as well as the health care workers risking their lives to keep us safe, and we are very proud of our pandemic relief program," said Margaret Hudson, President, Burnbrae Farms.
As a sixth generation Canadian family business that has farmed in Canada for over 125 years, Burnbrae Farms has always supported their local communities. At the onset of the crisis, many of Burnbrae's foodservice customers were immediately impacted, with restaurants being forced to temporarily shut down. Concerned about eggs and egg products going to waste, the company quickly made the decision to donate the products and mobilized to redirect the eggs to those in need nationwide. In addition to supplying eggs and egg products to food banks, the company and Hudson family also wanted to show their support to frontline workers during the pandemic by donating a total of $55,000 to 11 hospitals across Canada. The donations were made in communities where Burnbrae operates farms and grading facilities, helping hospitals purchase PPE so that the doctors, nurses, and frontline hospital staff can continue to safely take care of those in need.
COVID-19 Forces One of Canada's Oldest Holiday Appeals to Stop Collecting Toys
Normally, the Tree of Hope supports families serviced by Family and Children's Services of Frontenac, Lennox and Addington, a 125 year old Children's Aid Society. The toy collection campaign has been providing for kids in need for more than a hundred years…but all is not lost. Instead, they will distribute gift cards to families to purchase their own needs for the holidays.
This will be one of the first times in a hundred years that toy collection will not be a part of the Agency's annual holiday appeal. More than 500 donors supported the campaign last year with donations of new toys, personal items, baby gear, books and more. An extensive review concluded that the same system would not be safe this year because of COVID-19. The seasonal spaces, people and systems the campaign uses were never designed to handle a situation like a pandemic and cannot be easily adapted.
To keep families, staff and volunteers safe the Tree of Hope will be switching to issuing gift cards to families to buy what they need when they need it for the Holidays. The campaign has used gift cards for some families in the past and it has a system in places that works. Instead of asking for toys, the Tree of Hope will be asking people to donate money so it can buy gift cards. It has set a monetary goal of $50,000 for this year's campaign.
Ghost Donations Mean Justice Knocked; Charities Didn't Get a Cent
The Canada Revenue Agency (CRA) announced that John Oladapo Oladehinde of Brampton, Ontario, pleaded guilty on June 26, 2020, in the Ontario Court of Justice in Toronto, Ontario, to one count of fraud over $5,000, under the Criminal Code. Oladehinde was sentenced to a conditional sentence of two years less a day and was ordered to pay a fine of $412,306. A CRA investigation revealed that Oladehinde operated a tax preparation business in Toronto, Ontario, under his corporation Dehinde & Associates International Inc. Oladehinde, acting in his capacity as a director and officer, prepared and filed 1,427 individual income tax returns between 2001 and 2005 using false charitable donation claims amounting to $13 million. As a result of these fictitious donations, the CRA issued income tax refunds or did not assess taxes payable in the amount of $3.9 million. During this period, Oladehinde continued to charge his clients for these fictitious donations that were claimed on their tax returns. A lesson learned in general we hope.