Columnist – Leadership Kathleen Provost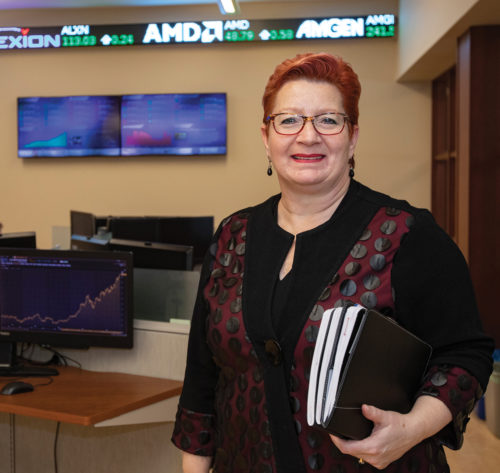 By Kathleen Provost
As a professional fundraiser I always thought I was expected to have some knowledge about the psychology of giving, the motivation of donors, as well as having the skill to write strong cases for support. Did you ever think a fundraiser would need to be an expert auditor, a financial manager or an accountant?
Fundraising is about finding philanthropic dollars in the pursuit of a goal or mission. So why is it necessary to understand all the fiscal aspects of a philanthropic transaction? Well, as a professional fundraiser, my goal is to determine the best scenario to secure funds from a donor, in support of a charitable organization. However, it is imperative I consider all aspects of the financial transaction for both the charitable organization receiving the funds, as well as the party giving the funds.
Let me explain…
Learning the language – accounting terms
Accounting terms should not be foreign to fundraisers. We need to master some accounting terms because we may be talking to a potential donor who is a business owner, entrepreneur, or professional accountant. We also need to comprehend accounting terms in our own charitable organization; so, we can understand why we are raising funds and how this may impact our operational budget.
Whatever the situation is, our understanding of debits and credits, income statements, assets, liabilities and equity is essential for us to better manage our relationship with donors, and our own organizations. To ensure we have a respectful conversation with our potential donor or investor, we need to understand where funds come from. For example, is the philanthropic transaction successful for the business owner because it can be expensed? Or do these funds come out of a family's equity fund? Each philanthropic transaction we conduct to raise funds is as unique as a person's DNA.
A better understanding of accounting also helps fundraisers ensure the financial arrangements with donors are ethical and legal. To this end, a Code of Ethical Principles was adopted by the Association of Fundraising Professionals (AFP) in 1964. This Code was amended in 2014 and exists to promote high ethical behaviour in the fundraising profession. Members of AFP recognize their responsibility to ensure the intent of the donor is honestly fulfilled.
The following are some of the Code's Principles.
AFP Members:
Practice their profession with integrity, honesty, truthfulness and adherence to the absolute obligation to safeguard the public trust;
Put philanthropic mission above personal gain;
Value the privacy, freedom of choice and interests of all those affected by their actions;
Adhere to the spirit as well as the letter of all applicable laws and regulations;
Advocate within their organization's adherence to all applicable laws and regulations.
(Source: AFP Code of Ethical Principles and Standards. See: afpglobal.org)
Setting the fundraising budget – a team approach
Being literate in accounting and financial processes is helpful for fundraisers when building budgets. However, the budgeting process of a charitable organization to generate revenues is not only the responsibility of the fundraiser. Formulating the fundraising component of an organization's budget, also involves the Chief Executive Officer, Executive Director, Development department, Finance department and even program staff. Everyone needs to understand the fundraising budget to determine how much can be spent to attain a desired fundraising goal.
The fundraising budget will be made up of direct and indirect costs. Furthermore, when developing our budgets, we must consider the real cost of each specific fundraising activity. For example, the acquisition of new donors cost more than donor stewardship. Yet, donor acquisitions are necessary to build our pipeline of future donors. It is also necessary to consider all of the direct and indirect cost when planning a special event. These financial considerations will give an accurate representation of how much must be invested to raise money.
The successful formula will include how much money to spend, for the expected funds to be raised. Then, we must measure specific key financial indicators such as; our fundraising results, our retention rates and the evaluation of multi-year trends for each of our fundraising activities. Keep in mind, each fundraising strategy being implemented will be influenced by a combination of financial indicators.
Owning the process – the financial picture
Numerous fundraising experts and practitioners have developed, measured and offered recommendations on the cost of specific fundraising activities. For example, the average cost to raise major gifts can be between $0.10 to $0.25 for each dollar invested. Similarly, special events are said to yield approximately $0.50 cents for each dollar invested. So why do fundraisers need to be financial virtuosos, if all this information is available?
Let's take the case of a special event. When holding an event, we spend $0.50 on every dollar in direct costs. However, holding an event may also increase our brand awareness. To increase brand awareness on its own, we would normally need pay for advertisements or media relations. Now, through this event, we have benefitted from increased brand awareness without a direct cost. This increased "value" is difficult to monetize. Consequently, what is the real return on our investment now that we have identified extra value?
So, as fundraisers, we need to be financial virtuosos to better understand the return on investment (ROI) of each fundraising strategies we put in place. A colleague of mine highlighted the importance of understanding ROI very eloquently in a recent publication. Peter Fardy, a long-time fundraiser and current Vice-President, Advancement for Dalhousie University, published a paper on how to fuel growth in the field of fundraising entitled: Funding Advancement Growth: Taking Control of Your Own Destiny. Fardy's concluding remarks stated: "Unless we believe we are opportunity constrained or competency constrained, we must hold ourselves to higher account and demonstrate both sustainable and predictable ROI and be willing to be accountable for delivering results."
Simply put, as a fundraiser, if we don't know the "financial language", it will be difficult to play the "financial game" successfully. If you are not sure you have a good understanding of this "financial language" there are many resources available to strengthen your abilities in this area.
Go ahead — be curious, seek out resources, and you too can be a Financial Virtuoso.
Kathleen A. Provost, CFRE is currently the Campaign Director at St. Francis Xavier University. She brings over 25 years of fundraising experience within the charitable sector. She has been a Certified Fundraising Executive (CFRE) since 2007, and a long-time member and volunteer for the Association of Fundraising Professionals (AFP). She writes this column exclusively for each issue of Foundation Magazine.