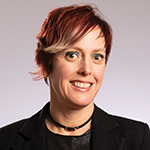 By Sarah Chamberlin
At the Centre for Addiction and Mental Health (CAMH), "community" is an umbrella term that includes many groups.
Aside from staff, there's the community we serve, made up of roughly 37,000 patients every year; the community we collaborate with, consisting of more than 1,500 research groups internationally as well as being fully affiliated with the University of Toronto; and the community that supports us, including thousands of donors, volunteers, and mental health advocates. Together, we work toward creating a world where mental health is health.
Although there is still much more work to be done, our community has come a long way towards making this vision a reality. It wasn't too long ago that people riding the streetcar would hold their breath as they passed by the CAMH building in downtown Toronto because they believed that sharing air with CAMH patients would result in them developing a mental illness themselves. Now, that same streetcar has a designated CAMH stop.
Patient recovery spaces
To truly advocate for patient-first care, we knew we had to give patients a louder voice. That's why we included community members and patient advisory groups in the design of the new inpatient rooms in two of our state-of-the-art clinical care buildings that opened last November. Their input contributed to more inclusive, respect-based and dignified spaces for patient recovery.
Beyond these new buildings, we've worked to improve our ability to deliver personalized care by conducting research with patients, caregivers and the different communities we serve. This has led to many groundbreaking initiatives for underserved populations within Canada.

For instance, through Shkaabe Makwa, Canada's first hospital-based centre focusing on mental health for Indigenous people, CAMH can provide culturally appropriate care and connect First Nations, Inuit and Métis communities with service providers across Ontario. CAMH also took a stand to dismantle anti-Black racism by launching a 22-step strategy that aims to ensure safe, accessible and equitable care for Black patients and families, build a fair working environment for Black staff, and eliminate unfair treatment for Black populations within CAMH and across the mental health system.
Expands global community
CAMH's leadership in mental health research and care further expands to our global community as well. CAMH's Temerty Centre for Therapeutic Brain Intervention is a world-leading centre in brain stimulation treatment, research and training that uses clinical research projects to lead treatment advances using repetitive transcranial magnetic stimulation (rTMS).
The centre has led to the use of rTMS around the world, which could treat symptoms of schizophrenia and bipolar disorder. Through 1,539 global research collaborations in 121 countries, we're also able to bring together the best minds recruited from around the globe. Intertwined in this international network of thought-sharing is CAMH's Krembil Centre for Neuroinformatics where CAMH scientists are engaged in global partnerships to advance mental health research, researching across many pillars to define and predict mental illnesses and lead to new treatments.
Health for everyone
By working together and for each other, every member of the CAMH community — no matter where they are or what their social standing is — continues to help us create a world where mental health is health for everyone. Through their strength and support, CAMH is able to advance the movement for mental health in Canada and around the world. And, because of them, we can provide the highest quality mental health care tailored to unique and evolving mental health needs.
If you would like to learn more about CAMH's movement for mental health and how you can become a part of our growing community, please visit https://www.camh.ca/en/get-involved.
Sarah Chamberlin is Vice President of Marketing and Donor Experience at CAMH Foundation. The Foundation supports the philanthropic efforts of CAMH, Canada's largest mental health teaching hospital and a world leader in mental health research, treatment, and advocacy. She writes this column exclusively for each issue of Foundation Magazine.