No One Left Behind
By Sarah Chamberlin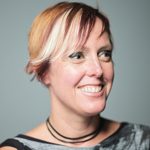 Happy 2023! I am proud to kick off this year with some exciting news from CAMH Foundation:
On February 7, the Centre for Addiction and Mental Health (CAMH) publicly launched No One Left Behind, the largest-known fundraising campaign for mental health. With an ambitious $500-million goal, No One Left Behind is the final phase of CAMH's decades-long effort to change mental health care forever.
We know that mental health has always lagged behind other areas of medical research and care. Lack of understanding, lack of advocacy, and lack of investment have fostered a culture of stigma, silence, and shame. For the past quarter-century, CAMH has been a leader and a beacon of hope for the growing mental health movement. Because here we stand together. We bring one another strength. We search for answers that don't yet exist. And with the support of our community, we're building a future where no one is left behind.
Our history—from an asylum to a modern patient-centered health care facility—is the history of mental health care in Canada. From the Provincial Lunatic Asylum in 1850, to the Centre for Addiction and Mental Health (CAMH) in 1998, we remember where we've come from. It's important to reflect on how far we come, at the same time as we acknowledge how much more progress is needed.
CAMH has been on a 20-plus year journey to reimagine our home at the Queen Street Campus. Moving from institutionalization to integration, we have worked hard to evolve within the community. In 2020 through the help of philanthropy, we opened two new, state of the art patient care facilities, the McCain Complex Care and Recovery Building and the Crisis and Critical Care Building. We are now ready for the final piece of the puzzle, which will enable us to bring all aspects of mental health care together—a necessity when aiming to improve outcomes for those living with mental illness.
We believe that research is how we are going to solve the global mental health crisis. Through brain imaging, genetics, big data, new drug development, and much more, we will create a space that is more inclusive and dignified; a space that will allow us to accelerate the work we're already doing and guide us to new breakthroughs. At the heart of the campaign is our goal to build the CAMH Research & Discovery Centre—the place where we will develop new ways of detecting, treating and preventing mental illness, and fuel the people and programs that will deliver more personalized treatments and equitable care.
The 375,000 square feet of collaborative space will allow us to increase the number of CAMH researchers, scientists, staff, students, and trainees by 43% and add six new multi-disciplinary research teams to explore uncharted areas of inquiry. Support for this campaign will enable new breakthroughs that improve care in critical areas of research, including: brain science, to unlock the mysteries of the brain and discovering the causes and cures of mental illness; child and youth mental health, to diagnose and treat mental illness sooner to give every young person the chance to thrive; late-life mental health, to stop dementia before it starts and help people age with dignity and hope; precision medicine, to personalize mental health care so everybody gets the right treatment at the right time; and health equity, to eliminate disparities and break down stigma, thereby creating a world where mental health is health for everyone.
We all have someone that comes to mind when reading that impressive list of the work that's already underway, spanning the lifespan and communities we serve. Someone that would greatly benefit from new discoveries, or new treatments, or earlier intervention. I come to work every day, powered by the hope of a future where mental health is health. I'm inspired by each and every person's story of recovery that I hear, inevitably with a poignant note of gratitude. I'm in awe of the incredible work that our CAMH teams accomplish day in and day out—all with the goal of having no one left behind. Knowing that we are actively uncovering new methods of care and impacting the lives of patients each and every day gives me hope for the people in my life and the people in yours.
In anticipation of the public launch, more than $400 million in donations and pledges has been secured through philanthropy since the beginning of the campaign's quiet phase in 2018. This total raised over the past five years is more than CAMH has raised in the previous 20 years combined.
I have been at CAMH since 2019 and I can confidently say that this is the proudest and most exciting time of my career. With the help of our partners at Camp Jefferson, we've had this campaign in progress for a number of years. I like to think of it as the final evolution of our previous campaigns. In 2020, we started a very necessary and overdue conversation on suicide with Not Suicide, Not Today. More recently, we showed the world how mental health research is saving lives Today. Now, it's time for us to rally the support of our community and come together to build a future where there is No One Left Behind.
Join us and change mental health care forever. Visit camh.ca for more information.
Sarah Chamberlin is Chief Marketing Officer and Vice President of Community Giving and Engagement at CAMH Foundation. The Foundation supports the philanthropic efforts of CAMH, Canada's largest mental health teaching hospital and a world leader in mental health research, treatment, and advocacy. Please visit CAMH.ca to read more about the important work CAMH is doing with the help of our communities or email Sarah at sarah.chamberlin@camh.ca. She writes this column exclusively for each issue of Foundation Magazine.