Chang to steward CanadaHelps through its next chapter of growth, prioritizing initiatives that advance digital transformation and innovation in support of Canadian charities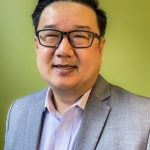 TORONTO, ON–CanadaHelps, the country's largest platform for donating and fundraising online, today announced the appointment of Duke Chang as President and CEO. An accomplished executive with more than 25 years of experience in financial services and technology, Chang will lead the organization as it advances its mission to increase giving in Canada by informing, inspiring, and connecting donors and charities, while democratizing access to effective technology and education in the charitable sector.
"On behalf of the Board of Directors at CanadaHelps, I am pleased to welcome Duke as our new President and CEO," says Anita Ferrari, Chair of CanadaHelps' Board of Directors. "Each year, CanadaHelps facilitates donations for nearly 1 million Canadians and processes almost half a billion dollars for Canadian charities from coast to coast to coast. Duke's vast experience in e-commerce, technology, and product development, along with his deep commitment to the mission and vision of CanadaHelps to support Canadian charities will propel CanadaHelps forward into a new era of growth. I would also like to extend our deepest thanks to Jane Ricciardelli for leading the team as Acting CEO over the last eight months during this transition period."
Chang will be supported by a strong executive leadership team, including Ricciardelli, who will return to her role as Chief Operating Officer.
"As economic and post-pandemic pressures continue to dominate all areas of society, my vision is to ensure that Canadian charities are equipped to thrive through this period of unprecedented change and can meet donors wherever they are and however they want to give," says Chang. "I see tremendous opportunity for innovation and product-led growth that will empower Canadians to grow their generosity and create the change they want to see, while also delivering real value to small and medium-sized charities. The ability to further client-centric design, combined with opportunities to deliver actionable data-driven insights and enable automation is enormous. It's a privilege to use my leadership and tech skills to help Canada's charities grow their impact and fundraising results while advancing their digital transformation journeys."
Chang brings a wide range of experience in leadership roles focused on innovation, growth, and transformation. He recently served as the Worldwide Head of Product, Business Development, and Customer Experience for Lenovo Solutions and Services Group, where he built and scaled a broad solution portfolio to support Lenovo's $3 billion business. Chang's past experiences also include Managing Director of Fidelity Investments, as well as various leadership roles in startups and large corporations.
While working at Fidelity Labs, Duke helped champion critical innovations across financial services, including investment management, charitable giving, student loans, and the gig economy.
He is also co-founder of Act 3 Reality, an education technology company focused on helping children with autism and other social and learning challenges using virtual reality. He holds an MBA from the Fuqua School of Business at Duke University and a Bachelor of Science from Georgetown University.
About CanadaHelps
CanadaHelps is a public foundation advancing philanthropy through technology. For Canadians, it powers CanadaHelps.org, a safe and trusted destination for discovering and supporting any charity in Canada, and UniteforChange.com, where Canadians can learn about causes and easily support the collective work of charities addressing a cause they care about. CanadaHelps also develops affordable fundraising technology used by more than 26,000 charities and free training and education so that, regardless of size, all charities have the capacity to increase their impact and succeed in the digital age. Since 2000, over 3.8 million Canadians have given more than $2.5 billion through CanadaHelps. Connect with CanadaHelps on Twitter, Facebook, Instagram and LinkedIn.