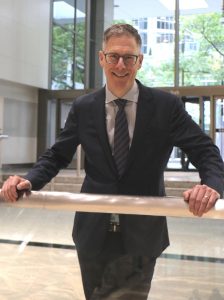 By Malcolm Burrows
The 2021 Federal Budget announced the Government's intentions to launch a consultation with charities about "potentially increasing the disbursement quota…beginning in 2022." This consultation has garnered a mixed reaction from the charitable sector, but there are numerous reasons why the time is right to review the current 3.5 percent disbursement quota (DQ) rate.
In advance of the April 19th announcement there was active debate on foundation spending. At one end, there is the group "Increase the Grants" led by John Hallward who says foundations are being allowed to "hoard tax-supported dollars". They advocate for a 10 percent DQ rate. At the other end, there are sector professional associations that support the 3.5 percent status quo. They point rightly out that many foundations already exceed the minimum rate and change should be data driven. Charities, the entities that would benefit from increased grants, have been noticeably quiet.
I occupy a middle ground. The value, norms and models shaping foundations in Canada have changed significantly over the last 15 years. As a result, an increase in the DQ rate to 5 percent per annum is both reasonable and responsible. Here's why this moment is different.
DQ History
Historically, endowments and DQ provisions of the Income Tax Act were based on trust principles. There was a separation of capital and income. Capital would be invested (land, bonds) and only income would be distributed annually in the form of grants or other charitable activities.
This system enabled the concept of a perpetual or permanent endowment. Capital was sacrosanct. Only income could be used for annual funding needs. A trust-based rule in the old DQ regime was the "10-year" gift, which effectively stipulated that the capital of lifetime donations for endowment had to be held for ten years. This worked well in the era of high interest rates, but interest rates plummeted in the 1990s. Also, the stock market soared.
Investment Models
Endowment models evolved to keep pace with the investment environment. New investment practices were adopted. Modern portfolio theory reshaped the investment world and total return investing emerged. Total return investing is designed to produce a total annual return that was a mix of capital gains, interest and dividends. The goal is to prudently invest for the best return to pay for annual charitable purposes, costs and to protect against inflation. On the spending side, chose a fixed payout rate that varies over time.
Despite this shift in the investment and endowment world, in 2004, the Canadian DQ rate was lowered from 4.5 percent to 3.5 percent. This was due to major foundations concerned about low yield rates and the desire for perpetuity. The pendulum shifted towards capital preservation, despite generally robust capital markets and new investment models.
In 2010, post financial crisis, the DQ was overhauled. The DQ provisions based in trust law were abandoned. The system moved explicitly to total return investing. Finally, the Income Tax Act had caught up with the investment world. And now the DQ rate is no longer dependent on annual income or yield rates alone.
Increase in Foundation Asset
Since the 1990s, the world has been experiencing a philanthropic "golden age" that is fuelled by enormous concentration of wealth.
According to the Budget, private and public foundations collectively held $85 billion at the end of 2019. In 2021, it's closer to $95 billion. These funds have already been donated, receipted and are tax exempt. Why not mandate that they be spent faster and at higher rate? The Budget suggests that a DQ boost could "increase support for the charitable sector and those who rely upon its services by between $1 billion to $2 billion annually."
In 2006, private and public foundations held $23 billion in assets. In 2020, 14 years later, foundation assets have increased by approximately 300 percent. One private foundation alone, the MasterCard Foundation has assets of $35+ billion and is not currently meeting the 3.5 percent minimum. There is huge build up of charitable capital system wide. It is partly due to the generous donation tax benefits available to Canadian taxpayers.
Philanthropic Models
As foundation assets have increased, there has also been a shift in thinking about community needs and the concept of perpetuity. The world faces unimagined challenges. Under the circumstances does a "forever foundation" make sense?
A new generation of philanthropists, with poster-philanthropists Bill and Melinda Gates, are embracing spend-down foundations. Urgency and impact define this new breed of foundation. Capital is for spending today, not just investing for tomorrow. This approach resonates with operating charities. More money now.
The charitable sector needs long-term capital that can provide consistent funding, year-in, year-out. And money needs to be deployed wisely to support good organizations. An increase to a 5 percent DQ rate would raise the bar for all foundations, even those that currently exceed this rate on a voluntary basis.
An increase of the DQ may result in some erosion of foundation capital, but capital is not the goal of charity. Public benefit is. A policy shift is needed to put more of that money to work in the community.
Malcolm Burrows is Head of Philanthropic Advisory Services at Scotia Wealth Management. He writes this column exclusively for each issue of Foundation Magazine.