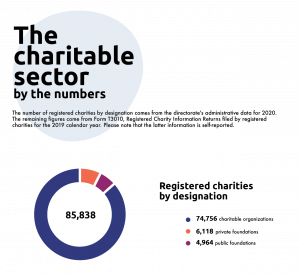 Overview
Canada's charitable sector is passionate, diverse, and dynamic, offering essential services in the face of change and challenges. The Charities Directorate recognizes the value of the sector's contributions to Canadian society and aims to support charities while protecting the sector and the public from abuse. The directorate will continue working to contribute to a well-regulated, open, and thriving charitable sector.
This report provides a snapshot of the sector and an update on the directorate's activities over the past fiscal year, including the impact of the COVID-19 pandemic.
Bob Hamilton, Commissioner of the Canada Revenue Agency, wrote about the sector and the report:
"The CRA administers tax, benefits, and related programs for all taxpayers, including registered charities. The CRA's Charities Directorate works to protect the integrity of the charitable sector through responsible enforcement, transparency, and accountability while providing fair, empathetic, and client-centric services.
The COVID-19 pandemic has significantly affected the lives of Canadians, and I am proud of how quickly the CRA has launched new programs to provide aid and how its employees have adapted to ensure continued service for Canadians. The directorate has played an important part in rolling out the Canadian Emergency Wage Subsidy and the Canadian Emergency Rent Subsidy to the charitable sector while adapting its entire program to working remotely. I am grateful for the directorate's continued efforts and commitment to providing service to Canadians and protecting the integrity of the charitable sector in the face of adversity."
Added Tony Manconi, Director General, Charities Directorate, Canada Revenue Agency:
"This past year has posed unprecedented challenges for the Charities Directorate, the charitable sector, and all Canadians. We have all had to adapt to a new way of living and working. But what has not changed is our depth of care for each other and our optimism for brighter days to come.
Starting in March 2020, the directorate rapidly transformed its business to ensure continued services for charities, including setting up its employees to work remotely and converting paper-based workloads into an electronic format. It also promptly revived the call centre to offer support to charities, extended the filing deadline for charities to ease their reporting burden during an uncertain time, and took a balanced approach to resuming our compliance programming to limit adding stress to charities while maintaining the integrity of the sector.
During the pandemic, the directorate continued to engage with stakeholders to advance topics relating to charities, such as the Advisory Committee on the Charitable Sector, and to share and better understand the impacts of the pandemic on the directorate and charities, respectively. The directorate also continued to provide resources for charities to succeed, including publishing new guidance products and other educational tools, and helped the CRA administer two federal financial subsidies that benefit charities.
The directorate remains committed to applying a people-first philosophy to all of its activities and working to support charities through the pandemic. It values the dedication and determination of its employees and the sector to providing essential services to Canadians. I am pleased to share this report featuring our work to support and maintain public trust in the dynamic and resilient Canadian charitable sector."
See the Data…Continued Here