Canadian minor hockey teams are competing to donate $100,000 to charity. The Chevrolet Good Deeds Cup drops the puck on its sixth season looking to make hockey more inclusive than ever. This season will be supported by a brand-new advertising campaign titled Shift Change which promotes inclusivity in hockey. Canadian minor hockey teams are challenged to take the positive values learned on the ice to get more kids from all backgrounds, genders and abilities into the game. Promoting inclusivity can be done in a number of different ways, from raising funds for marginalized youth, specialized equipment, or mental health support or advocating for LGBTQ or BIPOC players. This season, each team is challenged to conduct a Good Deed that focuses on inclusivity and champions opportunity for a chance to win a grand prize of $100,000 for the charity of their choice. From February 26, 2022 – March 19, 2022 it will be up to Canada to vote on their favourite Good Deed. During this time, Chevrolet Canada will donate $1 for every vote submitted (up to $50,000) to the Hockey Canada Foundation's Assist Fund, a fund that provides subsidies to assist with hockey registration fees and equipment.
"The Chevrolet Good Deeds Cup creates a tangible difference in making our game as diverse and welcoming as Canada is, and Hockey Canada is proud to stand beside our partners at Chevrolet," said, Tom Renney, chief executive officer of Hockey Canada. "The Chevrolet Good Deeds Cup is an incredible program that builds communities and future leaders and makes a difference from coast to coast to coast."
• • • • • • • • • • • • • • • • • • •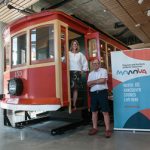 MONOVA: Museum of North Vancouver opens its doors to the public on a limited "preview" basis in The Shipyards. MONOVA is welcoming visitors to explore its gallery spaces, which include interactive displays, as well as moving tributes to the past, such as the section dedicated to Residential School survivors and their families. It's taken more than 50 years, a multitude of meaningful discussions with community members and Indigenous leaders, countless volunteer hours, and painstaking research to amass a collection of more than 9,000 artefacts, but after 20 years of planning finally the Museum of North Vancouver is ready to welcome the public. The new Museum of North Vancouver joins the Archives of North Vancouver in Lynn Valley under the MONOVA banner.
"We're delighted to be opening the doors to the new Museum of North Vancouver. The past year has been challenging for many of us and with this project we're excited to be a part of North Vancouver's pandemic recovery," stated Commission Chair Dee Dhaliwal.
Thanks to community support, they successfully achieved a $1.5 million Comprehensive Campaign goal. This $7.6 million Museum was delivered thanks to $6.1 million total investment from the City of North Vancouver, Province of British Columbia and Government of Canada, and more than $1.5 million from individuals, businesses and foundations via the Friends of the NVMA Society's Comprehensive Campaign. They rely on annual donations to help MONOVA continue to inspire future generations by providing for sustainable, relevant, and inclusive programs and exhibits that respond to the needs of the community and visitors to North Vancouver.
• • • • • • • • • • • • • • • • • • •
Canada's Children's Hospital Foundations (CCHF) together with Children's Healthcare Canada (CHC) will benefit from a $26 million investment from Thistledown Foundation to support Canada's 13 acute care children's hospitals across the country. This historic gift recognizes the immense impact of the pandemic on Canadian children, youth, and their families. A donation of $2 million to each acute care children's hospital coast-to-coast is intended to meet urgent local needs and to ensure children and their families have access to the best available care, regardless of where they call home. "Through this gift, our hope is that children across Canada will have the best possible care to enable them to feel better soon and get back to the important job of being kids," said Fiona McKean, co-founder and Chair of Thistledown Foundation.
For millions of children and youth who have experienced extended school closures, delays in access to essential social, community and healthcare services, and physical separation from friends and family, the pandemic has had both direct and indirect impacts on their health and well-being. Canada's children's hospitals have responded swiftly, adapting and innovating to support timely delivery of urgent and emergency physical and mental healthcare services for Canada's eight million kids. This gift coincides with National Child Day which is celebrated on November 20. It commemorates a commitment Canada made to uphold the rights of all children.
Thistledown Foundation is a private charitable foundation established by Fiona McKean and Tobias Lütke, CEO of Shopify.