How does the world get to the point where a survey finds one third of students in North American question whether the Holocaust actually happened? That's what a survey of 3,600 North American students revealed, demonstrating a shortcoming in Holocaust education. The survey found that social media is a significant source of information for the students—one third of whom questioned whether the Holocaust even happened. The study was commissioned by Canadian charity Liberation75 and led by Dr. Alexis M. Lerner of Western University. Students in Grades 6 to 12 were surveyed twice — once before a two-day virtual conference focused on Holocaust education, and once after — to assess what they know and think about the Holocaust and antisemitism. Students from Canadian classrooms made up 78.6 percent of respondents.
These recent findings, combined with the growing influence of "fake news," underscore the importance of requiring fact-based instruction about the Holocaust in schools. No Canadian province or territory mandates Holocaust education as part of their secondary school curriculum. In the United States, 22 states require Holocaust education as part of their secondary school curriculum.
"It's terribly concerning to see so many young people questioning the very existence of the Holocaust and getting their information about the Holocaust from social media," said Marilyn Sinclair, Founder of Liberation75, an Ontario-based charitable organization committed to Holocaust education and remembrance. "We are calling on provincial and territorial governments across Canada to mandate teaching of the Holocaust and antisemitism within curricula to ensure our youth know about the dangers of what happens when hate goes unchecked and we don't stand up for each other."
Yet, 42 percent of students said they have unequivocally witnessed an antisemitic event, even though the vast majority of study participants self-identified as non-Jewish. In addition to the traditional antisemitic tropes, examples included hearing jokes about Jewish people being put into ovens, celebrations of the Pittsburgh synagogue shooting, and hateful comments on social media or gaming platforms. After experiencing the educational treatment, students were 9 percent more likely to intervene if they observed an antisemitic event occurring. The survey also showed a desire among students for more facts, with 92 percent wanting to know more about the Holocaust. "Our study shows that providing Holocaust literacy to our students has the potential to prevent bullying, discrimination, and intergroup conflicts. It's up to us to give our youth the tools to build a strong, peaceful and educated society," said Sinclair.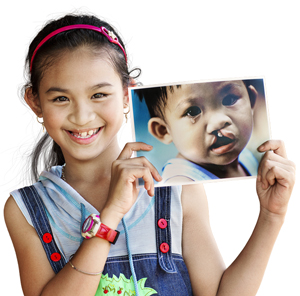 Marking its 40th anniversary year, global nonprofit Operation Smile announced a 10-year commitment today to increase access to care for 1 million patients who need cleft care and other essential surgeries. Entering its 40th anniversary year, the organization will scale up its investments in underserved remote areas around the world. The announcement marks an evolution for Operation Smile, which will continue to work as the leading global nonprofit specializing in expert cleft surgery and care and will focus more intensely on transforming local health systems. The organization's new vision includes creating expanded opportunities for women in medicine, investing significantly in research, innovation, surgical education, and youth empowerment, all of which are factors that impact cleft care.
"As we enter our organization's next decade, we are deeply focused on increasing the number of high-quality cleft surgeries, which requires strengthening local health systems," said Operation Smile Co-Founder and CEO Dr. Bill Magee. "We're committing today, to transforming lives by challenging inequities in the health system head-on to serve a million people who need care."
Founded in 1982, Operation Smile has provided free, life-changing surgical and dental care for more than 326,000 patients, enabling them to eat, breathe, speak, and live healthier lives. With each surgery, the organization has seen how gaps in health care infrastructure create barriers to access and perpetuate inequities in health care systems. Over the next 10 years, Operation Smile will collaborate with local partners, including ministries of health, donors, corporations and academic institutions to bolster in-country health systems to reach its goal of increasing access to care for 1 million patients.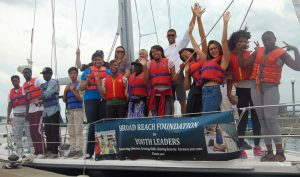 Broad Reach Foundation for Youth Leaders, a charity supporting equity-deserving youth, has broken another systemic and historical barrier: Charles D. Waterman is the first Black sailor leading a youth sail training and leadership organization in Canada.
"There are hardly any BIPOC kids sailing in Canada, despite the longest coastline, the multitude of vessels, clubs and initiatives. Broad Reach is leading the way to equity and inclusion, engaging young people in the development of skills, knowledge and social belonging through sailing. I am that Black sailor who will animate the community for change to broaden access, to engage the young talent, optimism and energy, and to bridge the gap between people with and without privilege."
Our youth-led Ships2Shores project, funded by the government of Canada, facilitates youth access to marine education and employment while growing youth attachment to Canada. In 2021, our Sailing Access Fund supported youth in accessing sailing and tall ship sail training. Young people led collaborations with organizations in Ontario, Quebec, British Columbia and Nova Scotia, creating a vibrant pan-Canadian network of 3,000 youth engaged in marine sector activities including the arts, civics, heritage and economy.
"Canada's youth benefits greatly by discovering the value of our marine sector where workforce shortages are looming large and youth lack information of the opportunities. We celebrate and take pride in our oceans, rivers and lakes and the wealth of opportunities they present for the youth and the country," says Marguerite Pyron, CEO at BRF.
"We are proud, enthused and inspired by the government's recognition of the value and potential of youth. BIPOC, Anglo- and Francophone, newcomers to Canada and youth experiencing socio-economic disadvantage, engage with and benefit from the marine sector and the opportunities that our country holds within its coastlines. These will be the kids at the helm. This is their time to lead the change" says Charles Duncan Waterman, President, Broad Reach for Youth.
The project is delivered by Broad Reach Foundation for Youth Leaders in collaboration with BRIGS Youth Sail Training, Tall Ships Expeditions and Bytown Brigantine, ON, EcoMaris, QC, Nova Scotia Sea School and Picton Castle, NS, and Sail And Life Training Society, BC.
The Definity Insurance Foundation, a new Canadian registered charity planning to make a difference in the lives of Canadians in marginalized and underserved areas, announced the appointment of Arti Freeman as its founding CEO. Freeman has close to 20 years' experience in the philanthropic sector leading granting programs and strategies, organizational change initiatives, and business process improvements. Most recently, she was the Manager of Partnership Investments at the Ontario Trillium Foundation (OTF), one of Canada's largest grant-making foundations, where she led the successful re-building of the Partnership Investment program that connects the non-profit, public, and private sectors to build a stronger non-profit sector in Ontario.
"We are delighted to welcome Arti as our founding CEO. She has a proven track record in non-profits, as well as working with diverse communities and other partners to help drive systemic change," said Willy Robinson, Board Chair of the Definity Insurance Foundation. "The Board believes Arti will establish a solid base for the Foundation as she grows our support for charities doing community-based work that reduces social inequities in health, opportunity, and climate-related challenges."
"Helping to establish and lead a new major philanthropic foundation in Canada that is committed to advancing equity and justice by building trust and working with communities is truly a privilege," said Freeman. "My personal philosophy and values revolve around building institutions and systems that are responsive, relevant, and mindful of recipients of our services. As such, it is important to me that we reflect the voices of the people we are serving and work with community."
The Definity Insurance Foundation was established as a result of the demutualization of Definity Insurance Company (then known as Economical Mutual Insurance Company), which was completed in November 2021. The Foundation was the recipient of $100 million from the proceeds of this demutualization and is a registered charitable entity in Canada.
PwC Canada unveiled its inaugural Canadian ESG reporting insights study, analyzing the current and trending challenges Canadian organizations face with their ESG reporting practices. Canadian ESG reporting is falling short, leaving organizations at risk of missing opportunities for increased long-term value creation and goodwill for their brand. This comprehensive analysis explores ESG reporting maturity across 150 of Canada's top organizations. Relying exclusively on publicly available information, PwC assessed elements such as strategy, materiality, metrics, assurance and other key components of ESG reporting. The data collected will help companies improve where they fall short, and strategize to successfully include ESG, considering the growing significance it holds with investors and stakeholders. In a PwC Global ESG Investor Survey, nearly 80 percent of respondents said ESG was an important factor when making investment decisions. Employees, lenders, customers, regulators and other stakeholders are also using ESG information to inform their decisions. And yet, more than half (59 percent) of the organizations reviewed are not including sustainability-related information in their annual report beyond a dedicated corporate social responsibility section.
"Individuals and organizations are dealing with a growing trust deficit, due to fundamental economic, environmental and societal changes in the world," said Mike Harris, Partner and ESG Practice and Net Zero Leader, PwC Canada. "Organizations that take a more holistic view of incorporating ESG in their business strategies will be able to build brand value and long-term trust, as they look to deliver sustained outcomes."