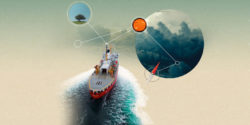 National Research Institute Launches to Bring Clarity to Canada's Climate
Dozens of academics and policy experts launched the Canadian Institute for Climate Choices, a new independent national research body. The Institute aims to bring clarity to the transformative challenges, opportunities and choices ahead for Canada as governments at all levels work to address climate change.
The Institute will undertake rigorous, evidence-based and integrated research, analysis and engagement to help decision-makers and Canadians understand and evaluate the policy choices that could put Canada on a path to achieve net-zero greenhouse gas emissions by 2050 and build a clean, prosperous and resilient future that benefits all Canadians.
Strategy includes providing an integrated, evidence-based and practical perspective to inform climate policy development and decision-making by governments at all levels by bringing together experts from a broad range of disciplines, including economics, climate change adaptation and mitigation, Indigenous knowledge, natural and social sciences, public policy, energy systems and engineering. Institute staff will also engage extensively with business leaders, policy makers, Indigenous governments, communities, thought leaders and a broad spectrum of Canadians to convene constructive discussions about policy choices, and showcase effective solutions and best practices from leading Canadian cities, regions and industries.
The Institute's initial report, Charting our Course, takes stock of the current climate policy landscape in Canada and makes the case for how better integration among areas of expertise and conventional policy silos can contribute to a more resilient and prosperous future. The report concludes with four recommendations for policy makers and governments seeking to design and implement more effective policy. Find out more at https://climatechoices.ca/reports/charting-our-course/
Canadians Value Personal Advice Over a Search — Really, They Do
Despite technology making it easier than ever to access information, a new CIBC poll shows that when it comes to major life events, such as getting married, buying a home, or finding a job, many respondents (63 percent) prefer to ask their friends and family for advice. This is most prevalent amongst younger Canadians, with 78 percent of those aged 18-34 leaning on people close to them when making important decisions.
When it comes to financial advice, 46 percent of Canadians prefer to ask an advisor through their financial institution and 36 percent turn to family and friends. Only 20 percent of respondents prefer to go online. Canadians are most likely to seek financial advice for the following events: when planning for retirement (40 percent); general investment planning (30 percent); wills or estate planning (27 percent); and planning for a home purchase (26 percent). Our guess is that this is even higher when donors are considering financial advice for their philanthropy.
"The internet may be a portal to vast amounts of information, but big decisions are personal. When there are choices… whether they are career moves or retirement planning, Canadians value the word of a person they trust," said Kathleen Woodard, senior vice president, CIBC Personal and Small Business Banking. "Similar to a family member or a close friend, a financial advisor takes on a role where they understand your needs, treat your goals as their own and provide advice to make your ambitions a reality."
Those who rely on a financial advisor seem to have greater confidence and knowledge about their money matters. Top reasons include feeling an advisor delivers the best financial advice (50 percent), more comfort making financial decisions with the help of an expert (49 percent) and a better understanding of how investments fit into overall financial health (35 percent).
The survey also found that most Canadians don't turn to the web for money management or financial information. More than three-quarters say they have never used an online service that manages investments (robo-advisor), with 20 percent unaware of these services altogether. Many (65 percent) claim they do not use online search engines for questions about common financial products or matters.
CNIB Foundation Wants Your Smartphone
Every year thousands of Canadians receive new smartphones for the holidays. Their used devices end up collecting dust for months or years to come – even though they may still be very new. So clean out your drawers, scour your shelves and unpack your closets. CNIB Foundation is asking Canadians to rescue devices from their fate in the clutter drawer and donate them to people with sight loss. The organization's Phone It Forward program takes modern, gently used smartphones; refurbishes them and outfits them with accessible apps; and puts them directly into the hands of Canadians who are blind. They also provide training on how to use the refurbished phones with confidence. We love it. Smartphones themselves… that's another conversation.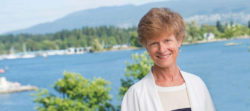 CARE Canada and VGH & UBC Hospital Foundation Get New Leaders
Barbara Grantham will join the CARE Canada as president and chief executive officer. Grantham, who was in the same roles at the VGH & UBC Hospital Foundation, is an executive with more than 30 years of leadership in the non-profit and philanthropic sectors across Canada. Angela Chapman is the new president & CEO of VGH & UBC Hospital Foundation, a promotion from her role as director of philanthropy. CARE Canada Board Chair Ken Sunquist expressed great excitement at the appointment. "With her exceptional track record of philanthropic leadership and resource development, as well as, her deep commitment for truly engaging Canadians in the issues that matter most to them, Barbara is ideally positioned to lead CARE Canada. She is a focused, team-oriented leader with a passion for driving and measuring results. We know that she and the CARE Canada team are a great fit."
"I am thrilled to be joining CARE Canada as CEO and look forward to getting to know the CARE team, its partners, donors, volunteers and the program participants who are essential for its success," said Grantham.
Barbara has held executive positions with some of Canada's foremost non-profit organizations, including the Vancouver Foundation, BC Children's Hospital Foundation, the Canadian Mental Health Association and the StreetoHome Foundation. She also established and ran her own highly successful consulting practice. In 2016, she was named one of Women's Executive Network's annual Top 100 Most Powerful Women in Canada. Most recently, she received the 2019 AFP Lifetime Achievement in Fundraising Award in recognition of her decades of philanthropic leadership.
Foundation Assists Acquisition of a Masterpiece
A unique 1912 Emily Carr painting, entitled Street, Alert Bay, has been acquired by the Audain Art Museum (AAM) courtesy of the Audain Foundation. The masterpiece, with its brilliant colours and expressive details, is the newest addition to the AAM's Permanent Collection of British Columbia art. One of Carr's most historically-important oil on canvas productions, Street, Alert Bay, of 1912 depicts a compelling Kwakwaka'wakw community scene and is based on a 1909 watercolour by Carr entitled Alert Bay, Street Scene with Mother in Foreground. This major acquisition underlines a radical shift in Emily Carr's practice following her trip to France from 1910 to 1911, while conveying the Victoria-born artist's newfound understanding of the European avant-garde. As such, the 1912 oil on canvas reveals an expression of aesthetic purpose beyond pictorial accuracy, and this same dynamism is fully explored in the Audain Art Museum's exhibition Emily Carr: Fresh Seeing – French Modernism and the West Coast. Check the museum for dates and times.