Charities' Magazines Connect With Communities And Donors
By Brendan Read
Canadian not-for-profit organizations have been looking hard at the value of print and online magazines in their communications strategies.
But while several publications have folded as a result, others have continued strongly even as their sponsoring organizations have tapped new channels. And several new magazines have appeared as their value is uncovered or rediscovered.
Case in point, the Down Syndrome Resource Foundation (DSRF) and the Canadian Down Syndrome Society (CDSS) rolled out the inaugural issue of 3.21: Canada's Down Syndrome Magazine in November 2019. The name comes from Trisomy-21, the genetic disorder that causes Down syndrome. The magazine is published quarterly and is primarily distributed online, with limited print runs for fundraising and for pickup by their offices' visitors.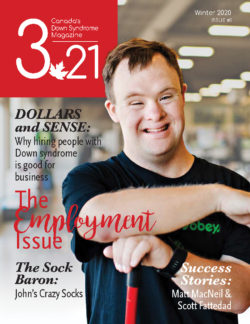 3.21 replaced DSRF's Hand in Hand e-newsletter. It also marks the first time the CDSS has distributed a magazine since organization shuttered its publication about 10 years ago.
"We were finding that our newsletter audience was more interested in general Down syndrome articles as opposed to organization updates; we were posting those updates on social media and as a result we were repeating that content," said Glen Hoos, DSRF director of communications. "We and CDSS decided to create a magazine that would be a resource to the Down syndrome community."
Compelling relevant content
Magazines that succeed focus on taking full advantage of the channel, which is the ability to attract and engage with readers and with eye-catching design and images that draws them to in-depth content and keeps their interest. The format, particularly print publications, enables readers to easily flip back and forth and to pick up and resume reading again after putting it aside.
But above all magazines have to stay relevant.
The first issue of Ducks Unlimited Canada's Conservator took flight 40 years ago, in winter 1980. Then it was glossy, four-colour, 12-page and in a newsletter format, stapled twice down the middle, said editor Leigh Patterson. Today it runs a hefty 48 to 64 pages of colour photography, catchy headlines and graphics and inspiring stories.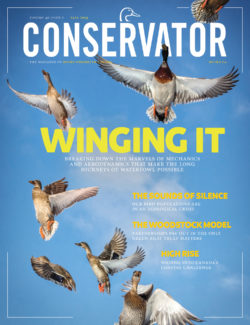 The story topics today are similar to those back then, she said. But the conservation approaches are different. Ducks Unlimited Canada now has science, policy and education programs to inform and enhance its habitat conservation work.
"Conservator must be relevant; it has to keep pace. It must engage our current supporters and future ones," said Patterson. "The magazine must evoke emotion in our readers. It must tell stories about people making a difference. It must share our science and our solutions for a better tomorrow. It must give readers the tips and tools they need to empower their personal conservation decisions. And it all must be delivered in a compelling, beautifully designed package that people want to open, explore and feel good about welcoming into their homes. It needs to be an experience."
Excellent (and flexible) execution
To execute a magazine well requires a close alignment between the publication and its audience, with top notch writers and photographers, with planning and the ability to respond to unforeseen changes.
Pulse magazine, founded in 2013 and published annually by the Victoria Foundation, is aimed at building public awareness of the foundation's work. Pulse accomplishes that goal by featuring stories about grant recipients, community engagements and other activities. Pulse is mostly read in print with limited online readership.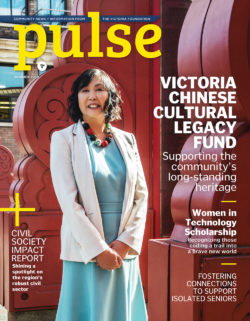 To create Pulse the Victoria Foundation contracts with Page One Publishing, which hires the writers and photographers, creates graphics and which designs and prints the publication. Page One also arranges distribution with an outside firm to pickup boxes at many locations throughout the greater Victoria, B.C. region.
Issue planning begins in late January and early February, starting with a de-brief of last year's magazine, of what worked and what didn't. The foundation presents the stories and angles it wants to see, which are incorporated in the editorial plan. The stories and photography are assigned and done and the magazine appears in late May.
"Publications, like ours, lends itself to storytelling, like reading a book, explained Victoria Foundation Director of Communications, Rob Janus. "You're investing some time to read about these organizations and people; it is not meant to be a quick snapshot. The content of the whole publication has been designed to work together."
But as per the proverb "there's many a slip 'twixt the cup and the lip" things do happen in the execution, admitted Janus. Sometimes interviewees change their mind about being interviewed. Or the photography may not work out. Page One and the foundation then work closely together to find solutions.
"We would always have our lineup, but I can't think of a time when we had the full essence of the story thought out in the editorial planning," said Janus. "It always unfolds in ways that are surprising. And you hope it turns out great."
Finding the stories
To provide compelling articles magazines have to find them. And often the key is audience and community engagement.
Outreach to a broader and perhaps surprisingly in today's web and social media era a younger audience led the Calgary Foundation to create Spur magazine in 2013. It is published every spring and fall by RedPoint Media and Marketing Solutions and distributed to select audiences by mail and through pickup boxes around Calgary, Alta. It also has an online readership.
"Foundations like ours have access to so many compelling stories about charities, donors and volunteers doing beautiful inspiring things," explained Taylor Barrie, vice president, communications, Calgary Foundation. "And we wanted a vehicle to share them more widely."
The Calgary Foundation went with print after seeing the popularity and success of the Avenue Calgary lifestyle magazine with the younger demographic. It takes a snappy look at the city's trends, notably restaurants and fashion, and is free. RedPoint also publishes Avenue Calgary.
"We liked the energy around Avenue Calgary," said Barrie, "We said 'There's something there. Let's see if we can leverage that interest in a print publication about us'".
Spur began with short takes on stories on what's happening in the community. The magazine has since evolved with an issue theme and two or three topics. It has also taken a deeper dive into issues such as the arts, the environment and poverty.
The story ideas are often suggested by donor relations and grants staff of organizations that have received support from the Calgary Foundation and of individual donors. Barrie discusses their projects to determine the stories that best demonstrate the impact of the Calgary Foundation's grants and to ensure the stories are ready to be told. And while some people are interested in being interviewed, others, specifically donors are not.
"People are often very humble and don't want to be profiled, "explained Barrie. "Philanthropy is deeply private and personal."
But when the stories do appear, they often prompt individuals to contact the Calgary Foundation with their coverage ideas.
"People are now asking to be part of Spur, like 'I have this great project, and won't you consider running an article on it in an upcoming issue'", said Barrie.
Donor connections
Magazines typically serve to communicate with their communities, including donors, but their intent is not to fundraise per se. But, in some cases, there have been donations as a result.
The Salvation Army in Canada and Bermuda publishes each month Salvationist, a news magazine covering its mission and ministry, Faith & Friends, which shows Christ at work in the lives of people and provides spiritual resources for those who are new to the Christian faith and Foi & Vie, its French -language counterpart.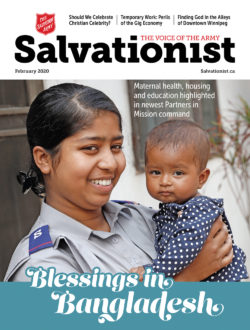 The publications are not directed primarily at donors, explained Geoff Moulton, editor-in-chief and literary secretary, although many donors are inspired by their content and Salvationist features news of larger donations. The Salvation Army also publishes Just for Kids, a children's magazine.
"Both Salvationist and Faith & Friends indirectly drive donor loyalty by sharing the good news of The Salvation Army at work," said Moulton. "Be they testimonials of persons who have received help through our programs, stories of new and innovative Salvation Army programs across the country, or inspirational features on poverty reduction, social issues and ways to give back."
Ducks Unlimited Canada's Patterson had heard of an anonymous donor who loved the photos in the magazine. She then left the publication a substantial gift in her will.
"I'd like to think the magazine inspired her to join us on her journey from member to leaving a very personal and significant conservation legacy," said Patterson.
Having champions
Every program in an organization needs champions to see it through, see that the resources are there and provide strategic guidance. That also goes for magazines.
Pulse's champion is the Victoria Foundation's CEO, Sandra Richardson.
"Sandy was really keen on the initial discussion for creating the magazine and has helped to ensure that it has stayed true to its mission," said Janus. "She knows that we are not going to get our stories in the volume in we want through other means, like the media."
It looks like her faith and optimism in the magazine has paid off, with seven issues successfully published so far.
"There is a growing audience of area residents who are keen to learn more about the Victoria Foundation and the good work we are doing in the community," said Janus.
But the most important champions are often the readers themselves. This is true for Salvationist: lay people (known as soldiers), clergy (officers) and adherents of the faith, who are known as salvationists. Many salvationists' stories are reflected in the pages of the magazine and thousands of them serve as volunteers within the church.
"After all the magazine is named after them", said Moulton.
Managing expenses
Magazines are expensive to produce. And organizations have made changes to help balance quality and cost.
Cost but also the complexity of setting up print distribution, including creating mailing lists, were the key factors behind the decision of the DSRF and the CDSS to make 3.21 online-first.
"With a print magazine we would have to charge subscriptions or sell issues, which was ultimately going to limit how many people would read the magazine," explained Hoos. "Our priority is to get information into our readers' hands."
Ducks Unlimited Canada no longer has an external proofreader and many of its articles are written by staff rather than freelancers. Meanwhile select stories are moved online to its ducks.ca website so they can enjoy a wider audience and get shared on social media. But when Patterson attempted to move Conservator fully online, in 2013, its supporters told her "loud and clear" that they preferred the print magazine.
"We have high-calibre, authentic storytelling in a physical format that can do that in a way that other communications can't," said Patterson.
The Salvation Army's printer, Mi5, sources quality, affordable paper in bulk. The church's fulfillment house, Simple Solution, packages the publications into one-drop bulk shipments to the ministry units where they are distributed to the readers.
"While we do invite individual subscriptions, mailing single copies to our 10,000 Salvationist customers and our 32,000 Faith & Friends customers would be cost-prohibitive," said Moulton.
What's next?
Organizations, and their publications, continue to adapt to changes in how the readers want content and the trend appears toward greater channel integration. The DSRF is planning to launch a new podcast later this year called The Lowdown, which will reposition some of the content that appears in 3.21.
The Salvation Army is seeing a gradual erosion of traditional print subscriptions. In response it is growing its web and social media platforms, with online exclusives, video content and shareable social media memes. Salvationist has more than 37,000 Facebook followers, the website receives more than 50,000 hits per month and its Twitter and Instagram followings are growing.
"We see all of this as complementary to what we are doing in print — the beauty of social media is that you can study the analytics to better understand your audience — though each social platform requires repurposing and tailoring content to the medium, which takes extra time and effort," said Moulton. "Much of what we do online informs what happens in print whereas it used to be the other way around. Thankfully, many of our faithful donors are of an age where print is still their primary preference for communication and so I do not see our magazine going out of print any time soon."
"That said, we are offering more through the digital channels that will help promote the mission and message of The Salvation Army to a wider audience than ever before."
Ducks Unlimited Canada may revisit having an online version of the magazine, "But I'm not sure if anyone has discovered the Holy Grail of online publishing, yet," said Patterson. "As an adaptive organization, we will continue to evolve the magazine, so it meets the needs, and the high expectations, of our supporters and other audiences well into the future."
Barrie is saddling up Spur for the 65th anniversary of the Calgary Foundation this year. There will be two special editions that will feature long term donors and several charitable organizations that received some of the first grants, which will highlight the long commitment of the foundation to serving and supporting the community. There are no plans though to change the print distribution focus for the magazine.
"There are many people who like holding high quality paper," said Barrie. "And I am one of them. There is something about a print magazine. It is tangible: you can turn the pages, which is part of experience of reading."
Brendan Read is the editor of DM Magazine.
Working with experts and partners
Subject matter experts (SMEs) and partnering between organizations can provide rich and worth while content for magazines while sharing and optimizing resources.
3.21 : Canada's Down Syndrome Magazine, which serves the Canadian Down syndrome community, relies on both SMEs and on its parent organizations, the Down Syndrome Resource Foundation (DSRF) and the Canadian Down Syndrome Society (CDSS) for articles. The magazine features SME-written content infused, where appropriate, with individual examples. They also show how readers can get involved.
"There are a number of magazines with great articles sharing the accomplishments of people with Down syndrome and that is awesome," said DSRF director of communications Glen Hoos. "What we're trying to do here is fairly unique with the professional expertise angle."
But working with SMEs requires care and patience in that they do not have a lot of time to write articles. So Hoos created a co-writing model where he maps out the articles, interviews the SMEs and writes the pieces in their names.
There is close coordination between DSRF and CDSS on article planning and magazine design, with each team bringing suggestions that are discussed. Both organizations have expert contributors and additionally they each have two pages in the back of the magazine for their own content. Either of them can also veto an article that it feels is not appropriate. But Hoos said this is for extreme situations, which he does not expect it to happen.
"We have for the most part the same vision and goals," said Hoos. "So naturally there is give and take. It's all part of the process."