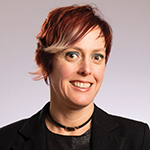 By Sarah Chamberlin
What comes to mind when you think of health care? Is it the nurses, doctors and staff who treat us? Is it how we take care of ourselves through personal fitness and nutrition? Or, is it the structures —hospitals, procedures, and policies — that keep the health care system operational? Every response is valid. The only real issue here is that a large part of the answer to "What comes to mind when you think of health care?" is often overlooked.
For many years, and even still today, health was defined primarily by what we could see. Physical illness has never faced the same level of stigma as mental illness. For instance, if you broke your leg or had a cold, you didn't have to feel guilty about it or nervous about not going into work that day. It was generally accepted that you physically couldn't. Unfortunately, mental illness hasn't been given the same respect at work, or in any other part of life.
Since its inception, the Centre for Addiction and Mental Health (CAMH) has been committed to creating a world where Mental Health is Health. As a global leader in mental health, CAMH is committed to creating a world where mental health is given this same level of urgency and investment as physical health. In this world, we look at health in an all-inclusive way where the physical, which often doesn't need to be defined or defended, and the mental, which is sometimes disregarded — are equal. And, the connection between the two — mental and physical — is understood.
Pressure on health care
Last year, the pandemic brought both sides crashing together. On one hand, people were becoming physically ill from the coronavirus. As it spread, people ill with COVID-19 filled up hospital beds around the world, stores emptied, and schools and workplaces went online. It got to the point where some countries were forced to house patients in impromptu hospitals. On the other hand, physical distancing measures disrupted in-person mental health services for millions of people worldwide, at a time when those services were most needed. Job, property, opportunity, relationship, and life loss all took an unbelievable toll on our collective health. As a result, the health care system faced more pressure than we've ever seen.
Around the same time, CAMH launched its Not suicide. Not today. campaign including a catalogue of research-informed educational materials and helpful tools on suicide prevention, mental illness and addictions. The timing, although coincidental, could not have been better as the campaign was our largest and most influential yet. We also developed a COVID resource hub filled with tools and coping strategies for the general public, business leaders, and frontline workers.
As we enter what is hopefully the end of the pandemic, we're also entering the beginning of a new form of health care. More people are prioritizing their own mental health. Businesses are accelerating their mental health policies and offerings for staff. And we're seeing people from all walks of life advocate for mental health in their networks at school, work and home. Progress is being made, stigma is being busted and people are demanding that mental health care adapt and catch up with other areas of health care.
Simply put: investments in health care research work, and discoveries change the way people are treated and how likely they are to recover. For example, after decades of research and billions of dollars invested, 60 percent of Canadians with cancer diagnosed today will now survive at least five years, compared to a 25 percent survival rate in the 1940s. Of course, a more recent achievement has been the timely development of the COVID-19 vaccine which will save billions of lives. And, when we look at mental health, some research breakthroughs at CAMH include potential methods to reverse memory loss due to aging, address PTSD, and treat "baby blues" (a precursor to postpartum depression).
Right now, CAMH is on the brink of more discoveries and important breakthroughs in mental health. Today, people around the world have hope for personalized medicine for every patient, culturally sensitive and equitable care across populations and geographies, and prevention strategies and earlier diagnosis for people of all ages. But there is still a long way to go, which is why CAMH is launching a campaign to accelerate discovery into better mental health care for all.
A watershed moment
As we look ahead, I believe we're on the precipice of a watershed moment for health care. When you think about the terms "unprecedented" and "new normal" in the past year, they've been connected to something negative. But they don't have to be. Thankfully, we're finally entering an unprecedented time in our history where health consists of the physical and the mental, and the movement, which includes you, to embrace a world where mental health is health is growing every day.
Hopefully, this new normal in which we redefine health is here to stay.
Sarah Chamberlin is Vice President of Marketing and Donor Experience at CAMH Foundation. The Foundation supports the philanthropic efforts of CAMH, Canada's largest mental health teaching hospital and a world leader in mental health research, treatment, and advocacy. She writes this column exclusively for each issue of Foundation Magazine.
Please visit CAMH.ca to read more about the important work CAMH is doing, and to find tools to help you deal with increased levels of stress and anxiety throughout the pandemic. You're also welcome to contact Sarah directly about supporting CAMH Foundation:
Sarah Chamberlin, Vice President, Marketing and Donor Experience, CAMH Foundation, 416-535-8501 ext. 33823 or sarah.chamberlin@camh.ca