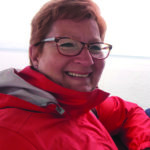 By Kathleen Provost
As a professional fundraiser, I always question myself to make sure I explore all possible options to do my best work. I ask myself: am I just repeating something I know that I am comfortable doing, or is what I am doing an innovative way of trying something new? Well in 2020, we were all given a unique opportunity to react to what we have always done, and explore new ways of doing our work, in a number of areas. This global pandemic is an unprecedented event that allows us to look at our environment, our activities, and even our relationships. We are given a chance to question our priorities and to look at our lives in a manner that was never possible before. I believe it is an opportunity of a lifetime.
Building new work environments
Salesforce's Chief People Officer, Brent Hyder said: "We're not going back to the way things were." Salesforce expects more than 65 percent of its workforce to come into the office only one to three days a week in the future versus 40 percent before the pandemic. Changes will include revamping office layouts to increase collaboration space instead of having a "sea of desks." New offices will feature cafe-style seating, open-air conference areas and private nooks, with an emphasis on clean desks and social distancing.
2020 has forced us to go away from our "known working environment" and redefined the workspace we occupy. We have been able to delineate different work environments and new working conditions. After months of adjustments to working remote and virtual, individuals are reinventing what work-life balance is. We are developing new affinity groups that were previously challenged by physical distance; and, we are building new physical distances between our work environment and our recreational environment.
Thinking "outside the box" with our fundraising activities
Is it possible that the pandemic forces us to look at the way we do our business and enables us to re-invent how we do fundraising? When do we feel the need to "change it up a bit"? Well, the presence of COVID-19 is forcing us to stop the fundraising activities we were doing and find new ways of doing our business. Let's explore this a little bit more. How many of us have cancelled a golf tournament, or a gala night in the last 12 months? Then, we challenged ourselves to find creative alternatives to raise funds. So, the real question is: should we go back to raising funds as we use to, before COVID-19, or is this a chance for us the "think outside the box" with our fundraising activities?
Last month, in an article in La Presse, entitled "Le Truc: un don plus un don", Marie-France Veilleux explored how we have come to hold virtual special events. She questions if there is a need to go back to our "old ways". Should we not ask, for example, when we host a gala as a fundraising event, why donors spend money on a dress or a tuxedo? Why is it necessary to wine and dine a donor in return for a donation? Should we not revisit true altruism? Veilleux gives us a challenge for 2021. What if this year, not-for-profits don't barter for a donation? Thanks to a global pandemic, it may be time to stop perpetuating senseless practices and identify new ways of coming together for a cause. Maybe in 2021, not-for-profits and donors can come together and redefine philanthropy.
Developing relationships with a new "people's plan"
In December 2020, McKinsey & Company produced the results of a Consumer Leadership Survey to assess if enterprises altered their behaviours during the pandemic. This survey showed how most effective leaders had adapted and had drastically changed their behaviours as team leaders. Now, being creative, supportive and employee-focussed has risen in importance. Consequently, showing operational excellence, authoritative leadership, and promoting internal competition within teams are becoming things of the past.
It is not uncommon these days to experience a concern for the mental health of a family member, a friend, or a colleague. We have also witnessed how the donor centricity is shifting to respond to social needs during these unprecedented times. Survival mode is "kicking in" so that every human can adapt and respond to this new "reality". Whether we are affected by isolation, uncertainty or whether we fear the unknown; human beings need to adapt to survive. This is our history. We are resilient, and continuously adapt — even if we are unsure of what the journey looks like. We can all learn new ways of working together, new ways of leading and managing teams because it is essential to our fulfilment.
Making the most of an erratic moment in history
Sometimes, we need an extraordinary moment to remind us of what we are capable of doing. As we turn the page on 2020, Morgan Housel, author and former columnist at The Motley Fool and The Wall Street Journal had this to say about the teachings of history:
"Risk is what you don't see. That's what made the depression a big deal! No one was prepared for it because no one saw it coming. When markets never crash, valuations go up. When valuations go up, markets are prone to crash. That's a big, broad takeaway of COVID-19 that repeats itself throughout history: Nothing too good or too bad stays that way forever, because great times plant the seeds of their own destruction through complacency; and bad times plant the seeds of their own turnaround through opportunity and panic-driven problem-solving."
So, if we are in the middle of a panic-driven opportunity — today is the day. We have a chance to take the teachings from this global pandemic moment. We can examine the choices we are making and take action to problem-solve. Our learning can offer alternatives to specific scenario, influence fundraising practices, or maybe even help address systematic injustices. But we are given an opportunity. Learn from this moment and do something.
Carpe diem
What we have done in the past may not necessarily be bad or in need of change. However, isn't today, the only time in our lives we are given the opportunity to examine everything we do and determine if it needs to change? Today, maybe the only time in our lifetime, we can re-define what we do. We can change how we do our work; we can alter our professional practices or even alter the relationships we hold with donors, or colleagues. Today, we have the chance to question what was, and design what could be.
This panic-driven opportunity may never be present again in our lifetime —let's make the most of it.
Kathleen A. Provost, CFRE is currently the Campaign Director at St. Francis Xavier University, in Antigonish, NS. She brings over 25 years of fundraising experience within the charitable sector. She has been a Certified Fundraising Executive (CFRE) since 2007, and a long-time member and volunteer for the Association of Fundraising Professionals (AFP). As a recognized leader, Kathleen has tailored presentations and workshops for French and English audiences at various events including AFP-Nova Scotia, AFP-Ottawa, AFP-National Congress, Coady International Institute and the Canadian Council for the Advancement of Education. Kathleen is a McGill University graduate and is concurrently completing her Masters in Adult Education at St. Francis Xavier University. She has received numerous recognitions during her career, including the Queen Elizabeth II Diamond Jubilee Medal for her contributions to the charitable sector. She writes this column exclusively for each issue of Foundation Magazine.