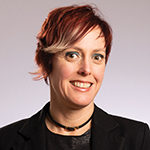 By Sarah Chamberlin
At its core, the Centre for Addiction and Mental Health (CAMH) is more than a hospital. It's a catalyst for transforming the way the world views and responds to mental illness, including addiction. As Canada's largest mental health teaching hospital and one of the world's leading research centres, CAMH sets the standards for care, research, education and leading social change. The hospital is supported, in part, by CAMH Foundation, which drives advancements for mental health by inspiring philanthropy.
I'm sure that no one would disagree when I say that mental health has never been more important than it is at this very moment. You might be shocked to know that the world was already in a mental health crisis well before COVID-19 became a household name. The World Health Organization reported that roughly 450 million people around the world live with some form of mental illness, making it the leading case of disability worldwide.
Right here in Canada, one in five people will personally experience a mental health problem or illness in any given year. Since May 2020, CAMH has worked with research technology company Delvina in leading research to understand the mental health and substance use impacts of COVID-19. In the seven days leading up to the most recent survey — which included 1,003 people and took place in late November 2020 — half of the respondents felt lonely some or most of the time, 52 percent felt depressed some or most of the time, and 23 percent rarely or never felt hopeful about the future. The effects on mental health have been drastic and at its worst, we know that mental illness can be fatal, with 800,000 people dying by suicide around the world every year.
Statistics can be sobering, but it's important to grasp the magnitude of just how serious the mental health crisis is, and has been, and to understand that the trends continue in the wrong direction. Today, we're seeing that the COVID-19 pandemic — and its resulting effects including lockdowns which isolate many, physical distancing, and immense financial strain — have made an already negative situation much, much worse.
Given its leadership in the mental health space, CAMH was uniquely positioned to transition its services and fundraising to expand upon online methods during government-ordered lockdowns. Early on in the pandemic, CAMH enhanced virtual capacity to respond to the heightened demand for mental health services. To put this into context, in 2019, the hospital provided virtual care to more than 3,000 patients from more than 550 communities across Ontario. From March to April 2020 alone, CAMH's virtual care visits increased to almost 3,000 per month, an increase of more than 750 percent.
So, I think we can all agree that the pandemic has put a spotlight on mental health. It's also exposed a key fact: investing in mental has never been more important. Aware of this, CAMH shifted its delivery method and its fundraising strategy.
Never more important
With support from generous individuals and corporations, we've continued to respond to urgent needs and put donations to work to make mental health care as adaptive as possible during the pandemic. We launched Apart. Not alone, which is an online destination filled with COVID-19 resources to support people who are struggling, or who might know somebody who is struggling. And we continue to lead important conversations around difficult, but timely, mental health topics like suicide.
The fact that mental health work has never been more important also means that there's never been a more critical time to provide support . Whether you're a seasoned philanthropist or an aspiring one, we know that together we can make a difference and change the statistics on mental illness and suicide.
And, the good news is, there are many ways you can join our growing movement. You might prefer to invest as a monthly donor, or perhaps a virtual fundraiser is right up your alley. If you prefer the latter, then we have many ideas to get you started — breaking a sweat while breaking down stigma through a virtual run or walk, hosting a virtual meal with loved ones or colleagues, or organizing an online games night with friends. And of course, you can organize a unique fundraiser that's all your own if you like! Whatever fundraiser you decide to do, we can guide you through the planning process and provide you with the tools, resources and support to make your fundraiser as successful as possible.
Best of all, you can be proud knowing that your contributions will give people experiencing mental illness help, hope and a better tomorrow when they need it most.
If you're interested in supporting the movement for mental health by fundraising for CAMH, please visit www.camh.ca/fundraise.
Sarah Chamberlin is Vice President of Marketing and Donor Experience at CAMH Foundation. The Foundation supports the philanthropic efforts of CAMH, Canada's largest mental health teaching hospital and a world leader in mental health research, treatment, and advocacy. Please visit CAMH.ca to read more inspiring stories of real Canadians who said "Not today" in support of suicide prevention.
She writes this column exclusively for each issue of Foundation Magazine