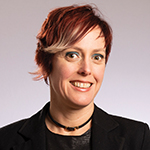 By Sarah Chamberlin
At the Centre for Addiction and Mental Health (CAMH), we're driven by a belief that Mental Health is Health and aspire to have mental health positioned at the centre of health care. Thankfully, our sponsors and supporters are driven by this purpose as well.
With the level of stigma, shame and silence that still surrounds mental illness, public support from our sponsors and supporters for mental health initiatives is incredibly meaningful to the CAMH community, as well as the larger Canadian community. The fact is, the successes we have achieved and the progress we've made for mental health thus far would not be possible without our sponsors and supporters. In the same breath, the discoveries we anticipate achieving in the future won't be possible without them either.
Early in the pandemic, sponsors and supporters contributed to the charitable sector in remarkable ways as charities rushed to aid people in crisis. Of course, this isn't uncharacteristic. Sponsors and supporters are often kind by nature and are driven to support causes and people in need. Still, when COVID-19 took so much away, sponsors and supporters still found ways to give, and that's truly awe-inspiring.
Take, for instance, a donation of more than 500 tablets that CAMH received for patient use. Last year, we had to restrict in-person visits to keep our patients and staff safe. This meant that patients went days without seeing their loved ones or engaging in activities through Gifts of Light (more on this amazing patient care program later). But, thanks to the Gifts of Light team, and the generosity of the Slaight family, we were able to purchase the tablets so that patients could have virtual visits with loved ones, participate in online programming, and receive virtual care from hospital staff. It's moments and contributions like these that make me so proud of the CAMH community, and I'm sure you've witnessed similar kindnesses in your communities as well.
Advocate for mental health
As Canada's largest mental health teaching hospital, CAMH relies on sponsors and supporters to help transform how the world views mental health. It's their generosity that propels us to reach thousands of people every year. They enable the CAMH research that leads to the best patient-centered mental health care in the country. They get creative and lead their own individual fundraisers to support CAMH, which also help to raise the hospital's profile. And they advocate for the importance of mental health at work, at school, at home, and wherever else they can.
We value our sponsors and supporters, who like us, believe Mental Health is Health, and continue to live that belief out every day. Their support and their advocacy drive CAMH's groundbreaking research and education which both lead to life-saving discoveries.
By raising CAMH's national and global profile, CAMH sponsors and supporters have raised their profiles as some of the most dedicated in the world, as well. Our sponsors and supporters have inspired other businesses and Canadians to join our movement, further increasing the impact of our work. More people than ever before want to know how to take care of their mental health. They also want to know more about how to support their friends, families, employees and people in their communities and beyond. When there are 450 million people around the world experiencing mental illness, this inspired leadership is immensely important.
Gifts of Life
At CAMH, we're grateful to have a wide range of sponsors and supporters who partner with us for various reasons, and in a plethora of ways. For example, executives who want to prioritize workplace mental health have partnered with us through CAMH's Business Leaders for Mental Health Action, which is a coalition of leaders committed to improving the psychological health and safety of their employees advocating for businesses to take action. Gifts of Light, CAMH's 100 percent donation-funded program that aims to improve the patient experience, continues to receive overwhelming support from donors and volunteers. And CAMH's new flagship fundraiser, the Sunrise Challenge, has given mental health supporters across various communities a chance to rise with the sun together and fundraise for something they believe in.
Sponsors and supporters can help foundations and other nonprofit organizations mobilize their belief and purpose, and turn that passion into real action that creates a ripple effect of positivity. This has never been more critical as we enter what I believe to be a watershed moment for mental health.
As we, hopefully, begin to emerge from the worst of the COVID-19 pandemic, I know that CAMH isn't alone in its sincere appreciation for the good work that generous sponsors and supporters have enabled charities to do.
Sarah Chamberlin is Vice President of Marketing and Donor Experience at CAMH Foundation. The Foundation supports the philanthropic efforts of CAMH, Canada's largest mental health teaching hospital and a world leader in mental health research, treatment, and advocacy.
If you would like to learn more about CAMH's movement for mental health and how you can join us as a sponsor or supporter, please visit https://www.camh.ca/en/get-involved.