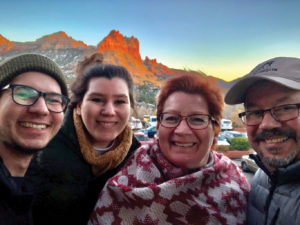 By Kathleen Provost
As a professional fundraiser, I believe I should always lead by example. Just imagine being in the profession of asking for charitable donations but not being a donor myself. So, as I make key decisions about choosing any charitable work I support, I ask myself; what do I want my legacy to be? We often think of legacy as a powerful or wealthy gesture that comes after we are dead. But a legacy is a reflection of who we are and should mirror what kind of legacy we want to build for the next generation. A legacy is not about tomorrow. It is about today.
Building a legacy
Think about how we make our own decisions, every day, and think about what these decisions mean. When contemplating a legacy, we need to look at who we are today, and what really matters for us. As we journey through adulthood, we prioritize different things at different moments in our lives. Through this journey we may prioritize education or religion; later it could be sports or social activities; and maybe at a later stage in our life health becomes more important to us. However, our journey is, we need to look at the values we believe have a real impact which will inform the legacy we want to build.
We need to ask ourselves, what are those personal values we believe in and practice daily that give us meaning as human beings. These are not the values we want to leave; these are the values we identify with every day that will help inform the kind of legacy we want to have. So then, how can we keep our legacy in mind as we go about our everyday decisions? Kimberly Wade-Benzoni in The Harvard Business Review said:
"How people make decisions that involve future generations provides some specific strategies for helping you to keep legacy building in mind and leverage those thoughts to maximize your impact on the world. Research shows that when we know we have benefited from the legacy of the prior generation, that gets us thinking about the positive legacy we want to leave for future generations, and we tend to make better long-term oriented decisions."
Considering the needs
A 2018 poll conducted by Angus Reid Institute found that half of Canadians (51 percent) say they have no last will and testament in place, while only one-third (35 percent) say they have one that is up to date, hence nearly one-in-six Canadians have wills that haven't been kept them up to date. Not having a will, means we have not told our family what our intentions are. Therefore, we have no say in what happens to our assets. Hence the values we stand for; the legacy we are building today, may not come to fruition.
As we build our legacy, we must stay focus on the issues we have identified that need "fixing" because they matter to us. A legacy is not just about the benefits we may experience by building such legacy, but most importantly, what do we want to change, or have an impact on. By making informed choices we need to consider the ways in which we plan our legacy. We may want to do something for a cause we are passionate about, or that we are already involved with, or that we currently support. But we may also feel strongly about a social value with which we are less familiar but with which we strongly identify and believe it should be a part of our legacy. Then, it is our responsibility to find out more about this social value and the associated charitable activity, with a goal to further inquire about their work, their vision, and assess the relationship we want to have with this particular charity or organization.
Assessing our worth
According to Angus Reid Institute 23 percent of Canadians say they don't have enough assets to make a will worthwhile, building a legacy is not just about the assets we leave once we are gone. In the charitable sector we have what is called a planned gift. A planned gift is when we put in place a charitable gift today that in the future will go to an organization of our choice.
This concept was first established in the United States by the Central Ohio Planners and became a program which was eventually licensed to Canadian Association of Gift Planners (CAGP) in Canada. Today, LEAVE A LEGACY™ is a program that encourages prospective donors to work with charities and/or professional advisors to establish a charitable bequest or other planned gift that best suits their situation. A planned gift is exactly what it means, it is planned. While we are alive, we plan our legacy. This legacy can be made up of a number of planned fiscal arrangements we chose to put in place today because it is meaningful for us. Remember, it is not about the size, it is about the impact we want to have.
Reminding our self that we have limited time
It takes a lifetime to build a legacy. Not because we need to accumulate assets and wealth, but because it is a journey by which we need to define the legacy we want to build. Talking with our family about our wishes and yes, talking about those difficult end-of-life conversations is necessary. When we need to discuss our wishes ahead of time it helps us confirm the priorities we have, the values we uphold and the choice we are making in a manner that makes it easier for our loved ones to honour and respect the legacy we are building today.
We must seek professional advice. It is unbelievable the manners in which we can shape and impact what is important for us. I discovered early in life that I could use a few dollars I have today and build a legacy gift that will have impact; the kind of impact I want to have because I believe in this charitable work. We must ask financial advisors for help and ideas on how we can attain our legacy goal, and once we have made our decisions, we need to consult with a lawyer to make sure all our wishes are properly recorded.
Building our legacy today
Building our legacy is actually a very rewarding process to embark on. We start by doing research; seek professional help because we don't know all the options that may be available to us, and we talk with our family, the people around us with whom we want to share this legacy. These conversations will help us build the legacy we want for ourselves. It will include discussion about money and assets; but, most importantly it will include fundamental discussions on our values, what matters to us and what we stand for. Some may refer to this as self-actualization as Maslow described in his 1954 Theory of Motivation and Personality. I call it a legacy, and it is ours to build, today.
Kathleen A. Provost, CFRE is currently the Campaign Director at St. Francis Xavier University, in Antigonish, NS. She brings over 25 years of fundraising experience within the charitable sector. She has been a Certified Fundraising Executive (CFRE) since 2007, and a long-time member and volunteer for the Association of Fundraising Professionals (AFP). As a recognized leader, Kathleen has tailored presentations and workshops for French and English audiences at various events including AFP-Nova Scotia, AFP-Ottawa, AFP-National Congress, Coady International Institute and the Canadian Council for the Advancement of Education. Kathleen is a McGill University graduate and completed her Master, Adult Education from St. Francis Xavier University. She has received numerous recognitions during her career, including the Queen Elizabeth II Diamond Jubilee Medal for her contributions to the charitable sector. She writes this column exclusively for each issue of Foundation Magazine.
https://hbr.org/2016/12/how-to-think-about-building-your-legacy
https://www.cagp-acpdp.org/fr/blog/how-to-take-advantage-of-the-leave-a-legacy-month
https://angusreid.org/will-and-testament/