By Nicole Nakoneshny
When was the last time you wrote a cheque?
Funnily enough, I wrote one just the other day but, if you're like me, it's a rare occurrence. And I suspect many of you (particularly those younger than me!) probably don't even have a chequebook.
It feels like we are rapidly approaching a time when 'writing a cheque' will fall squarely into the 'thing of the past' category. According to CIBC, between 2008 and 2016, cash and cheque payments declined 22 percent and 41 percent respectively while payments made via mobile devices are expected to grow 23.2 percent annually through to 2020 and beyond. And, the way we pay for things is just one of the many ways that our lives are increasingly being led online.
Of course, the non-profit sector is not immune to this movement toward online and mobile. According to CanadaHelps.org, a non-profit organization that helps charities raise money online, the number of individual online donors has steadily increased to 20.5 percent annually over the past five years. And increasingly, those gifts are being made on mobile devices, with Blackbaud's 2017 Charitable Giving Report saying that 21 percent of all online donations were made via mobile devices.
This evolution to digital has implications for our work as fundraisers as we will increasingly need to be able to meet our donors in an online world. "As everything else in our lives is becoming digital, I think people also expect to be able to interact with charities in the same way that they do online shopping, banking and other things," says Marina Glogovac, President and CEO of Canadahelps.org. "We also know that future generations are digital natives, so I think it will be imperative for charities to develop the competencies and capabilities to adapt or reinvent their roles and service in the digital age."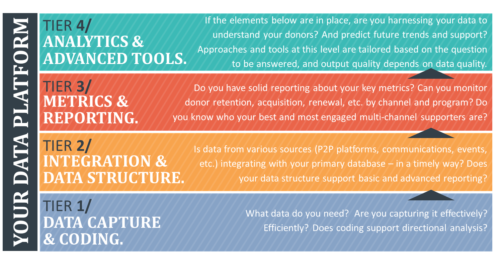 Adaptation not adoption
While crucial for organizations to respond, moving to a digital strategy doesn't simply mean adopting the same approach as new market entrants. "The next generation of charities, organizations like charity: water and others, are a great place to look for inspiration and best practice, but it's important to understand their model can't simply be replicated," says Jason Shim, Director of Digital Strategy at Pathways to Education. "These charities are being built from the ground up where 15 to 20 percent of their staff are software engineers. For most organizations, that kind of investment is simply not feasible."
But when creating an adaptation strategy, it is important to not relegate digital to the margins, but rather to wholeheartedly commit to it as a new way of doing business, as successfully 'going digital means not just 'doing digital' but 'being digital'. As a result, success requires three elements – Strategy, Capacity and Culture.
Strategy – Having a cohesive digital strategy is a must. Who are your audiences? What platforms are they on? What will your messages be? What digital channels and tools will you use? All of these questions must be answered in order to have success with digital.
Capacity – The organizational capacity and capability to develop, support and execute your strategy must be in place. Capacity means all kinds of things, including the knowledge, skills and technical capabilities of staff, infrastructure like systems, database, website and platforms as well as a means to monitor and assess progress and performance, such as analytics and reporting tools.
Culture – Success in digital means that digital is valued to the point that it has a 'seat at the table' and is integrated into the organization's core work and business. In addition, there must be a culture of learning, testing and adaptation, where risk is tolerated, smart investment is encouraged and failure is simply seen as a part of the journey.
Getting your 'data house' in order
The final piece of the puzzle when it comes to being digital-ready is data, which is the 'yin' to digital's 'yang'. Good data practices are a fundamental underpinning to the ability to optimally execute digital strategies as without good data, it's virtually impossible to have success in digital. Celeste Bannon Waterman, KCI Partner/Lead, Research + Analytics, has created the data platform (see chart) to be used as a guide when thinking about how to assess your data capacity and ensure it is as robust as possible.
To assess where you are, start by having conversations with users, looking for what she calls pain points. "Look at where the challenges are and where people are deciding to do their own thing instead of working through official channels. This is a simple but really effective way to identify where your gaps are and, as a result, where you should focus." And don't short change the bottom of the platform. "The more solid you are in the first levels, the more powerful your Level 4 capacity will be. I think of it like a house, wherein the strength of your data overall will be based on how strong the first levels are in your platform."
And while there is a strong tendency to want to immediately gravitate to Level 4 (Analytics and Advanced Tools), Celeste cautions that time and attention should be paid to the more mundane Levels 1 to 3. "The more solid you are in the first levels, the more powerful your Level 4 capacity will be. I almost think of it like a house, wherein the strength and integrity of your data overall will be based on how strong and robust the first levels are in your platform."
The journey to digital competence requires a commitment from leadership and a sustained investment in people, capabilities, technology and cultural change. And if you or your organization doesn't feel that a focus on digital is a priority, challenge your thinking. It's unlikely that's the case anymore, but if it is, it's time to confront that narrative and disrupt the beliefs that may be holding you back.
About KCI – KCI is Canada's leading consultants to the non-profit sector with professionals across the country in fundraising, strategy, research & analytics and executive search. Our core purpose is to inspire and enable organizations to raise money, to make the dream of better communities and improved lives a reality. And through our 35 years of experience, we've helped thousands of organizations craft their strategies, build their teams and raise billions of dollars in the education, health, social service, arts & culture and religious sectors. kciphilanthropy.com