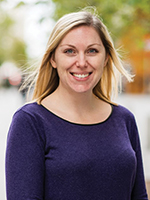 By Jennifer Robins
I'm sitting here at my home office in mid-August writing this article, soaking up every last drop of the summer weather, family BBQs and visits to the beach. Even as we enjoy the last few days of this wonderful season, if my inbox is any indication, I know fundraisers everywhere are putting the final touches on their all-important holiday season campaigns. From Thanksgiving to Diwali to Hannukah to Christmas — the last quarter of the year is a time for giving.
In recent years, Giving Tuesday, occurring after the mad rush of Black Friday, has become a prominent and important date in the fundraising calendar. Hashtags of #givingtuesday flood social media channels and more and more donors are participating in this movement — what should organizations be doing to prepare for this now annual event? Recognizing this new tradition, and being the data geek that I am, I wanted to take a deeper look at giving trends on Giving Tuesday and what types of donors are showing up on this very important day. I'm curious to find out if Giving Tuesday donors are the young digitally savvy Millennials and Gen Zers that are anecdotally expected, or if the results are more nuanced than that.
Web traffic
Leveraging Environics Analytics' new ClickScapes data, I looked at a week-over-week visitor-per-website view of a few different large charitable organizations (see Table 1). What is most fascinating to me is that not all the organizations saw a spike the week of Giving Tuesday. Recognizing that this is primarily a digital movement, it is not surprising to see Canada Helps had a big jump in their web-traffic over that period — an additional 200K visitors came to their website the week of Giving Tuesday (December 6th, 2020) versus in August and September. But what is surprising is that other organizations, such as SickKids Foundation or the Ontario SPCA, did not see a spike in their web traffic data. Looking at these trends, my question for all charitable organizations is — do you know your donors well and have a strategy to help you leverage the momentum from the Giving Tuesday movement?
Who are these donors?
While it is very interesting to look at web traffic data, especially for other organizations that you aren't typically privy to, the fundamental question really is — who are these web visitors and how can charities attract them to their own causes on Giving Tuesday?
Leveraging Environics Analytics' PRIZM lifestyle segmentation system, I was able to look under the hood so to speak and paint a holistic picture of who these online visitors are. Most interestingly, there is a big difference between web visitors in August versus those in December.
August 2020
In August 2020 there are three types of web visitors that are showing up in high proportions, they share some but not all characteristics. The largest group of web visitors is what we've called Mid-City Mellow and they are a group of urban retirees enjoying fine dining and many arts and culture activities. This is a group that is donating $995 on average per annum, which is 20 percent above the Canadian average. Family Mode, another PRIZM group is the next largest website visitor, and they are middle-aged families living in suburban neighbourhoods. On average they donate $953 a year, which is 15 percent above the Canadian average. The third largest and last PRIZM group, Country Traditions, is also a very large group in Canada as a whole. They are middle-aged and older couples and families and reside in rural areas across the country. This group donates approximately $806 per annum which is about 3 percent below the Canadian average.
What is most interesting about these three groups is that none of them are what we would call digital enthusiasts. Yes, they are using the internet at average rates, and are using most social media platforms, and yet these are the groups that are showing up the strongest on an 'average' month on charitable websites.
Where we do see some overlap is in their core values and motivations. All three groups rank high for Personal Control, National Pride, and Technology Anxiety in addition to Legacy. Personal Control indicated that these donors believe that the decisions they make can impact the outcome, and partnering that with Technology Anxiety, perhaps they are visiting charitable websites in the summer to avoid the craze of the giving season. Lastly, these are all proud Canadians who are simply looking to leave the world a better place.
December 2020
As mentioned earlier, web traffic dramatically increases as we move closer and closer to the prime holiday season, and we certainly see a spike for Giving Tuesday; in fact, web traffic increased 123 percent between August and December, roughly 200,000 unique visitors! The big question that comes to mind is, are we seeing the same types of people in December that we saw in August? Here is where things start to get interesting.
In December, the three top PRIZM segments are all urban segments. Two of these groups are quite young, often singles and couples, and we also see one familiar face, Mid-City Mellow. And if I look at the 4th largest segments, we see a third younger urban segment. All three of these younger segments are digitally-savvy and on many different social media platforms. And what might surprise some, is that they are also giving substantial gifts when they are donors. Eat, Play, Love gives an average of $1,836 a year, and Downtown Verge gives $1,788. Both values are double that of the Canadian average. This leads me to ask, are these younger web visitors simply jumping on the #GivingTuesday bandwagon? Or is it more complex than that? I think the answer lies somewhere in an organization's data and whether a constituent who gave on Giving Tuesday continues to engage with the organization again.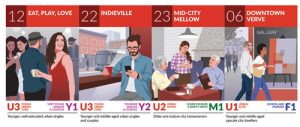 Now that we've looked under the hood, what are the key take-aways here? The questions that come up for me after sifting through the data are the following:
How can organizations better engage with the visitors from August, so that we continue to see them throughout the holiday season?
How can you start speaking to Giving Tuesday donors earlier, and potentially engage them throughout the year?
What proportion of these web-visitors translate to a donation?
And lastly, what are the plans to steward these Giving Tuesday visitors into long-term loyal donors?
Circling-back to the question I asked at the start, are the visitors we are seeing on Giving Tuesday who everyone expects to see? It looks like the data support those anecdotal hypotheses, with that Mid-City Mellow being the exception to the rule. Millennials and Gen Z are the driving force behind #GivingTuesday
Jennifer Robins is Director, Business Development at Environics Analytics. Jennifer helps clients solve their business challenges using the Environics Analytics' suite of data products and services.