The Grenfell Plaques Site is situated behind Grenfell House Museum on Tea House Hill, overlooking the Town of St. Anthony in Newfoundland. It is the burial site of Dr. Wilfred Grenfell, his wife and four of their medical missionary colleagues, whose cremated remains are entombed in a large boulder to which commemorative bronze plaques are attached. The municipal heritage designation includes the footprint of the boulder, plus one metre of ground from its base.
Heritage value
The Grenfell Plaques Site has great historic value in connection to Dr. Wilfred T. Grenfell and the International Grenfell Association. Grenfell, a medical missionary from England, arrived in Northern Newfoundland on behalf of the Royal National Mission to Deep Sea Fishermen in 1892. In 1900 he established a hospital to serve the region at St. Anthony, and eventually moved the headquarters of the philanthropic International Grenfell Association there. These were key developments in the history of the small community and vicinity, not only in terms of enormous progress in health and social services, but pivotal in establishing St. Anthony as a major centre for the Northern Newfoundland-Southern Labrador region. Grenfell was made a Knight Commander of St. Michael and St. George in 1927, and has been otherwise honoured during his lifetime and posthumously for his philanthropy and legacy.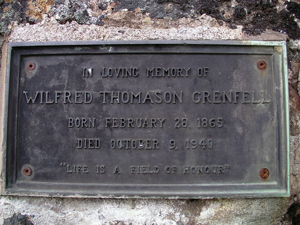 The Grenfell Plaques Site is located on the rear grounds of Grenfell House, a Registered Heritage Structure which was once the family residence and then a staff house for the International Grenfell Association. After Dr. Grenfell died in Vermont in 1940, his ashes were returned to St. Anthony and entombed in a boulder at the rear of the property. The ashes of his wife, Anne (MacClanahan) Grenfell, who played a key role in the missionary work, along with four other colleagues (Dr. Samuel Curtis, his wife Harriott Curtis, Dr. Mason Little and Nurse Selma Carlson) are also individually entombed there. Plaques inscribed with their names, dates and epitaphs are attached to the boulder.