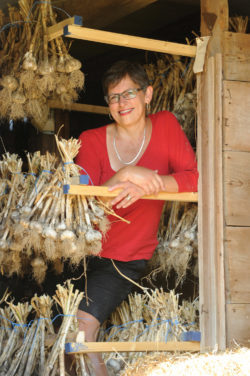 By Dr. Jan Hux
I don't quite recall if I was ever asked the question 'where do you see yourself in five, 10 or 20 years?' early in my career, but I do know that an unlikely response would have been leading a national health charity. And this doesn't mean that my role as President and CEO hasn't been one of the most rewarding, demanding, sometimes frustrating and motivating times of my professional career. It's not a career that one chooses, rather I believe it chooses you or perhaps circumstances align to the opportunity.
Having spent more than 20 years in diabetes health services research, I had an opportunity to truly investigate this insidious disease and the impact it has on the individual, the economy and society. It's through my research tracking the diabetes epidemic in Ontario at a population level that I initially appreciated the benefits of a population impact approach — to shift focus from one-to-one interventions to a system that will improve the health of an entire population to curb the diabetes epidemic.
This approach is reflected in Diabetes Canada's advocacy for public policies that affect the health of all Canadians as we continue to urge the governments to support Diabetes 360° — a nationwide diabetes strategy that will enhance the prevention, screening and management of diabetes to achieve better health for all Canadians. This strategy will reduce unnecessary healthcare spending by billions of dollars, protect Canada's productivity and competitiveness, improve the lives of millions of Canadians and provide equity and access to care across the country.
Diabetes has correctly been called the public health emergency of our time. More than double the number of Canadians live with this disease than did just 15 years ago. To end the epidemic of diabetes will require a coordinated, multi-pronged effort. We need to establish mutually agreed targets and then tracking our efforts to ensure that all Canadians have access to the right health care practitioner at the right time and achieve optimal outcomes. And we need the support and leadership of governments, corporate Canada, and individual donors to change the trajectory of this disease.
A departure for a charity like ours
With federal government support, implementation of this national strategy could begin early in 2020 so that real progress is evident by 2021 — a milestone year that marks the 100th anniversary of Dr. Banting's discovery of insulin. This would allow Canada to mark the occasion with another critical achievement in the prevention and management of diabetes, and once again improve the lives of millions of Canadians. I am looking forward to seeing this vision and strategic priority continue to be a focus of Diabetes Canada and am confident my colleagues will continue the momentum being gained with this initiative.
The engagement of a broad coalition of stakeholders to develop the framework for Diabetes 360°, and the multi-faceted advocacy work to drive its implementation is quite a departure for a health charity like ours, with its roots in local community service and education. But it has been an essential shift if we are to effectively confront a diabetes epidemic that has outstripped our capacity to address it at a local level.
We also need to demonstrate impact on a larger scale if we are to win the interest and trust of a new generation of donors. While their parents might have been drawn to the local presence and flagship stability of a traditional heath charity, today's young adults are looking for something quite different. They may value the nimbleness and responsiveness of a small organization over the stability of a large one. They recognize that uncoordinated, individual efforts will not shift the needle on some of the intractable problems faced by Canadians and accordingly value collaboration over solo efforts that can be attributed to them.
Better integration of and access to health services is a critical goal for those living with diabetes however, on a longer-term scale, they have even higher aspirations — to see more effective treatments and, ultimately a cure. So, while our advocacy ambitions drive very public activity at government offices and parliament buildings across the country, our research aspirations take us to isolated laboratory facilities tucked away on university campuses.
A strategy for creating impact by funding research faces several countervailing forces. There is real appeal in focusing resources on a single promising line of research to push it over the finish line but the awareness that what lies ahead may be a dead end rather than a finish line favours the funding of a broader range of projects guided by the insights and instincts of the researchers themselves. Funding successful senior researchers increases the probability of achieving impact but a failure to fund new and emerging researchers can drain the pipeline of future scientists. Multi-site multidisciplinary teams can foster creativity and innovation, yet the incentives faced by scientists seeking tenure in their university department are still far too aligned to individual contributions. Finding our way forward in the face of these complex trade-offs requires us to work collaboratively with scientists and with other funding agencies in government and the not-for-profit sector.
As I reflect on our sector, I have appreciated the shift in language from non-profit to not-for-profit. Some have suggested a further evolution to for-purpose. I like that! One of the great privileges in spending the last season of my career in a health charity is the close connection it has afforded to the purpose of reducing the burden of diabetes and to the myriad of Canadians affected by it.
Dr. Jan Hux, President & CEO, Diabetes Canada.