Interview with Jane Potentier, Associate Vice President, Alumni & Development, University of Victoria
By Brendan Read
The University of Victoria (UVic) is one of Canada's leading post-secondary institutions, with strong foci on research and on career preparation. Its campus is located in the Victoria B.C. area, split between the municipalities of Oak Bay and Saanich.
Founded in 1903 as an offshoot of McGill University, and later part of the University of British Columbia, UVic became a full-fledged university in 1963. Today it has over 22,000 undergraduate and graduate students and 900 full-time faculty members, whose education, work and activities are supported by over 130,000 alumni in approximately 130 countries.
That's where the University of Victoria Alumni Association comes in. It is an independent society of UVic graduates and volunteer board members who work alongside the University of Victoria Alumni Relations team to deliver programs and services and communications, and to foster a culture of philanthropy. [Full disclosure: the author is an UVic alumnus].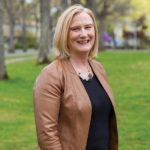 Foundation Magazine recently interviewed Jane Potentier, who became associate vice president, Alumni and Development in March 2020. She came to UVic with over 25 years' experience leading fundraising and alumni relations programs, primarily in the postsecondary sector. Her most recent prior appointment was at the University of Alberta in Edmonton, Alta., where she served for 18 years. She is originally from the U.K., where she had fundraised for many of the country's largest charities.
Jane is also a long-time active member of the Association of Fundraising Professionals (AFP). She is chair-elect of the AFP Foundation for Philanthropy Canada and prior to that had been board secretary.
Q: Outline the work of the UVic Alumni Association and the Alumni & Development Team
A: The UVic Alumni Association engages with UVic students to encourage a lifelong relationship between them and their university. Engaged alumni contribute to UVic's success through volunteerism, influence, mentorship, hiring co-op students and philanthropy.
The University of Victoria raised just under $20 million in 2019 thanks to the generous support of alumni, corporations, foundations and community members: and with the active engagement of the Alumni Association. Alumni Relations shares and celebrates the success of our alumni to illustrate the impact of a UVic degree and to recognize the significant impact the university is having on our society and the world.
Q: I applaud that the Alumni Association has helped to make several contributions in response to (and to help fight) COVID-19. Please discuss.
A: In 2020, alumni, faculty and staff and friends in the community came together to support a COVID-19 support fund for students. Boosted by an investment from the Alumni Association and the UVic Students Society, the fund raised over $200,000 through an email appeal.
We also launched a "Research Accelerator" fund to support COVID-19 research through seed funds to accelerate projects. This was our first foray into including research options in our broad appeals to alumni and friends.
Q: How has your background prepared you for your role at UVic?
A: I worked in a variety of different roles at the University of Alberta, starting with the Student Calling Program in 2001, then as manager of Annual Fund, later establishing the university's first Corporate and Foundation Relations office and then working with the Faculty of Arts to lead their alumni and fundraising initiatives.
Most recently I led faculty-based teams and worked with deans to advise them on alumni and donor engagement strategies and support their advancement work. This experience built over 18 years in the role allowed me to touch almost every aspect of a comprehensive research university fundraising and alumni relations enterprise. And it has set me up well to understand donor motivations and interests in philanthropically investing in universities as well as the opportunities and challenges inherent in an academic environment.
Q: How has your involvement with AFP assisted you with your career?
A: Through AFP I have had wonderful opportunities to fine tune my leadership skills and to see beyond the walls of post secondary into new innovations in philanthropy across the sector. Also grounding my work in ethics and continued learning and professional development to ensure I am bringing the best to my fundraising leadership role every day. I continue to draw on the expertise through the AFP network and through my leadership role with AFP Foundation for Philanthropy Canada.
Q: Is UVic experiencing donor fatigue? If so, then how do you plan to combat it?
A: On the contrary. This year we are experiencing growth and seeing significant generosity from our community. Partnering with the community and with other organizations in the region is important as is ensuring we are accountable and steward the relationships we have, thereby demonstrating the impact of giving in tangible ways.
Q: UVic has undergone a transformation from being a smaller and largely regional liberal arts institution. I remember deep student opposition to the university's plans for the engineering school when it was proposed. Have UVic's changes impacted fundraising and donor loyalty?
A: We have seen continued loyalty and support from our donors. Estate giving is particularly strong at UVic: which speaks to the loyalty and trust our donors have in us. This year we received significant support for research chairs and research programs. Donors and alumni are seeing the potential and the opportunity for affecting change through investments in research in addition to the vital generous support for our students and programs.
The recent announcement of the building of a National Centre for Indigenous Laws (NCIL) at the University of Victoria and the first Indigenous law program in Canada are testament to the impact private funding can have at UVic. And to the exciting possibilities being brought to life on our campus and that are putting UVic on the national stage.
The building is estimated to cost $27 million and is planned to be open by 2023. It will be designed to reflect and honour the law school's location and its long-standing relationship with the Songhees, Esquimalt and WSÁNEĆ peoples on whose territory the university resides. The Law Foundation of BC has given $5 million to the new building: which is the largest donation ever received by the UVic Faculty of Law.
The NCIL would not be possible without the trailblazing work of UVic alumni and scholars in advancing the legitimacy of Indigenous law across the country. Whether it be as top lawyers, community leaders, policy makers, thought leaders or government officials, they have been championing this cause for decades and we are proud to bring this work to the national stage.
Q: What are the similarities and differences between UVic and the University of Alberta, which is a larger institution, in terms of fundraising needs, environment and opportunities?
A: I moved to a smaller organization, but an organization with mighty ambitions and poised for growth.
Alumni and donors at UVic have generously supported students; opportunities lie ahead in growing philanthropy for UVic's research for example. Sustainability, healthy societies, social justice, jobs and a strong economy are at the core of UVic's commitment to meaningful change and donors can create impact through philanthropic gifts to research.
Universities, whatever their size, are focused on new ways of engaging alumni in creative and mutually beneficial ways throughout their life stages. Common to all universities is the opportunity for donors and alumni to have significant impacts on the lives and success of the students, and on research and programs, through volunteerism, influence, mentorship, hiring co-op students and philanthropy.
Q: Your arrival at UVic coincided with the COVID-19 pandemic. How has it impacted donations and donor outreach? Has it forced you to change your plans, donor approaches and goals? And what is your tack for 2021?
A: In the early days of the pandemic we had to adapt to new ways of working very quickly, including working from home and dealing with a huge shift to digital operations. But now we need to stop treading water and make sure our organizations have the right tools and teams to move forward, and that our teams have the training and support they need to be successful in the current environment and beyond.
The COVID-19 pandemic has been a catalyst for organizations to try new things and seek alternate solutions for long term change. In the past, for example, we've seen that working together with community partners has been effective. It's an exciting opportunity to collaborate in ways we may have thought of before but haven't acted on.
We, like everyone else, have had to focus more on online and digital communications, and engagement events and opportunities. We've had to rethink how we connect with donors one-on-one. We've really had to listen to our donors' preferences for communication and use the opportunities to touch base regularly and meaningfully.
I imagine we will continue in this hybrid/online engagement world throughout 2021 and that some wonderful opportunities will arise out of the initial adversity, including reaching alumni wherever they are located through online channels and virtual events.
Q: The COVID-19 pandemic may have accelerated the virtualized learning. Coupled with the high costs of housing in the Victoria area, which could discourage enrollment from outside it, do you see more online and less in-person education at UVic? And if so, how could these factors affect alumni outreach, loyalty and donations? In changes to your long-term strategy?
A: While it's too early to understand the implication for the long term I think it is highly likely that post-secondary institutions will offer a hybrid teaching environment in the future. However it is important to remember too that university experience is a social experience.
Whatever the future model looks like the challenge for me and my colleagues in university advancement is to continue to foster that sense of community, providing meaningful (mutually beneficial) opportunities for engagement and connection. Starting with the student experience and throughout our alumni's lifetimes.