Cover Story            (who is that getting stiffed above?)
How the MS Society of Canada Scores Big with Soccer Star Christine Sinclair
By Brendan Read
Imagine one day waking up and not being able to move in the way that you used to. You feel fatigued and may be experiencing muscle weakness and trouble with your memory. Your life turns on a dime.
That's the reality for more than 77,000 Canadians who live with multiple sclerosis (MS). It can be a debilitating and potentially disabling autoimmune disease that attacks the central nervous system, interfering with the communications pathways between the brain and the rest of the body. The unpredictable and episodic yet progressive nature of MS makes it challenging for those who are diagnosed.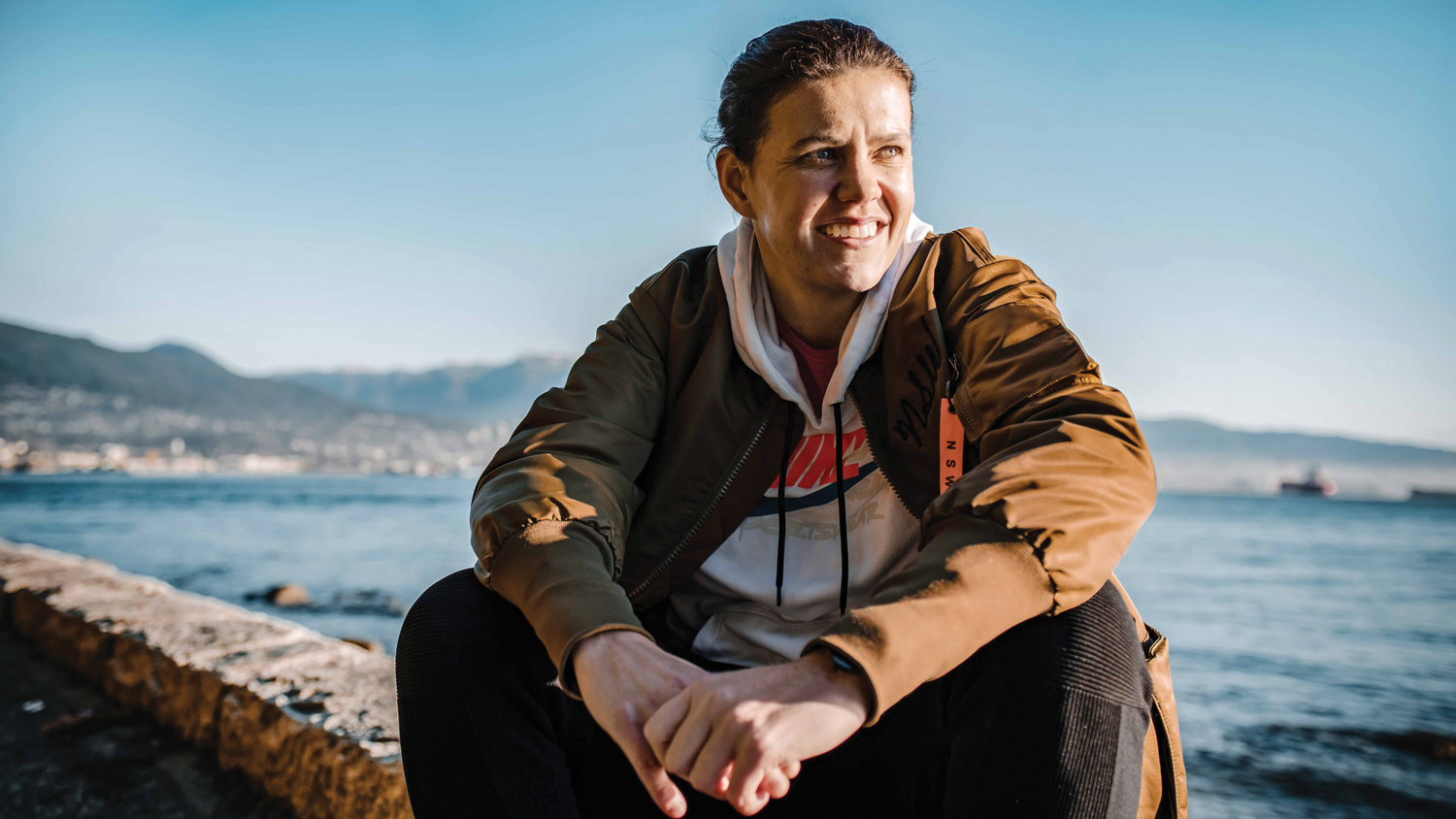 Moreover, MS strikes people in the prime of their lives. More than half of adults diagnosed with it are between 20 and 49 years old and women are three times as likely to be diagnosed than men. Then there is the economic as well as the personal toll. By 2031, total annual health sector costs for MS are estimated to reach $2 billion in Canada.
MS is a disease that hits home with Canadians; Canada has one of the highest rates of MS in the world according to MS Society of Canada president and CEO Pamela Valentine. But researchers are not certain why. Yet the toll continues with some 11 Canadians diagnosed with the disease every day.
These factors help drive the need to find treatments and hopefully a cure for MS. But they require public awareness and fundraising efforts. This can be challenging when there are many other charities and organizations that require funding and support.
"The challenges we face are similar to other charities," says Valentine. "How do you create a sense of urgency in order to move people to take action?"
The Acts of Greatness campaign
The MS Society is striving to achieve just that, to drive public involvement and fundraising with its ambitious Acts of Greatness campaign. Launched November 2018, its goal is to raise $75 million by the end of 2020.
The Acts of Greatness campaign was developed to boldly define what's next in treating and ending MS, through every act of greatness and the collective power of the MS community. Its meaning is derived from the fact that every act of greatness — no matter how big or how small — will accelerate, empower and mobilize the community of researchers and people affected by MS bringing us one step closer to a world free of MS. The campaign includes many elements such as a video series, which included spots in Cineplex movie theatres across the country, marketing activations featuring text-to-donate in Calgary, Montreal and Toronto earlier this year, and supplements in both the National Post and the Globe and Mail.
The Acts of Greatness campaign also involves sharing the impact stories of people affected by MS as well as donors and fundraisers. This includes sharing stories over social media using the hashtag #ActsofGreatness as well as creating shareable content on the MS Society's blog.
"We hope that by educating people about what MS is and how it affects Canadians, people will understand the critical need for all of us to do more," says Valentine. "And that 'more' can be many things — volunteering your time, making a donation, learning about a research project, becoming a member — MS touches many lives and each of these acts of greatness brings us closer to a world free of MS."
The campaign's donations will help ensure researchers have the resources to learn more about the disease and uncover new treatments and one day a cure. The funding will also help cultivate the next generation of researchers.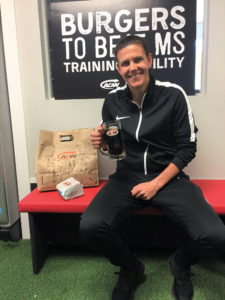 To accelerate the pace, the MS Society has been encouraging collaborative research and strategic partnerships both nationally and internationally. It is facilitating and encouraging knowledge and data exchange with partners across the globe to drive new and better solutions.
At the same time the donations help fund a critical resource for Canadians called the MS Knowledge Network — a resource where "Navigators" provide consistent, quality MS information and support for anyone in Canada — over the phone, online or via email.
"We are living in a 'GoFundMe era' where people who are donating to a cause — no matter the amount — want their donations going to someone they see themselves in," explains Valentine. "We want to share the impact and the stories of the people and places these donations are going to. We want to show the difference each person makes with each dollar they give."
Engaging star power
To move the Acts of Greatness closer to the goal line, Canadian soccer player Christine Sinclair accepted the role as honorary chair of the campaign. In this position, she gives visibility to a disease that is not well understood and often invisible. She lifts awareness and inspires others to donate and contribute their own acts of greatness.
For Christine, it's also deeply personal. Her mother and childhood soccer coach, Sandi, lives with MS and she currently resides in a long-term facility (see her blog).
Christine became involved with the MS Society following her speaking at the Women Against MS Vancouver luncheon in 2016 (she hails from nearby Burnaby, B.C.). There for the first time, she publicly shared her connection to MS.
"From there Christine began to engage with us in hopes of becoming more involved with the organization to help increase awareness of the disease," says Valentine.
Since then Christine has been active in several MS Society awareness and fundraising programs, most notably and visibly with the A&W Burgers to Beat MS campaign, which she joined in 2017. The campaign, having just completed its 11th year, takes place throughout the summer, culminating on Burgers to Beat MS Day, where Canadians can eat good and do good by grabbing a Teen Burger® from any A&W restaurant and $2 from each purchase will be donated to the MS Society of Canada. Canadians can also show their support by rounding up their bill on any A&W purchase, giving through in-restaurant donation mugs or donating online at BurgersToBeatMS.ca.
At the same time hundreds of MS Society volunteers and ambassadors fan out across the country, stopping by A&W restaurants and talking about the disease, its effects, what is being done and how customers can help. This is supported by more than 970 restaurants and 20,000- frontline A&W staff working together for the MS community.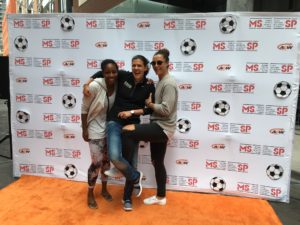 In 2019, Burgers to Beat MS Day was held on August 22. Throughout her time with the campaign, Christine joined Pamela Valentine and Susan Senecal, president and CEO, A&W Food Services of Canada Inc. greeting and talking to customers in places including Toronto, Montreal and Vancouver in the days leading up to and including Burgers to Beat MS Day.
In 11 years, the Burgers to Beat MS campaign has raised more than $15 million, making A&W the single largest annual corporate fundraiser for the MS Society of Canada. The campaign still continues throughout the year, with some restaurants collecting donations year-round with in-store donation mugs.
With Burgers to Beat MS and Acts of Greatness, Christine shares her personal connection and makes the MS story real and in doing so breaks down the isolation and consequently the invisibility of the disease. In turn, her storytelling has inspired others to come forward with their experiences, and that of their loved ones.
But what resonated the most with the MS Society CEO was seeing firsthand the impact Christine and her story has on people through the lineup of hundreds of parents and children, mostly young girls, at various Burgers to Beat MS events. Her influence has also extended to social media. Burgers to Beat MS and the MS Society were trending on Twitter in Canada on Burgers to Beat MS Day from 9am to 7pm ET.
"Christine really takes the time to get to know everyone, especially her young female fans," says Valentine. "It's easy to forget how instrumental she has been in elevating women's soccer in Canada to a point that it transcends age and gender, that's star power and that's influence. At any event we've been a part of you can see the admiration in the eyes of those who are around her and you can tell that Christine genuinely wants to share her story, but she also provides a certain feeling of freedom for others to share theirs as well."
Christine's story hits close to home with Nancy Love, who is chair of the MS Scientific Research Foundation. Her son lives with MS and knows how sharing a personal connection resonates with the community and helps move people to act — whether it's a donor, a fundraiser, a researcher, a volunteer or a staff member. Christine's story has contributed to a momentum of awareness and philanthropy that the MS Society will continue to build on.
"At the core of the work we do, is creating awareness about MS and doing whatever it takes to help find answers," says Love. "Christine was already a Canadian icon when she first started speaking about her mother. She had an immediate impact with A&W's Burgers to Beat MS. We crossed our fingers and hoped she would take on Acts of Greatness. We are very grateful that she did!"
Now Christine's involvement has come full circle. As honorary chair of the campaign she was the honouree of this year's Women Against MS event in Vancouver on November 22.
"Without Christine, we wouldn't be able to generate the broad media coverage we do now, whether it's nationwide breakfast shows, syndicated radio interviews or national sports broadcasts, "says Valentine. "There's an audience now who knows what multiple sclerosis is, that may never have known as much about the disease a few years ago."
Impact and results
The Acts of Greatness campaign is well on its way of meeting its goals. It has raised over $56 million at press time. There has been some positive news on the research front; Valentine reports that "we're on the cusp of game-changing discoveries", with Canada being home to some of the world's leading MS researchers.
Equally, if not more significantly, Acts of Greatness has inspired many others to dig deep within themselves and take action to fight the disease. This includes acts like fundraising, volunteering and sharing personal stories.
The MS Society is now readying itself for its next Acts of Greatness through its latest strategic plan that includes "bold ideas" as Valentine describes of where the organization wants to be. This includes working toward the impact goals of advancing treatment and care, enhancing well-being, understanding and halting disease progression and preventing MS. And she wants the community to be a part of that.
"People are looking at our new strategic plan and they're saying: 'that's brave and ambitious and I want to help achieve that'," says Valentine. "Giving people the freedom to do the things they want to do — for the community — and for the greater good — that is what will result in community building. Having people like Christine Sinclair on board brings visibility to the organization and helps build our network of people who are set on taking collective action."
Brendan Read is the Editor of DM Magazine