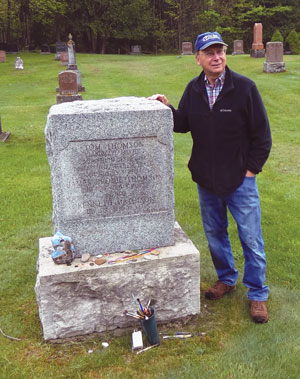 The cemetery and buildings in Leith Ontario and the nearby Annan cemetery are maintained by the non profit association Friends of Leith Church. A strong flock of volunteers under the guidance and hard work of Jim Glaves (pictured), the chairman of the cemetery board, this group has been responsible for landscaping the grounds, restoring both the church and the wooden barn, and running numerous fundraising events throughout the year which help to keep artist Tom Thomson's grave and surroundings in beautiful condition.
Located in Leith Cemetery, where his grave is located, off County Road 15, Leith, Ontario, the plaque provides a good summary of his life. Born in Claremont, a small village northeast of Toronto, Tom Thomson and his family would move to nearby Leith when he was two months old, the town located less than ten kilometres from the city of Owen Sound. Thomson's childhood was a happy and hectic one, the sixth of ten children, who were encouraged and entertained early, through activities including reading, music, hunting, fishing and drawing.
Throughout his life, Thomson would return regularly to Leith to visit his family and it likely would have been during one of these trips that he painted 1908's "Road Near Leith". The artist had settled in Toronto in the years previous (after stays in Owen Sound and Seattle) and was continuing a career in commercial art which would connect him with J.E.H. MacDonald and future members of the Group of Seven. During this early period in Toronto, Thomson is believed to have also been taking night classes with William Cruikshank at the Central Ontario School of Art and Industrial Design (now OCAD University), likely learning "useful techniques" from the British artist.
Also key to the Leith efforts is the Community Foundation Grey Bruce. What's more, The National Trust for Canada published an overview of the work of the Friends of Leith Church and you can see the story here: https://regenerationworks.ca/case-study-historic-leith-church/