Columnist – Leadership Kathleen Provost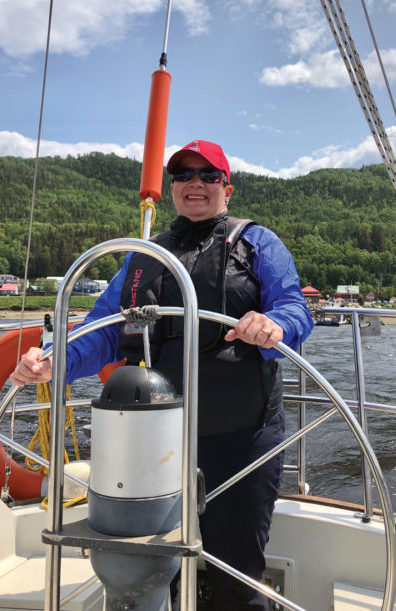 By Kathleen Provost
As a professional fundraiser, I value honesty above all. It is with honesty, that I have built meaningful relationships throughout my career. In my opinion, the profession of fundraising is about building relationships between a project, cause or need, and interested parties with the objective to attain a common goal. Our role, as fundraisers, is to facilitate this engagement between said cause or project, and the individuals or corporations that are willing and able to support it. This common goal however must always be reached by having a genuine concern for each one's interest.
Some may call this the basis of ethics for fundraising; as "ethics" is defined as the concern of an individual's moral judgements regarding a right and a wrong. I should remind you that there exists a Code of Ethics for fundraising professionals, and this code helps guide how we build respectful relationships.
But the honesty I am talking about is more of a personal "skill" or a disposition we have as individuals. The honesty I refer to here, is about the style of leader you are. It's all about Authentic Leadership.
Humans have created societies to assemble individuals into groups or units that look and operate within a prescribed set of norms and practices. In such societies we identify individuals as pacesetters, as those who rise to the occasion and demonstrate an expertise in key areas of norms and practices. These individuals are referred to as leaders.
But what if being a leader was not about being a pacesetter. What if, leadership was defined by a capacity to legitimize an individual's thought, idea or action?
George Bill (2003) defines Authentic Leadership as "an approach to leadership that emphasizes building the leader's legitimacy through honest relationships with followers which value their input and are built on an ethical foundation".
Hence, Authentic Leaders.
I truly understood how "honesty" became a leadership style when I had to sit down in front of a group of donors, and explain to them that we were not planning to use the funds they gave us for the reason we told them we were going to use these funds. They were not upset about the change of the purpose, but they commended me for coming to them and explaining why there was a change of purpose. They commended me for my honesty. More specifically, they commended me for my honest leadership. That day, I learnt the true meaning of leadership.
I have had the pleasure to meet some Authentic Leaders in my professional career and I have been privileged to work with some. These are the types of leaders that inspire me.
So, ask yourself. What type of leader are you? What type of leader do you aspire to be?
Is your leadership style one of positive disposition, with a positive outlook on life and on individuals in general? Are you the type who sees that glass half full or half empty? What is your predisposition when you meet an individual for the first time?
Authentic Leaders are usually individuals with truthful self-concepts who promote openness. This kind of leader must be honest and genuine to engage in a meaningful relationship. It is much more than getting the job done, much more than making the "ask" and getting a cheque. At times, ineffective leadership can mean getting into the bad habit of focusing only on getting the job done, only cashing the cheque. Authentic Leaders will hone their honesty and integrate it in all of their interactions and in all of their donor stewardship approaches.
The concept of honesty is not new, it has been around since humans have interacted with each other and has been influenced by numerous religions, cultures, norms and value systems, and it continues to shape our civility today. Our personal definition of honesty, will vary, evolve and be influenced by many factors. Yet, the end goal should remain the same for the professional fundraiser: to build meaningful relationships.
Just imagine for a moment what has influenced your own experience with the concept of honesty. Think of your own interaction with individuals, how have they shaped your definition of honesty? Because honesty is what we bring to relationships, so we must be aware of its foundation and we must take a good look at how we define honesty. The value of honesty is unique to each of us, and we will interpret honesty to be what we think it is. There is no right or wrong when it comes to defining honesty. Its subjective to your own perspective.
Being genuine, as an individual, or as a professional, is therefore a style of leadership you can refine, if this is the type of leader you aspire to be.
When looking to hire someone, Warren Buffet says: "Look for 3 things in a person — intelligence, energy and integrity. If they don't have the last one, don't even bother with the first two."
And the major component of integrity is honesty.
For a fundraiser, true leadership success therefore comes as a result of attaining a common goal, in a fair and honest exchange between a donor and a worthy cause. This is the true kind of leadership we find at the heart of philanthropy and the entire voluntary sector in our society. This is Authentic Leadership.
Are you an Authentic Leader?
Kathleen A. Provost, CFRE is the Campaign Director at St. Francis Xavier University. She writes this column exclusively for each issue of Foundation Magazine.