A Leader's View: Doug Ettinger, President & CEO, Canada Post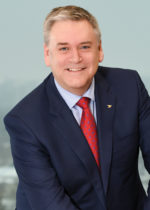 By Doug Ettinger
When a neighbour was in need in the small Nova Scotia town where I grew up, people just showed up with their tools or their casseroles and pies. Or on their way into the rink, they tossed $5 into a bucket as volunteers collected for a family travelling to a far-off, big city to stay near the children's hospital. Caring meant doing something to help.
That's a local, small-town snapshot of the critical role that Canada's charities play. In a more sophisticated way, and on a larger scale, they take care of people. They fund the important needs and causes that matter to people. With their credibility and good work, and with their compelling appeals for donations, they persuade people to donate. Charities help to make Canada one of the five most giving countries on the planet, per capita.
Charities have, thanks to this generosity, spirit and devotion by countless individuals, become an integral part of our lives, our communities and the seasons on the calendar, as well as our economy. The billions of dollars in donations that they solicit are put to good use in so many ways: funding medical research, international development, disaster relief, the arts, supporting the vulnerable and much more.
The Canada Post Community Foundation
Think of charities and Canada Post, and direct mail springs to mind right away. But we have another window into the vital charitable sector: our own charity. The Canada Post Community Foundation supports youth and children by funding organizations in communities across Canada: literacy and language programs, youth outreach services, gender and sexual diversity programs, the arts and more.
Most of the funds are raised through our fall in-store campaign and sales of a special stamp. Our employees in post offices across the country embrace the cause. For example, in rural Nobleton, ON, they decorate the post office with a different theme (this year it's country & western) and name generous local donors on a "wall of fame." In tiny Nakusp, B.C., they framed the local newspaper story about the Nakusp Youth Society's $15,000 grant from our Foundation. In Brighton, NL, the postmaster raffled off a gift basket with baked goodies and a homemade quilt. Across Canada, there's a heartwarming commitment.
Funds go to organizations in the province or territory in which they were raised. In the last eight years, the Foundation has granted more than $8 million to more than 700 projects. Everyone at Canada Post is proud of that—but the Foundation, like other charities—sees the requests for funding far exceed donations. It's a case of, you would do more, if only you could.
Role of direct mail
Needs that exceed resources is a big challenge, but it's far from the only one charities face. Raising money costs money, and charities' own budgets are tight. Charities rely on a shrinking number of people for donations, donors' attention is harder to get and engaging younger Canadians takes special effort.
Fortunately, Canada's charitable sector has a powerful, proven tool: and a committed partner behind it. That tool is direct mail. It still matters enormously because it is enormously effective. Just last year, the Association of Fundraising Professionals said mail is the leading way most donors give to charity.
"Direct mail is the engine that keeps our mission moving forward," Joanie Gutterman of the Cancer Research Society recently told a Canada Post colleague. That's true for many charities. Donations by mail is one of the top three methods of giving, accounting for 22 percent of funds, said the 2018 report 30 Years of Giving in Canada, published by the Rideau Hall Foundation and Imagine Canada. That's one indicator of how important mail is to charities.
Holiday giving is an annual tradition in keeping with the spirit of the season, and it reminds us of the power of direct mail. Many charities receive half of the year's total donations in the last three months, with December the biggest month. At Canada Post, four in 10 pieces of mail that not-for-profits send all year comes to us in the last quarter.
It's mission-critical for charities to ensure their cause or appeal is top of mind and that it converts best intentions into actual donations. Direct mail has the impact to do that. A compelling mail piece raises fresh awareness of the cause, offering the charity an opportunity to increase its donor base. It can also deepen the relationship between an existing donor and the charity, motivating that donor to give more, or more often. It has the power to trigger donations at a particular time: for causes that mark a season.
Consumers read and save direct marketing pieces that are relevant to them. Solicitation letters fit the preferences of people who are thoughtful about giving and take the time to discuss it with their partners. Charities have shared with us their great results in recent years. Montreal's Old Brewery Mission, for example, had response rates five times higher after using Canada Post mailing lists to identify the most promising leads. Meanwhile the Cancer Research Society used customized Postal Indicia to boost revenue per name at a lower cost than a regular stamp.
Helping others to help others
We continue to help charities in lots of ways. One is to use data analysis to pinpoint prospects who are similar to their current donors. We are forging new partnerships with data partners that can help our customers with donor segmentation and modelling to inform their marketing strategies. We are developing new sources of data intelligence to help charities identify potential donors using location-based behavioural data. Targeted campaigns can maximize donations while being cost-effective.
Our professional services team provides expertise and guidance to charitable organizations, helping them target new donors and build lasting relationships with existing ones. A fine-tuned, long-term mail campaign or a series of campaigns can help to move and motivate donors through the lifecycles. Turn a first-time donor or once-a-year donor into a donor who authorizes a monthly withdrawal. Prompt them to eventually make a bequest as they plan their estate.
We are investing in a new self-serve digital tool that will allow charities to plan, execute and measure their campaign online, easily and in one place. We're also sharing our research about how Canadians interact with mail. Folks assume — but it's not true — that younger Canadians don't respond to mail, when in fact it stands out for them and they're receptive to it. We are also helping charities create high-impact content and designs, with technology like predictive eye-tracking.
Canada's charities and Canada Post: our roles and futures are woven together. As the demographics of donors and the nature of giving evolve, we're evolving, too: our offerings, partnerships, data and research. We remain an effective partner for charities, and they are valued partners for us. By working together, we can continue to build a strong charitable sector, and a more generous, compassionate and resilient Canada.
Most Canadians don't live in a small town anymore. But caring and giving still matter, perhaps more than ever.
Doug Ettinger is President and CEO of Canada Post Corporation.