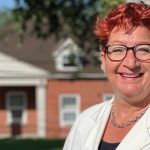 By Kathleen Provost
As a professional fundraiser, I have chosen today, November 11th, to reflect on empathy and action. But most importantly, I am reflecting on how we develop empathy and how this empathy shapes our societies; shapes our very social fabric; hence how our empathy contributes to shaping our philanthropy — by our actions.
A few years ago, while reviewing keys studies on "How the Stress of Disaster Brings People Together", Emma Seppala (2012) highlighted the evidence that when under stress, men chose to cooperate and trust each other. Since human beings are fundamentally social animals, we are protective, by nature of our social relationships. Given our profound need for these social connections, an element such as stress becomes a motivator for cooperative behavior. Benjamin Converse and colleagues at the University of Virginia, further demonstrated that stress naturally leads to a sense of vulnerability and loss of control which can lead to greater generosity and helpfulness. However, it was Brene Brown, an expert in the field of Social Connections and professor at the University of Houston Graduate College of Social Work, who best illustrated why vulnerability is a core ingredient of social bonding.
"Think back to a time when you felt out of control, for example during a romantic break-up, when you had an empty bank account, or lost a job. Chances are your feeling of vulnerability and feelings of lack of control may have made you seek the comfort of others in some way."
And why is this important? Because acute stress may help remind us our shared vulnerability which inspires kindness, connection, and the desire to stand together and support each other. Which is the foundation empathy.
A human touch
As unpleasant as it may be, stress is an opportunity to experience one of the most beautiful aspects of life: social connections. This social need is at the core of what shaped our social fabric throughout history. Specifically, when considering how world events and their stressors have impacted our own empathy.
Lynn Kier (Forbes) wrote in November 2020 about four key takeaways to help us mange stress.
Staying calm when emotions are running high helps us think pragmatically.
In order to communicate and manage effectively through a crisis, we have to accept those uncomfortable feelings and view adversity through a new lens.
Sharing positive stories and creating uplifting moments are important building blocks for cultivating resilient spirits.
By sharing our experiences, we can help each other persevere through adversity and emerge stronger on the other side. We can all learn something from each other.
Then I must ask: If we can use this stress, this "pressure", to act or to address an issue that needs changing… And if social connectivity is a primary driver for the voluntary sector, can we not use it as a way to increase equitability, sustainability and opportunities for all?
The emotional setting for social connectivity
Dr. Saul Levine (2017) talked about our emotional footprint by which it seems we strengthen empathy through tragedy. World-wide natural and human-engineered disasters, whether serendipitous or intended, are marked by shock, bewilderment, and pain. As the "noise" surrounding these event increases, sounds of animosity diminish, and people become nicer to each other. Levine claims that no matter what your ethnic group, race, age, or socioeconomic level, our natural human impulses of empathy and communality are aroused and intensified by stress and we feel a sense of implicit kinship.
At such times of disasters, extraordinary acts of kindness, caring, and courage done by a variety of individuals and groups can be seen. We are then in fact addressing our responsibilities to an implicit "social contract," by which a civilized society depends. This gives rise to the volunteers from nearby neighbourhoods, towns or even countries, to work selflessly to offer support, rescue, carry, and to alleviate the burdens by those who may be affected. We develop an amplified sense of "civic duties" to help and contribute, to provide support and solace. At times, this offer is temporary and reactionary. However, throughout history we have seen incidents that offer hope for more permanent civility, whether it is for our survival or with a goal to engender respect and empathy, and to diminish conflict and hostility.
The physical setting for social connectivity
Wars, epidemics, conquests and pandemics have come and gone in our history. However, our global awareness was heightened at the turn of the 20th century with events such as WWI, Bubonic plague and the Spanish flu, to name a few.
The early 1900s, an era some call progressive, were influenced by a number of events such as: the rapid growth of cities, increased factory output, and flourishing businesses, alongside the invention of the automobile, the airplane, the radio, and alike. All these drastic changes shaped our societies as we knew them. The mass migration of people into the cities enriched some people, but also caused severe problems for others.
For the emerging middle class, there were benefits from growing incomes; however, thousands of poor people also lived in the cities — "city slums". Lured by the promise of prosperity, many rural families and immigrants from throughout the world arrived in the cities. For many of the urban poor, living in the city resulted in a decreased quality of life. With few city services to rely upon, this social stress provided an incubator for unprecedented social stresses giving the opportunities for movements and new organizations to rise in response to these unparalleled social challenges.
A social response
Formed primarily in the 1920s, "social clubs" for example played an essential role in the history of America. Initially, the idea of creating a civilian "service club" started as a vision of an organization comprised of all the essential features of a club, including the classification principle that restricts membership. As social needs grew, the "social clubs" were "mimic" by other social groups and movements of men or women, promoting a fellowship among its members and a devotion to the principle of volunteering and community service.
A wide range of political, social, moral and economic reform movements were born out of these "clubs" including the Women's Christian Temperance Union and social gospel movements, which also promoted the moral and physical well-being of fellow citizens. Slowly, these "social groups" tackled issues related to women's education, urban public health, and sanitation.
Peter Elson, PhD, from the School of Public Administration, University of Victoria reminds us that even if the early 1900s have been described by some as the "golden age" of philanthropy, it was also a period of tight moral control and extensive worker exploitation. Alongside the industrial revolution, this era saw a rapid growth of clubs such as the Lions Club — a club created to improve people's lives around the world; or the Rotary Club who by the mid 20th century counted a membership nearly 1.2 million in more than 158 countries.
Here in Canada, this same period gave rise to the Antigonish cooperative movement, led by Rev. Moses Coady, at St. Francis Xavier University, in Nova Scotia, whereby lives were transformed through shared adult education, discussion, and action. In December of 1900, Alphonse and Dorimène Desjardins, with the explicit support of the local parish priest organized a meeting of about 100 people in Lévis, Québec, to create the Caisse Populaire de Lévis. Both co-operatives and credit unions became fixtures in communities across Canada during the early 1900s and continue to this day. We witness the creation of the Catholic Women's League, the Kiwanis, 4-H, the YWCA, the YMCA and others alike… all reacting to social stresses, all coming together showing empathy in times of crisis.
A call to action
In 1849, French writer Jean-Baptiste Alphonse Karr wrote "plus ça change, plus c'est la même chose" — the more things change, the more they stay the same… because history often repeats itself.
Throughout history when humanity was awakened by global issues, we showed our empathy in numerous social responses and addressed social challenges worthy of our attention. So, we thought. We used the stress of disasters to build our social connectivity and take social action — together. Today, we are still faced with global issues that are asking for our empathy and our action. Climate change, world hunger, black lives matter and a number of other current social issues need immediate attention.
If philanthropy means – the desire to promote the welfare of others, expressed by generous donations towards specific causes — can we use the current crisis to push us towards connective philanthropy to address pressing global social issues?
Right here, right now, the COP26, a global United Nations summit about climate change, needs all countries' social connectivity to lead to action. This climate ticking time bomb creates enough stress to intensify our sense of civic duty — and help inform how we can use our empathy to resolve this crisis – today — for the benefit of tomorrow. That is what the power of empathy and action can do.
Kathleen A. Provost, CFRE is currently the Director, Campaign Initiatives at St. Francis Xavier University, in Antigonish, NS. She brings over 25 years of fundraising experience within the charitable sector. She has been a Certified Fundraising Executive (CFRE) since 2007, and a long-time member and volunteer for the Association of Fundraising Professionals (AFP). As a recognized leader, Kathleen has tailored presentations and workshops for French and English audiences at various events including AFP-Nova Scotia, AFP-Ottawa, AFP-National Congress, Coady International Institute and the Canadian Council for the Advancement of Education. Kathleen is a McGill University graduate and holds a Master, Adult Education from St. Francis Xavier University. She has received numerous recognitions during her career, including the Queen Elizabeth II Diamond Jubilee Medal for her contributions to the charitable sector. She writes this column exclusively for each issue of Foundation Magazine.