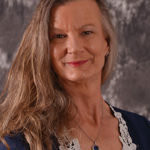 By Debbie Major
Fifty more grams and 1 millimeter thicker!
Is this Canada Post code talk or a dream world for the not-for-profit and the not-for-profit agency?
A special postage rate for the charitable and Not-For-Profit world is not a new thing. It has been mentioned, brought up, and talked about for as long as I have been in the industry.
What would the not-for-profits like to see?
Our first recommendation and starting point to Canada Post would be to move the Personalized Mail Standard Machinable and Standard Special Handling mail to a maximum of 6 millimeters in thickness, up 1 millimeter from 5 millimeters. Our second recommendation would be to move the machinable mail to 100 grams from 50 grams within the Personalized Mail category.
How it is working around the world today?
A quick look around the world and you see how some of the other post offices manage their different classifications of mail. There are definitely options and ideas that could be brought forth to Canada Post to consider from an industry forum perspective. We would get the end users, the not-for-profit agency and the industry customer service bureaus such as ourselves together to discuss.
For example USPS created the Publication 417, Non-Profit USPS Marketing Mail Eligibility: Non-profit and Other Qualified Organization guidelines in order to create a charitable postage rate. USPS created an eligibility process as well as a definition which includes that the organization is not organized for profit, and is organized and operated for a qualifying primary purpose section 2-1
of the Publication 417.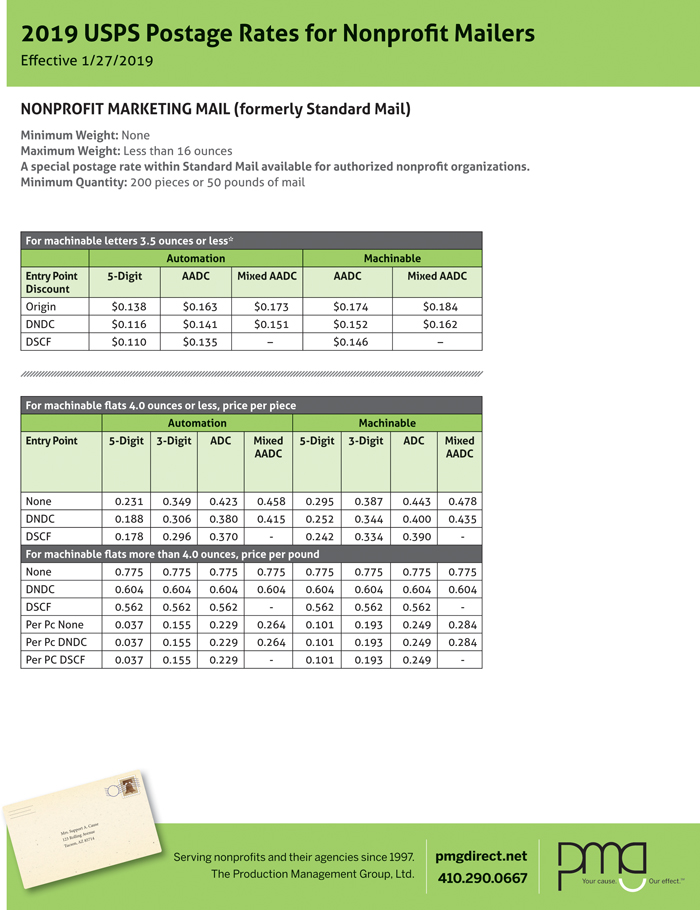 Canada Post and industry would have to build similar rules and regulations which for USPS include the: standards, eligibility, the application, what qualifies as a mailing and what the contents can contain, along with any restrictions. With service bureaus being the back bone to the industry this is completely doable as we work so closely with Canada Post, the agency and the end user every day.
We also see that Royal Mail Market Reach Price Guide for March 2019 has a number of options for the advertising mail. First as it relates to the delivery speed of 1st class, 2nd class and economy mail as well as the sort and density: low sort with mail mark, low sort OCR (Optical Character Recognition), high sort density and high sort residue. It is interesting to note that advertising mail at Royal Mail starts at 100 grams where in Canada we start our Personalized Mail at 50 grams.
Canada Post would understand the things that are working well for both USPS and Royal Mail in consideration of what a charitable postage rate may look like here in Canada.
Why this would be needed in Canada?
This not-for-profit industry relies heavily on the mail for its funding to provide services to their end users. This need does not go away during times of a recession. During these hard times not-for-profits are still mailing to their donors to solicit funds. Typically the acquisition programs are the first to fall by the way side during these times. We would like a way to help this from not happening. We feel with a few well-placed incentives this will assist the fundraiser with budget and also stimulate new mail for Canada Post.
Here's what we are thinking?
The first thing to compare would be the cost of a stamp at USPS, Royal Mail and Canada Post to see if there is a reasonable starting point for comparison. We compare the best rates from all three post offices and mention they are all rates before taxes.
In Canada the not-for-profit pays $0.485 for personalized mail that is machinable and standard up to 50 grams and the piece must be less than 5 millimeters in thickness. Personalized mail special handling takes this to $0.54 up to 50 grams and $0.59 for 50-100 grams both of which must be less than 5 millimeters in thickness.
The Royal Mail looking at the category of Advertising Mail up to 100 grams using the delivery speed of economy we see a low sort mail mark at 20.2 pence and high sort residue rate at 23.7 pence. For conversion sake 100 pence is roughly $1.64 Canadian making the comparison at $0.33 cents Canadian and $0.39 cents Canadian. For this rate you must mail at least 4,000 pieces. Our Canadian rate is 47 percent higher when comparing the $0.485 to the $0.33.
We then look at USPS to see what they are offering. The charitable rates are not easy to locate so we are using the Non-profit marketing mail (formerly known as standard mail for our comparison) provided by PMGDirect.Net4. Rates here are for up to 3.5 ounces which is 100 grams for 200 pieces of mail up to 50lbs of mail at $0.138USD each. At a conversion rate of 40 percent this makes it $0.19 Canadian each. The regular marketing mail in the USA for 200 pieces up to 50lbs of mail is 0.186 USD or approximately $0.25 cents. Our Canadian rate is 155percent higher when comparing the $0.485 to $0.19.
The USPS also starts at 100 grams, we could look to follow suit and increase the personalized mail both machinable and special handling standard to start at 100 grams as well.
For these different rates from each country we must also take into account the geography of each country. Canada has great geographical landscape to cover compared to volume and density of population for the USA and the smaller size of the United Kingdom. Certainly this has to be taken into account.
We would also have to look at the impact to Canada Post for making the piece thicker as well as the impact to the post person who carry the mail and the overall process this involves. When a piece is 5 millimeters in thickness as a service bureau we are able to put approximately 125 to 150 pieces of mail in each tray for this product type. Adding one millimeter to the thickness of the package will make fewer pieces in each tray and therefore more trays. Canada Post has moved to a system where all mail and parcels go out with a driver and a vehicle. Yes there may be more mail in the truck and the person delivering the mail may have to go back to their truck more often but the amount of mail that they each person carries at one time remains the same. Allowing the mail to take one extra day to reach the end user would be another way to assist the post person giving them and extra day to divide the mail up and get it to the end user's mail box would help from an operational point of view.
Win – Win benefits all around
At the end of the day if the fundraisers get more funds to do their critical work this would advance their game as well as being a boost to the Canadian economy as more workers are needed to do the critical work. For the fundraiser they would also yield a higher ROI as the largest part of the budget the postage just got more economical. The fundraiser could also have more premiums/freemiums in the envelope with the additional weight to tug on our heart strings for more donations. Canada Post and the service bureaus realize larger volumes of mail inducted and processed and also come out ahead.
We see this as a win – win for this industry and collectively we have a vested interest to make this happen. I am definitely looking forward to sitting round table, rolling up our sleeves and making this come to fruition for the Not-For-Profit's instead of just taking about it or mentioning it. The time has come for postage rate for the charities.
Marketing your world your way, today tomorrow and always!.
Debbie Major is President of Data Direct.