Roy Bonisteel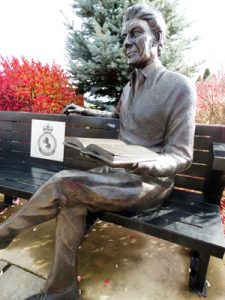 One of the most admired people who called Quinte West home was the unforgettable media personality Roy Bonisteel. These days, he resides on a bench in the area's Trent Port Marina, an open book resting on his knees. Bonisteel was born in Ameliasburg, Prince Edward County, Ontario, in 1930 and began his journalism career in Belleville and Trenton. He moved away from the area during the course of his career but the family moved back to Trenton in 1971 and was there to stay.
For all his national fame as a respected journalist and broadcaster, he was truly a man of the land in the Quinte region he loved. After his passing at the age of 83, in 2013 his family and friends set about finding the right way to pay tribute to a true local hero, and that led to the constructed a Roy Bonisteel Garden on the waterfront at Trent Port Marina.
The garden includes the warm statute along with a dedication plaque which recognized the way Roy was always open to helping, volunteering, donating and supporting any and all local and regional charities and nonprofits.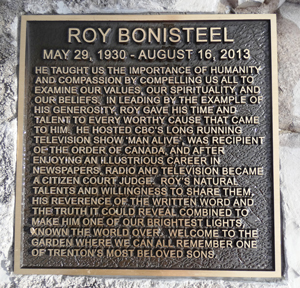 Part of the plaque sums it up: "He taught us the importance of humanity and compassion by compelling us all to examine our values, our spirituality, and our beliefs. In leading by the example of his generosity, Roy gave his time and talent to every worthy cause that came to him."
Roy may be best known for hosting CBC's long running television show 'Man Alive', but he was also a recipient of the Order of Canada, and after enjoying an illustrious career in newspapers, radio and television became a citizen court judge. Roy's natural talents and willingness to share them, his reverence of the written word and the truth it could reveal combined to make him one of our brightest lights, known the world over.
The garden sits on the waterfront in Trenton, between Quinte West City Hall and the marina with three benches so visitors can relax and enjoy a view of the water. The life size bronze sculpture of Bonisteel was created by renowned Canadian sculpture Brett Davis.