Generosity of Spirit and Professional Award 2021 Recipients
The Calgary and Area Chapter of the Association of Fundraising Professionals (AFP) has an awards program which recognizes the many individuals, families, groups and businesses which demonstrate the spirit of philanthropy through outstanding contributions of time, talent, leadership and financial support.
The Generosity of Spirit Awards provide the opportunity to acknowledge and celebrate philanthropic leaders who make a difference, whether the community is local, regional, national or international.
As a vital component to the National Philanthropy Day celebrations in Calgary & southern Alberta, this day provides an opportunity for non-profit organizations, professionals, volunteers, service organizations and others in the community to acknowledge and showcase their philanthropic partners.
Here are this year's winners.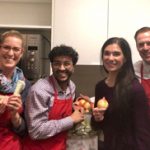 Corporate Philanthropist | Crescent Point Energy
Nominated by Brown Bagging For Calgary's Kids.
Crescent Point Energy is an astounding, innovative corporate leader in the communities they serve. Their focus on education, health, safety, environment and community infrastructure is at the core of every community initiative they are part of. Their long-term commitment to the community is expansive by supporting amazing organizations such as STARS Air Ambulance, the Weyburn and District Hospital Foundation, Inn from the Cold, Calgary Zoo, TELUS Spark, Ronald MacDonald House, Children's Cottage Society, Alberta Children's Hospital and of course Brown Bagging for Calgary's Kids (BB4CK).
But Crescent Point Energy is so much more than that. They are an unwavering, loyal, hardworking friend you can count on to be there for you when you need them. They are the friend that will ask how they can help and then support you in ways you never even dreamed of.
Crescent Point's community support comes in many different forms. They have been generous financially to the community with over 30 million dollars dedicated to supporting organizations and initiatives who really need it. Crescent Point also has an army of amazing volunteers who give of their time and expertise to the organizations they support. Crescent Point volunteers are like no other. Employees roll up their sleeves and get the job done. From harvesting vegetables, gathering food donations, facility maintenance and yard work, grocery shopping, preparing and delivering meals, answering phones and organizing fundraisers they are there to serve in any capacity that is needed.
Specifically, Crescent Point has been an essential community partner for BB4CK since 2012. One of Crescent Point's most shining community commitments is in their support of employee groups who make lunches for students at local schools. Before the pandemic, Crescent Point coordinated all aspects of this endeavour for two high schools in Calgary. From purchasing food, preparing and personally delivering lunches directly to these schools each day, they were outstanding. During COVID restrictions, Crescent Point generously re-purposed funding for its brown bagging in-house lunch program to support at home learners with grocery gift card support. Even though their in-house program has not been able to resume during the pandemic, Crescent Point's financial and volunteer support has stayed strong. Just last month a group of Crescent Point volunteers, with one day's notice, jumped in, rolled up their sleeves and helped at the BB4CK main kitchen to make sure lunches went out on time that day.
Annie Desrochers who is the vice principal of St Anne's (One of the schools that received lunches from Crescent Point) says: "It is important to us that our youth are aware that the employees within this company use their personal time, early in the morning to make various lunches and ensure our students have something to eat so that they can have success in their studies. Over the years we have seen a great improvement in terms of student attendance and we are truly grateful for Crescent Point's contribution to our student's success. Their dedication to our school community goes above and beyond expectation. From the staff and students at St Anne Academic Center we wish to thank them for their efforts".
Bethany Ross, executive director at BB4CK, commented, "Crescent Point has been an outstanding partner in feeding kids for many years. We're so grateful for the impact they create and the amazing contribution they make in our community!"
Crescent Point Energy has helped our community through this pandemic and has been the loyal supporter many organizations have needed especially during these uncertain and challenging times. We are so lucky to have such a loyal, dedicated friend in our community."
Philanthropic Group | TransAlta Retirees
Nominated by the Calgary Food Bank.
POWER, an acronym for Projects Organized With Energetic Retirees, truly does convey the drive this volunteer workforce of retirees has and the zeal they demonstrate for all the tasks they undertake.
Spawned in a workplace culture which emphasized customer and community service, for over 25 years this group of TransAlta retirees has taken on a wide variety projects to help those in need throughout Calgary and the surrounding area. Projects have include bi-annual Tim Horton's Children Ranch cleanups, Drop in Centre clothing drives, meals for Ronald McDonald House, highway cleanups, Poppy drives, knitting for cancer patients, new born and under privileged, house painting for low income seniors,…. just to mention a few.
Since its inception in the '90s, it is estimated the POWER volunteers have donated over 190,000 hrs serving our communities. Humbly, Fred Ritter, POWER's current chairman, is quick to point out the social and emotional benefits the volunteers get in maintaining contact with old workmates and making new acquaintances at the same time as helping worthy causes throughout the city.
Since 1999, the Calgary Food Bank has been privileged to be the recipient of large annual donations of fresh garden vegetables from the POWER Gardens. Over this 22 year period, these volunteers have grown and donated to the Food Bank 526,000 lbs of potatoes, beets, carrots, onions, kohlrabi, zucchini and spaghetti squash. In order to accomplish and sustain this amazing feat, over the years POWER leaders built a network of partners and suppliers who make significant donations to help plant, maintain and harvest these gardens.
In 2020, COVID-19 either shut down or severely restricted most charitable activities in the city. At the same time demands on the Food Bank increased and supply lines became constrained. To the surprise and delight of the Food Bank however, in the spring of 2020, POWER and one of its suppliers, Eagle Lake Professional Landscaping Supply entered into discussions about establishing a new garden at Eagle Lakes' sod farm east of Strathmore.
This partnership added 1 acre of irrigated prime farm land to the POWER gardeners' inventory and promised to more than double POWER's donation of vegetables in the coming years. This plot has been named the Get Growing Garden and has far exceeded all productivity expectations producing a bumper crop in 2021 totalling 58,920 lbs of much needed fresh produce for the Food Bank. When combined with POWER's other 2021 gardens, their Food Bank donation of fresh produce totalled 76,640 lbs.
At a this particularly difficult time where lockdowns and restrictions severely strained our ability to adequately serve those in need, the POWER volunteers not only found ways to sustain their Food Bank donations, they also formed an alliance that increased their annual donation by almost 300 percent.
POWER's dedication so serving their community truly embodies the spirit that is celebrated through National Philanthropic Day and we are pleased to celebrate their achievement with receiving the Outstanding Philanthropic Group award!
Philanthropic Family | The Blasetti Family
Nominated by St. Mary's University.
The Blasetti family – Guy, Raymond, Andrew, Patricia, Laura, Ernie, and Philip – are all passionate philanthropists, supporting various charities, including St Mary's University.
They were engaged in the initial planning for St. Mary's, and were heavily involved in working towards the vision of a Catholic liberal arts and sciences university that is now the reality of St. Mary's University.
They all supported the creation of the Guido & Julia Blasetti Bursaries to honour the memory of their parents who instilled in them the value of Catholic education and the importance of giving back to support local communities. Their sister Laura also created the Albert and Laura Tysowski Bursary which is supporting students in need. The entire family continues to uphold and support many local charities and are ongoing champions in their work to bring Catholic education for all into our communities.
The leadership and financial support demonstrated by the Blasetti family was instrumental when St. Mary's hosted a successful Festa Italiana — a fundraising dinner event which raised more than $10,000 for scholarships and bursaries. The event inspired many in the Calgary Italian Community to support the University.
Their continued presence and participation at our two annual events, the St. Mary's University Golf Tournament and the President's Dinner has ensured the University continues to offer scholarships of excellence for deserving students.
They build community and it is especially true for their engagement with St. Mary's University where they are true "friend-raisers".
Thanks to the Blasetti family, St. Mary's University has been able to foster many influential relationships in Calgary, including the Calgary Italian Sportsmen's Dinner Association and the Calgary Juventus Sports Club who are sponsors and committed supporters of many St. Mary's initiatives.
St. Mary's University has been fortunate to have 3 generations of the Blasetti Family engaged in volunteering , and serving on committees for the McGivney Hall Fundraising Initiative, the University's Founding Members, and the Golf Tournament, just to name a few. Their enduring commitment to St. Mary's University has been foundational in establishing St. Mary's as a leader in post-secondary education.
Doc Seaman Individual Philanthropist presented by The Calgary Foundation | Jessica Janzen Olstad
Nominated by Alberta Children's Hospital Foundation.
Jessica is mom to three children, including Lewiston who was treated at the Alberta Children's Hospital and passed away from Spinal Muscular Atrophy (SMA) in 2016. Jessica and her husband Ronnie felt the community surrounded them in their darkest moments. They encountered so much light and strength in sharing their burden that they were inspired to spread joy and love to others like it was so generously offered to them.
Jessica turned unimaginable grief into a goal of preventing other families from experiencing a similar journey. She founded the Love for Lewiston Foundation to honour the memory of her son. Her infectious spirit has inspired many to join in her efforts to make a difference for families in our community.
Since losing Lewiston five years ago, Jessica has worked tirelessly to relieve the financial burden for families of children with SMA, who often have to cover the costs of some medical equipment and medications. She has also championed an SMA screening program for all newborns in Alberta. She initiated and lobbied for a pilot research project to study the implementation of screening, and committed to raising half the funds needed for the project, donating over $500,000 to the Alberta Children's Hospital Foundation.
Her dedication and leadership paid off. The provincial government announced earlier this year that SMA newborn screening would be publicly funded. This means all newborn babies in Alberta will be tested for SMA to ensure the earliest possible diagnosis. Treating children for SMA before they start showing symptoms greatly increases the odds they will survive.
Jessica's efforts have also positively impacted other areas at or related to the hospital, including Rotary Flames House — the pediatric hospice where Lewiston passed — as well as a brain surgery program called Laser Interstitial Thermal Therapy and various mental health initiatives for children and adolescents. Her gifts are being felt throughout the entire hospital and in the greater community and will change the lives of many families now and in the future.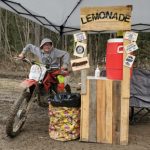 Youth Philanthropist | Dane Benesh
Nominated by Autism Aspergers Friendship Society.
Dane Benesh was diagnosed with Autism Spectrum Disorder (ASD) at the age of 8 years. When he was 8, his Mom found the Autism Aspergers Friendship Society (AAFS). AAFS provides respite care in a social and recreational environment for children, youth and adults on the Autism spectrum. Our mission is friendship. Our mission statement was written entirely by two AAFS Members, and it reads:
Friendship means someone who you can trust and/or someone who heals you. You cannot simply ask to be friends, or if the other person is your friend, it is much more advanced than a yes or no answer, and friendship builds up over time.
Friendship is "People getting to know other people and being interested in one another. Liking them for who they are, and not judging them. Not judging the book by its cover."
It is in this environment that Dane found a place where he could have fun, make friends and indulge in his passion for all things with wheels. As an avid cyclist, Dane wanted to learn how to take care of his own bike. In 2019, he took part in AAFS' Earn-A-Bike program. This is a program in partnership with Two Wheeled View. Members enroll, attend two, two-hour sessions once a week for 8-weeks, and at the end, receive their own bike, helmet and bike lock.
Dane's involvement in the program and with AAFS began him on his philanthropic journey. His first fundraising effort happened on the 2019 May long weekend, when Dane set up a lemonade stand at McLean Creek. This is a popular spot for mountain bikes, dirt bikes & ATV riders. His first fundraising attempt raised $88.
Fast forward to May 2020… wind, rain, cold and, of course, COVID, but the dedicated young man was not deterred. Lemonade was the drink of the day and $300+ was raised. Then we have 2021 and what a year this has been. Not even COVID-19 could keep Dane away.
This year, Dane got a corporate sponsor (UTV Canada) who committed to matching whatever amount he raised. UTV Canada provides all things wheeled, such as bikes, parts, clothing, and more. Dane has been buying from them for all his dirt bike/ATV needs and they in turn put their corporate support behind him.
Dane raised $750 and UTV Canada matched it, dollar for dollar with their cheque for $750. Both amounts were donated through Birdies for Kids which leveraged additional money that increased the overall donation amount.
This young man is now 11 years old. Take a passion for riding, add a belief in AAFS' mission and vision, and you have a youth beginning his philanthropic journey.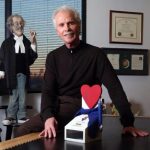 Lifetime Achievement Philanthropist | Gordon Hoffman
Nominated by Alchemy Communications.
For over four decades, Gordon Hoffman has been at the heart of Calgary's philanthropic and volunteer community. He has served as chairman, co-chairman, director, and sometimes founder of nearly 100 charitable and community organizations supporting a broad spectrum of people.
These efforts include his charitable enterprises, Project Warmth, Operation Kickstart, Alberta Champions and the Gordon Hoffman Charity Golf Classic. Each of these incredible charities has made a significant impact on the lives of Albertans.
Gord founded Project Warmth in 1996, and for 25 years, has been keeping Calgarians warm through donations of gently used items of apparel, which, to date, have been distributed to over 1 million individuals and organizations. Project Warmth also raises funds to host an annual night at Theatre Calgary's 'A Christmas Carol' for deserving families in our community. To date, more than 10,000 children and their families have attended the presentation. In that same year, Gord also founded Operation Kickstart, a nonprofit designed to educate and train individuals having difficulty entering or re-entering the workforce.
In 2003, Gord launched his next charitable initiative, The Alberta Champions Society, to commemorate, recognize, and honour Albertans who have made significant lifetime contributions, bringing together an incredible board around his vision of building community pride and spirit. Alberta Champions Society completed six 'Fields of Fame', (with a seventh to be unveiled shortly) recognizing over 40 exceptional Albertans.
In 2010 he launched The Gordon Hoffman Charity Golf Classic, an event in support of The Foothills Academy that takes place annually at the Priddis Greens Golf & Country Club. To date, it has raised over $1 million to support children with Learning Disabilities and ADHD.
Gord is also a member of the Queen's Counsel and, in 2019, was appointed to the Order of Canada. Any one of these achievements would be incredible for anyone of any age, but the fact that Gord continues to run these charities while working full-time into his '70s is truly remarkable.
Furthermore, he has always invested time to help those around him, and during the challenges of the pandemic, he has lent a friendly ear and a helping hand to the many who regularly seek his advice and wisdom. There is no question that our city is a better place because of Gord Hoffman.
Outstanding New Fundraising Professional | Gabriela Pino
Nominated by Bow Valley College.
Gabriela Pino has always been philanthropic and entrepreneurial. Inspired by her sister, who has physical and developmental disabilities, Gabriela began her career by founding Chocatto.
This small business produced chocolates using Ecuadorian cocoa beans and hired people with disabilities. In April 2010, Chocatto won a National Entrepreneurship Award for its inclusive business model in Ecuador. Gabriela's passion in her career has always been about community building. During her pre-fundraising days, she worked for a multi-national consumer goods corporation, where she was responsible for establishing and maintaining strong business relationships with the company's customers.
Today, as the Senior Development Officer, Major Gifts at Bow Valley College, Gabriela continues to demonstrate excellence in building relationships with major donors and other college stakeholders, ensuring our major gifts fundraising program is successful and values-based, given her commitment to inclusion and her work with underserved groups.
In early March, the COVID-19 Response Emergency Financial Need Bursary Fund was created to respond to an increasing need for financial support for students impacted by the pandemic. Gabriela was able to leverage initial support from the Student's Association of Bow Valley College to obtain an additional $35,000, allowing the College to support over 100 vulnerable students, ensuring they could continue their studies and pay for their basic needs. The impact of these bursaries has gone far beyond supporting our students in pursuing their education. It has also given them the opportunity to give back to our communities as nurses, early childhood educators, social workers, and volunteers.
She notes, "I work at Bow Valley College to help remove barriers and increase access to post-secondary education, especially for marginalized groups, supporting our students to fulfill their potential and build a better and more just society."
Gabriela is a proud member of AFP's Calgary Chapter. At AFP's workshops and webinars, Gabriela learned about the importance of being certified as a fundraising professional and strived towards meeting the certification requirements. As a result, in 2019, Gabriela became a CFRE. She has included CFRE recertification goals into her work plan each year since.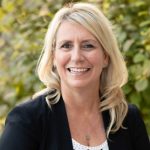 Hazel Gillespie Community Investment Leadership Award | Leanne Courchesne
Nominated by Calgary Police Youth Foundation.
Leanne is a shining example of a great Calgarian who exemplifies Hazel Gillespie's high ethical standards, commitment, and dedication to her community. Leanne has dedicated her life to helping others succeed and through her outstanding and collaborative leadership she created an inclusive environment at Cenovus Energy which raised the bar of community investment in this city, province, and nation.
With more than 20 years of experience in the industry, Leanne generously donates her time and effort to the not-for-profit sector, using her expertise to strengthen relationships, connect like-minded organizations, enable and facilitate networks, and make important ties with what is going on in our communities.
Currently serving as a Director on many local and provincial boards Leanne is passionate about building the capacity of many community organizations by providing leadership, governance, and evaluation support.
As a director on the board of YouthLink Calgary Police Interpretive Centre, Leanne always provides visionary leadership while striving for systemic change in the industry. Through her creativity and determination, Leanne has been able to successfully address the needs of the community and bring others together to achieve outstanding results. Throughout her time with Cenovus, Leanne worked with Executive, Sustainability, Safety, Operations, HR, and Meetings & Events to consistently integrate community investment and involvement opportunities at all Cenovus social and business events. She consistently led the way in new strategic visioning, looking beyond financial resources to consider how to make the best use of her team's assets, expertise, and relationships.
Leanne is an incredible Community Investment Leader and Calgary is lucky to have such a dedicated and kind individual committed to positively impacting our community.
At the Calgary Police Youth Foundation, we are honoured and privileged to not only work alongside Leanne but to get to know her and appreciate her values. It has been said that a leader is one who knows the way, goes the way, and shows the way and in our minds, Leanne Courchesne shows the way for others to follow and we appreciate her very much. We asked Leanne how she felt about receiving the Award and she told us "I am honoured to receive this special award in Hazel Gillespie's name — a dedicated community investment professional and true pioneer in corporate citizenship whom I was fortunate enough to meet. I was humbled to be nominated and especially thrilled that the Calgary Police Youth Foundation wanted to recognize me in this manner as they hold a special place in my heart. I have always said that I have the best role in the world —to be able to build strategic partnerships, creative relationships and connect communities for social impact."