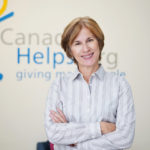 By Marina Glogovac
Transitioning to digital in organizations has accelerated exponentially since the onset of the pandemic. The digital trend was well on its way in all facets of our life before the pandemic, but it became an immediate requirement of continuing operations for nearly every business and nonprofit in March. From local places of worship, youth centres, and animal shelters, to mom-and-pop restaurants and shops, quickly implementing digital work processes and service delivery, as well as enabling ecommerce sales or donations were matters of survival for those organizations that had not yet made the transition. On top of all the challenges charities have faced with this rapid switch to digital is the issue of drastic funding shortfalls as a result of COVID-19 regulations and economic changes.
Charities are finding creative solutions to adapt to COVID-19 in the short term, while at the same time innovating to find long term solutions to ensure their critical work is not lost. The journey, however, must begin with infrastructure investment, which is the missing piece of the puzzle to help ensure their success.
Historically, most charities have lagged behind business entities in terms of digital readiness, or more specifically, the ability to operate and deliver services using online, mobile, and digital technologies and mindsets. Accessing and dedicating financial resources to this internal capacity is one of the biggest hurdles facing charities today as they digitally transform their organizations.
While the pandemic accelerated many organizations' transition to digital, there is an opportunity for charities who lagged behind in digital readiness to quickly catch up. Ultimately, as the journey to digital takes hold, we believe charities will be better positioned to combine their deep knowledge of issues and solutions with modern organizational and fundraising behaviour that can help them increase their impact and better serve their stakeholders.
What does going digital actually mean? In the short term, for tens of thousands of charities across the country, it has meant equipping their staff to work remotely when necessary. This has required both hardware and IT infrastructure investments, as well as strategies to offer in-person services online and over mobile devices. The latter is particularly challenging as charitable organizations often serve vulnerable populations that lack the appropriate tools, including devices and reliable internet access.
On top of this, organizations have had to shift fundraising efforts away from in-person events and mail to an entirely online model. In doing so, many have lost critical earned revenue from things such as ticket sales and registration fees.
Look to the longer term
But charities must also look to the longer-term role of digital transformation — one that needs to be deeper and more systemic than before. They will need to build out new skills and behaviours, new ways of working and collaborating, and new cultural norms. They will have to shift to a digital mindset when envisioning how they can deliver on their mission and engage with younger, digitally focused, online audiences. They will need to apply an innovation lens in everything they do because the old way of doing things will simply not be possible for the foreseeable future — and some things will never go back to what they were before the pandemic.
They will also, of course, need the right technology. But all of this comes at considerable cost, and if we value the work of the charitable sector, this transformative work must be seen as fundable.
While capacity is not the typical "cause" upon which most corporations and foundations focus their granting models, it must become one. After all, there is no program delivery without organizational capacity and infrastructure. Funding capacity and infrastructure is as important as funding program delivery if we want to support the most vulnerable among us.
We need to ask ourselves, what if every corporate social responsibility or foundation grant program allocated 30 percent of each gift to capacity-building work? What if more corporations adopted sector capacity as the cause they would champion? Just think of how charities could increase their impact if they were funded this way.
Let's consider this investment in context. We know from research in The Giving Report that charities spend, on average, only 9 percent of their budgets on "overhead". This is comparatively low to what is spent in for-profit businesses and is certainly less than what businesses are investing in their own digital and business infrastructure to enable growth and impact.
This is not easy given the looming revenue crisis. More than two-thirds of charities reported a 31 percent drop in revenues in the early weeks of the pandemic according to Imagine Canada's Sector Monitor Report, and it is not looking like it will improve soon.
What new research shows
New research released by the Angus Reid Institute found that 37 percent of donors surveyed had reduced their giving in the past six months. The same report also found that charities are now battling against reduced trust due to the WE Charity scandal and the high-profile events surrounding it, even though it is not at all representative of the broader sector. And yet, service demands for charitable work keep increasing.
There is some positive data worth noting. The same survey found strong support for donation matching programs, with 38 percent saying they might or would definitely give more with a matching program in place. This is certainly what we saw at CanadaHelps when we secured significant matching donations for three recent Cause Funds. This is another opportunity for corporate or foundation donors to expand their impact in a critical time.
There is no question that charities must transform to meet the demands of a digital age, particularly given the health crisis sweeping the globe. To come out stronger after this crisis, now more than ever, charities need the support to be free to invest in capacity. Along with that, they will need to reassess how they approach fundraising initiatives over the longer term to create more sustainable results. Ultimately, we believe charities will be able to combine their deep knowledge of issues and solutions with modern organizational and fundraising behaviour that can help them increase their impact and better serve their stakeholders. Clearly, the time to act is now.
Marina Glogovac is president & CEO of CanadaHelps