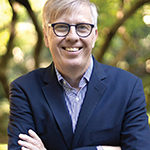 By Fred Witteveen
When it comes to helping those in need, Canadians have among the biggest hearts for charity. It's especially apparent now, during COVID-19. As we learn of the increased pressures placed on fragile countries around the world, where access to basic needs like food, clean water, health care and education have become scarce, Canadians are stepping up to help.
Evidence backing this up comes from an opinion poll Children Believe recently commissioned. The national online survey, conducted by Angus Reid Forum, provided compelling results. An important finding was that 88 percent of the more than 1,500 respondents surveyed recognize the increased threat COVID-19 poses to vulnerable communities, and 72 percent of those polled are willing to support fragile communities globally, not just in Canada.
The results are reassuring, but not altogether surprising to Children Believe. For more than 60 years, we have connected Canadians who care to brave young dreamers who need a leg up to break systemic and cultural barriers to education, ensure access to health care, and provide for the well-being and safety of children. Since March, when COVID-19 changed the world, we have continued to work to address this need while redirecting some of our resources to mitigate the devastating effects of COVID-19. Our donors have unabashedly continued to support our work.
Because of the generosity of Canadians, we have been able to support nearly 600,000 people thus far during the pandemic in six of the countries where we work — Burkina Faso, Ethiopia, Ghana, India, Nicaragua and Paraguay. We've done so by focusing on four key areas in COVID-19 relief: helping to stop the spread of the virus; ensuring children are nourished; keeping children safe from violence and exploitation; and helping children continue learning.
Vulnerable feel rejected and alone
Children Believe has a deep understanding of the needs of vulnerable communities around the world. We are there on the ground, and we're doing what's necessary — we are agile, and we are helping through positive action. That's possible because we hire nationals in our field offices, and the most qualified partner agencies, to ensure supporters' donations can make the biggest social impact possible.
I will point to India as one example, which is one of the countries hardest hit by COVID-19. Children Believe quickly identified a need for mental health support and social supports, and mentorship, and in response launched an online program to build a team of professionals to counsel community members.
Nancy Anabel, our country director, India, says hundreds of community members from villages where the organization works have accessed counselling services so far. And they continue to advance this work, to help many more people.
Counsellors are helping people cope with anxiety, fear and depression related to COVID-19, as well as child-protection issues, such as child marriage, child labour and abuse, and depression due to economic loss and family issues such as domestic violence and alcoholism.
According to Ms. Anabel, COVID-19 trampled the very foundation on which the people we help depend, closing off vital community resources, she says. It has raised mental health issues as the vulnerable feel more rejected and alone.
In Nicaragua, another country where we work, too many youth struggled without basic needs, before COVID-19 made it even more difficult.
As opportunities for full-time, permanent work become harder to find, more young people are looking outside their country, considering irregular migration as a means to find opportunity or reunite with family who have left the country in search of a better life.
Listen to their needs
So there's been no better time than now to work closely with youth, listen to their needs and provide resources for them to learn and grow their leadership and entrepreneurial skills. We're doing that through the Preventing Irregular Child Migration in Central America (PICMCA) project, with funding from the Government of Canada.
The $15.2-million regional project spanning El Salvador, Guatemala, Honduras, Mexico and Nicaragua is a reminder of the difference we can make when we listen to, help and engage with young people. We're especially focused on girls and young mothers, since poverty is concentrated in rural areas where it's less likely women will receive an education.
Consider Delia, a 25-year-old mother of a four-year-old boy, who is an example of how Canadians are making a difference around the world. Delia doesn't want to go to another community to find a low-paying job as a domestic worker, but she does strive for a better future for her family. She's learning how to do that through PICMCA skills training and is excited by the prospect of opening the first beauty shop in her community.
In Nicaragua, through this project, more than 100 young women and men have benefited from technical courses as well as life skills and business development training on how to find employment or start small enterprises.
The work being done by Children Believe in India, Nicaragua and elsewhere, is the result of the kindness and generosity of Canadians willing to help. As COVID-19 pushes millions of children into deeper poverty, heightening the risk of abuse and causing learning losses at an unprecedented scale, we are grateful to Canadians for their extraordinary kindness.
Fred Witteveen is CEO of Children Believe, based in Markham. Children Believe works globally to empower children to dream fearlessly, stand up for what they believe in — and be heard. For more than 60 years, we've brought together brave young dreamers, caring supporters and partners, and unabashed idealists. Together, we're driven by a common belief: creating access to education — inside and outside of classrooms — is the most powerful tool children can use to change their world. Children Believe is a member of ChildFund Alliance, a global network of 12 child-focused development organizations working in more than 60 countries around the world. ChildFund Alliance helps nearly 16-million children and their families overcome poverty and achieve their rights. To learn more, visit childrenbelieve.ca/covidhelp